Jedno sa Mannovi musí nechať, dokázal dosť dlho zachytávať nálady hudobného života a držať sa ich. Platí to predovšetkým pre 60. roky a džezrockové kvasenie z roku 1969 do toho spadá na sto percent. Že kvôli tomu vymyslel kapelu Chapter Three, aby sa oddelil od hitparád, je podružné.

Kto by nepoznal Do Wah Diddy Diddy, ten buď žil na Marse alebo bol k nemu život neprimerane krutý. Takýto človek má však jednu obrovskú výhodu. Nebude z albumu Manfred Mann Chapter Three v šoku. Manfred Mann je rodák z Južnej Afriky, ale Apartheid ho dohnal k tomu, že sa počiatkom 60. rokov presunul do Británie a tam sa preslávil. Nakoľko vždy tiahol k džezu, na konci zmienenej dekády sformoval experimentálnu kapelu Manfred Mann Chapter Three. Počas necelých dvoch rokov vydala dva albumy, komerčne si neviedli práve dobre, nuž v roku 1971 presedlal na stráviteľnejšiu rockovú polohu nazvanú Manfred Mann's Earth Band, funguje mu dodnes. Ale vráťme sa do novembra 1969, kedy sa na pulty dostalo toto:
Temná a ťaživá úvodná skladba Travelling Lady je parádna, občasné šialené dychy majú priam ľakajúci efekt známy z hororov. A podobne strašidelná pomalá náladovka Snakeskin Garter je na tom rovnako. Skvelo. Dlhočizné basové ujúkanie v závere ma nenecháva chladným ani v ustupujúcich mrazoch. Vážne sa tváriaci džez rock sa pomaly zakráda celou skladbou Konekuf (ide o inštrumentálku, viete si predstaviť refrén, v ktorom Brit s vážnou tvárou vyspevuje "Koóóónekúúffff"? [Monty Python sa neráta]), aby prenechal miesto skladbe Sometimes. Ide síce o jemnú (i keď netuctovú) "sixtýsovku", ale po troch ranách kladivom je pohladenie jemným vánkom balzamom. Od zlých žien v hudobnom spracovaní očakávam to, čo v realite. Devil Woman má mierne psychedelickú náladu, nečudo, že je z nej chlap zrelý na psychiatra. Frivolné džezové prieduchy i klávesové vŕtanie do mozgu sú samozrejmosťou. Aby sa nepovedalo, že album je nejako dúhovo pestrý, aj ďalší klinec do rakvy, Time, má váhu, z ktorej by Sizyfos zaplakal a šiel na matriku po tlačivo na zmenu mena. Nech si jeho údel nesie niekto iný. Opakovaná basová figúra (bisťu, to je výraz!) rozhýbe inak slimačí album niekam do sfér dôchodcu o barlách, vzletné (vz)dychy a prívetivý refrén narúšajú kameňovanie, ktoré sa na poslucháča doteraz znášalo s vervou davu s odporom k Máriám. One Way Glass končí a začína baladická selanka Mister You're A Better Man Than I. Škrípavý spev sa do toho, paradoxne, hodí. Vypiskovaná blbinka Ain't It Sad sa vracia do uplynulých popíkových vôd, aj keď nástroje v nej rozhodne nehrajú menej, ako dosť. Zlovestný pozvoľný nástup inštrumentálky A Study In Inaccuracy má kam stúpať a rozhodne sa tomu nebráni. Takúto zaťažkávajúcu skúšku by naše eurofondmi erodované cesty veru nezniesli! Klavírne nokturno kdesi v bare sa pokojne môže nazývať aj Where Am I Going, čo sa aj stalo, nuž je tu pokojná bodka za zaujímavým albumom.
Bonusy prinášajú štvoricu už počutých skladieb s prívlastkami "mono", "single" či "aka", ba dokonca aj "alternate version" sa nájde.
Celkovo ide o parádnu dychavičnú muziku, neveselo temnú a veselo stráviteľnú. Manfred Mann Chapter Three môžem iba odporúčať. Pravda, ak zvládnete štedrú porciu dychov.
(upravené, pôvodne zverejnené na progboarde)
Skladby:
Travelling Lady 5:48
Snakeskin Garter 5:48
Konekuf 5:47
Sometimes 2:37
Devil Woman 5:24
Time 7:25
One Way Glass 3:33
Mister You're A Better Man Than I 5:10
Ain't It Sad 1:57
A Study In Inaccuracy 4:05
Where Am I Going 2:36
Zostava:
Manfred Mann: organ, policajná píšťalka
Mike Hugg: piano, spev
Bernie Living: alt saxofón, flauta
Steve York: basa, gitara, harmonica
Craig Collinge: bicie
a
Clive Stevens: tenor saxofón
Carl Griffiths: tenor saxofón
Dave Coxhill: baritón saxofón
Gerald Drewett: trombón
Sonny Corbett: trúbka
Brian John Hugg: ak. gitara
Harry Beckett: trúbka (6)
Sue a Sunny: vokály (5)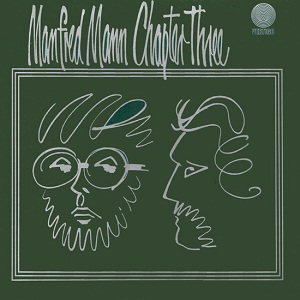 Manfred Mann Chapter Three
Manfred Mann Chapter Three
jazz rock, brass rock
Vertigo
1969
LP, CD
11