Keď sa povie Wales, nemeckého rockového pamätníka napadne určite Man. Album Do You Like It Here Now, Are You Settling In? z novembra 1971 patrí k tým, čo by bez krajiny frustrovanej z 2. sv. vojny znel podstatne inak. 
V tom čase kapela veselo koncertovala v Nemecku a priľahlom okolí a keď práve nebola na cestách, tak sa zabývala neďaleko Darmstadu, v Seeheime. V prvom menovanom meste často hrávala v podniku s priliehavým názvom Underground Club (o ktorom sa Deke Leonard vyjadril, že šlo o taký drogový brloh, že ste sa nafetovali aj tým, že ste oblízali steny). Podnik viedol Juhoameričan Marten Schima, ktorý manažoval ďalšiu britskú kapelu žijúcu v Nemecku, a síce Nektar. Hudobníci oboch zoskupení sa okamžite spriatelili a práve Nektar ponúkli Man možnosť bývať s nimi v zmienenom dome v Seeheime. Obe skupiny boli v Nemecku pečené-varené, istý Roy Hollingworth z Melody Maker (chlapík, ktorého označili za prvého anglického rockového kritika, ktorý bol na nerozoznanie od indivíduí, o ktorých písal) venoval kapele nadšený článok, v ktorom okrem iného uviedol, že si najviac užil práve jej vystúpenia a napríklad prvý raz ju videl na festivale v Berlíne, kde sfúkla z pódia veličiny typu Family, Soft Machine a Yes, čo si nemyslel len on, ale aj početné publikum.
Lenže nielen koncertmi je kapela živá. Nová zmluva s United Artists vyžadovala album. Kapela sa preto, chtiac, nechtiac, pokúsila vyčleniť desať dní na nahrávanie v štúdiu Rockfield Studios vo waleskom Monmouthe. Šlo o farmu uprostred hôr, kde sa zhodou okolností dalo aj nahrávať a okrem domestifikovaných zvierat hudobníkov nikto nerušil. Celé to tam viedli dvaja bratia, Charles a Kingsley Wardovci. Prvý sa staral o farmu, druhý o štúdio. Z desiatich dní sa napokon vykľulo len šesť, pričom kapela mala k dispozícii presne jeden a pol skladby, viac v hektickom koncertnom kolotoči zložiť nestihla. V istom momente dokonca zavolali kamaráta Davea Edmundsa (Love Sculpture a sólová kariéra hovorí za všetko), aby prispel radou i gitarou. Nahrávanie prebiehalo rutinne. Každý deň jedna skladba. Najprv nahrali tú, čo mali hotovú (Many Are Called, But Few Get Up), potom dokončili polovičatú Angel Easy a v ďalšie dni to vyzeralo tak, že ráno vymysleli skladbu, poobede ju nahrali a v noci mixovali. Po šiestich dňoch dosiahli požadovaný počet minút (cca štyridsať) na album (presne tak, žiadna veľká veda sa nekonala, žiadny koncept a podobné javy, skrátka šlo o to, "zapatlať" obe strany platne) a vyrazili opäť na cesty. Muziku vo finále zmixovali v londýnskych Olympic Studios, obal zverili do rúk Andrewa Laudera, nech sa s ním popasuje a o týždeň už ani netušili, že niečo sa niekde chystá na vydanie. Kapela sa vtedy skrátka spoľahla na svoje okolie, že to za ňu kompetentne dorieši a bude dbať na jej blaho. Ako si neskôr povzdychol Deke Leonard : "Vtedy sme verili všetkým a tak sme aj dopadli…"
Pre pôvodnú päticu muzikantov sa štvrtý štúdiový album Do You Like It Here Now, Are You Settling In? stal (načas) zároveň posledným. Po jeho nahrávaní sa zostava zmenila. Nevadí! Šestica skladieb sa zbavila psychedelického hučania, ktoré miestami znehodnotilo predchádzajúci album Man, miestami sa dokonca priblížila chytľavému melodickému rocku (Angel Easy). Vo všeobecnosti sa kapela nikam neponáhľa, medituje v stredných tempách, náladou sa blíži k "space" alebo jemnej psychedélii, kúštik sa otvára i blues-hard rocku, skrátka, je to pestrá muzika, jemne meditatívna, ale zároveň poslucháčsky prívetivá. Osobne uprednostňujem druhú stranu albumu, skladby ako Manillo a Love Your Life nemajú chybu. Podmanivých motívov sa tu však nachádza viac (ten záverečný gitarový v All Good Clean Fun je božský) a netreba sa báť do nich ponoriť. Na cédečku od Esoteric Recordings sú prilepené tri koncertné bonusy, ktoré dávajú názorný príklad, ako to znelo na pódiu. Dlhšie, meditatívnejšie, skvelo!
Man má v sebe čosi "krautrockové", nemecká nálada je z muziky jasne rozpoznateľná. Zároveň si udržuje britský melodický šmrnc, nechýbajú vrstvené vokály, a preto môžem album Do You Like It Here Now, Are You Settling In? smelo odporučiť všetkým priaznivcom rockovej muziky 70. rokov. Je výborný.
Skladby:
1. Angel Easy 5:02
2. All Good Clean Fun 4:34
3. We're Only Children 8:29
4. Many Are Called, But Few Get Up 7:27
5. Manillo 5:26
6. Love Your Life 8:45
Zostava:
Micky Jones: gitary, spev
Deke Leonard: gitary, piano, spev
Clive John: organ, piano, spev
Martin Ace: basa, ak. Gitara, spev
Terry Williams: bicie
a
Dave Edmunds: gitara
Peter Ham: gitara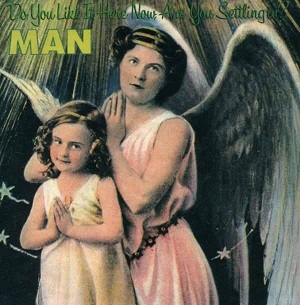 Do You Like It Here Now, Are You Settling In?
Man
space rock
United Artists
1971
LP, CD
6