Man, kapela z Walesu, ktorá sa uchytila v Nemecku, pričom vďaka albumu Be Good To Yourself At Least Once A Day (1972) zaujala aj britskú domovinu, bola neustále na nejakom turné, nuž nečudo, že album Back Into The Future (1973) vznikol narýchlo v štúdiu (nebolo to prvý raz) v krátkej prestávke medzi koncertmi a aby toho nebolo málo, stal sa z neho dvojalbum. Pravda, spolovice koncertný.
V máji narýchlo nahrali šesť skladieb, ktoré zložili rovno v štúdiu a poďho na turné podporiť Zappu. Aby zneli pestrejšie a konkurovali hlavnej hviezde (Zappa mal k dispozícii mnohočlenný orchester), prizvali na pódium aj spevácky zbor Gwalia Male Voice Choir, ktorý otvoril vystúpenie v londýnskom Roundhouse (nachádza sa v malej štvrti Chalk House a funguje dodnes), z ktorého oficiálne koncertné albumy vydávali kapely ako Nektar, Pink Fairies, Motörhead a v neposlednom rade v roku 2015 aj Status Quo. Zostava Man prešla ďalšou zmenou, opustil ju dlhodobý klávesák a gitarista Clive John a nahradil ho Tweke Lewis z Wild Turkey.
Kapela núka ďalší jemný posun k poslucháčsky priaznivému muzicírovaniu, A Night In Dad's Bag by šlo odvysielať i v rádiu. Pritom nejde o tupú komerciu, stále je to "Manband" trademark ako vyšitý. Just For You dtto, navyše, funky rytmizácia je v nej tak zrejmá, až je to desivé. Lenže ide zároveň o vydarenú rockovú "šlehu", takže sa to dá zniesť. Spevná "sixtýsovka" Back Into The Future dala názov albumu, Don't Go Away pridáva akustickú polevu. Gitarová smršť v Ain't Their Fight je vynikajúca a záverečná hardrocková space meditačka Never Say Nups To Nepalese je mojou albumovou favoritkou. Ide o typickú "manovskú" jemne psychedelickú záležitosť, ktorá trvá a trvá až do konca (neprekvapivo). Aby som to zhrnul, štúdiová časť albumu má skvelé tiahle gitarové sóla a zvláštne futuristické klávesy, ktoré dodávajú väčšine skladieb nádych soundtracku do obstarožného sci-fi filmu, ktorý predstavuje dystopickú budúcnosť založenú na predstave, že 80. roky sú technologickým a vizuálnym stropom snaženia ľudstva.
Koncertná platňa zachytáva časť vystúpenia z 24. júna 1973 v Roundhouse, úvod obstaral spomínaný spevácky zbor hymnou mesta Llanelli Sospan Fach. Nasledujú dva plus-mínus dvadsaťminútové džemy C'Mon a Jam Up Jelly Tight/Oh No, Not Again (Spunk Rock '73). Sú zaujímavé, kapela sa na pódiu rozhodne netrápila s nejakými komerčnými tendenciami a meditovala o dušu.
Esoteric Recordings sa podaril husársky kúsok, krabička Expanded Edition z roka 2008 obsahuje hneď tri disky. Prvý s pôvodným dvojalbumom, ďalšie dva s kompletným záznamom zmieneného koncertu. Pôvodné pásy sa zjavili nevedno odkiaľ, nuž boli precízne zremixované a doplnené o dve skladby zo štúdia, ktoré mali slúžiť ako singel, nikdy však nevyšiel. Najmä celovečerný koncertný záznam je brilantnou ukážkou toho, ako funguje kapela, čo hrá osem skladieb hodinu a pol.
Celkovo ide o príjemne počúvateľný album jemne meditatívneho rocku a rozhodne stojí za pozornosť.
Skladby:
1. A Night In Dad's Bag 4:04
2. Just For You 5:13
3. Back Into The Future 4:06
4. Don't Go Away 4:00
5. Ain't Their Fight 7:40
6. Never Say Nups To Nepalese 7:32
7. Sospan Fach 3:33
8. C'Mon 19:02
9. Jam Up Jelly Tight/Oh No, Not Again (Spunk Rock '73) 21:04
Zostava:
Micky Jones: gitara, spev
Terry Williams: bicie, perkusie, spev
Tweke Lewis: gitara, spev
Phil Ryan: klávesy, spev
Will Youatt: basa, spev
a
Gwalia Male Voice Choir: vokály (7, 8)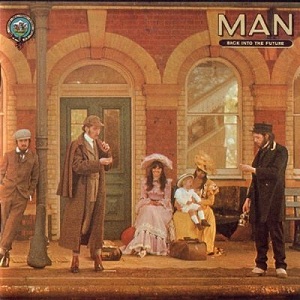 Back Into The Future
Man
psychedelic rock, space rock
United Artists Records
1973
LP, CD
9