Mahavishnu Orchestra bola rozhodne štýlotvorná skupina, ktorú nedokáže počúvať hocikto. Fusion postavené na nekonečnej inštrumentálnej onánii priamočiarych percipientov väčšinou odrádza. Avšak, neboli to géniovia ako Paganini alebo Mozart, ktorí svojou dokonalou hudobnou víziou podporenou zložitou technikou hry dokázali, že ľudská vôľa je schopná naučiť nás zahrať aj to, čo sa zdá nepredstaviteľné? Koncertný album Between Nothingness & Eternity z roka 1973 je toho dôkazom!
V dnešnej dobe sa sóla často označujú za prekonané, čokoľvek technicky vymakané sa pejoratívne označuje ako akademické, hoci vzdelanie mi nikdy neprišlo na smiech. Uznanie za posúvanie zručnosti v ovládaní hudobného nástroja bolo síce vždy prejavom úzkej skupiny fajnšmekrov a davy sa skôr viezli (pred pár storočiami veru nepočúval vážnu hudbu každý, a ešte aj z toho mála to často bola takzvaná šľachta, a teda kopa tupcov, ktorí mali všetko na podnose a ako správni snobi museli predstierať, že ich to baví), to však neznamená, že je to niečo, čo by sa občas nepatrilo vyvrhnúť do éteru. Pretože McLaughlin, Cobham, Goodman, Hammer a v neposlednom rade aj Laird si to zaslúžia. Koncertný album Between Nothingness & Eternity ponúka fusion s naozaj drsným rockovým zvukom.
Trojdielna skladba s dokonalo neobjavným názvom Trilogy prezentuje také množstvo rýchloprstých a svižnoručných bublikaní v kombinácii s rozľahlými plochami meditačného pokoja a viac ako perfektnými hardrockovými vsuvkami, až sa to nedá opísať. Ostáva jedine počúvať a tešiť sa z poriadnej hudobnej nálože, ktorej nezvlhol pušný prach a ani jej nikto neukradol roznetku. Inými slovami, je to bomba. Pomalšie "klasické" fusion Sister Andrea je opäť, vďaka drsnej gitare a ešte neuhladenejším husliam, miestami takmer hardrockovou záležitosťou. Celostranová (na platni) záležitosť Dream je pre mňa vrchol vrcholov, podľa ktorého sa pomeriavajú ostatné vrcholy. Všetky nástroje predvedú toľko polôh, že vedľa nich Kámasútra vyzerá ako leták zo schránky. Plačú, tonú, vzmáhajú sa, burácajú… Milujem husľové príbehy, Goodman je nielen hudobník, on je rozprávač, ktorému by závidela aj Šeherezáda. Kým príde vyvrcholenie, trvá to ako dvom tantristickým milencom, ale až nastane, je to extáza. Niektoré vypäté pasáže vyvolávajú priam nervozitu, tak perfektne dokážu pôsobiť na poslucháčovo rozpoloženie. Čerešničkou na torte (logicky preto nie je táto hudba určená diabetikom) je pasáž, v ktorej sa pod frenetickými sólami ozýva Sunshine Of Your Love od Cream. To je hard rock s tak nabrúsenými inštrumentmi, že by s nimi šlo rezať skaly! Že sa tu okato promenáduje improvizácia v dokonalej podobe, azda ani nemusím dodávať.
Tento koncert dokazuje, že aj brilantní a meditatívne založení hudobníci môžu hrať dostatočne tvrdo na to, aby sa z ich fusion stal naozaj džez ROCK. A výsledok je geniálny!
(upravené, pôvodne zverejnené na progboarde)
Skladby:
1. Trilogy Medley (The Sunlit Path, La Mere De La Mer, Tomorrow's Story Not The Same) 12:01
2. Sister Andrea 8:22
3. Dream 21:24
Zostava:
John McLaughlin: gitara
Jan Hammer: piano, moog
Jerry Goodman: husle
Rick Laird: basa
Billy Cobham: bicie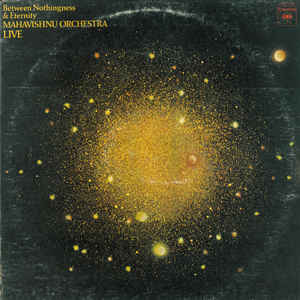 Between Nothingness & Eternity – Live
Mahavishnu Orchestra
džez rock
CBS
1973
LP, CD
3