Moth Vellum bol štvorčlenný kolektív hudobníkov – veteránov, pôsobiacich na progresívnej scéne v USA (Santa Monica, California). Neskoršie existujúca skupina začala fungovať na základe predošlej spolupráce medzi dvojicou Tom Lynham (klávesové nástroje) a Johannes Luley (gitary). Postupne do skupiny pribudli Matt Swindells (bicie, spev) a Ryan Downe (basová gitara, spev, zvukový inžinier).
V roku 2007 kvartet vydáva vo forme MP3 eponymný debut vo vlastnej réžii a na vlastné náklady, v nansledujúcom roku už na CD. Ide o klasické prog rockové dielo. Moth Vellum sa dostali do povedomia verejnosti ako súbor, schopný miešať viacero aktuálnych rockových štýlov do určitej symfonickej štruktúry s evidentným odkazom predovšetkým na globálnu tvorbu legendy Yes. Napriek pozitívnemu prijatiu oficiálneho prvého albumu sa cesty oboch skladateľov hudby (Tom Lynham a a Johannes Luley) rozchádzajú a Moth Vellum oficiálne prestávajú existovať v roku 2010.
Johannes Luley neskôr zakladá obdobne orientovanú skupinu Perfect Beings, kreatívny hráč na klávesové nástroje Tom Lynham sa venuje, mimo iného, vlastnej vízii hudobných projektov (malá paralela s Rickom Wakemanom)…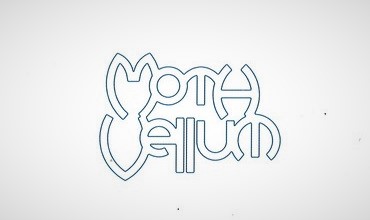 Santa Monica – California je miesto, kde má oficiálny domov mladá americká kapela, ktorá mi prináša iba radosť zo života. Moth Vellum založili Tom Lynham (klávesové nástroje) a Johannes Luley (gitary), neskôr sa k nim pridali Matt Swindells (bicie, spev) a Ryan Downe (basgitara, sólový spev). Nepriamo sa tak vytvorili "dve neformálne dvojice": Johannes Luley je akoby novo reinkarnovaný Steve Howe. Často mám pocit, akoby hral yesovské gitarové party s ešte väčšou ľahkosťou, ako samotný Howe. Tom Lynham pripomína svojou decentnou hrou na klávesy podstatne skôr Tonyho Banksa z Genesis, ako pompézneho Ricka Wakemana, alebo jazzového Patricka Moraza z Yes. Obaja títo muzikanti sú evidentne skladatelia inštrumentálnej časti produkcie Moth Vellum. Na druhej strane obaja členovia rytmickej sekcie sú súbežne aj výborní speváci. Ryan Downe ma pomerne vysoko posadený hlas, ktorý evokuje najmä hlas Jona Andersona z Yes, ale v niektorých polohách aj Stinga z éry Police, a predovšetkým ich albumu Synchronicity. Vokál bubeníka Matta Swindellsa v kapele plní asi tú istú funkciu, ako hlas Chrisa Squirea v Yes.
Šesť kompozícii na takmer hodinovom albume prináša predovšetkým oslavu a hold art rocku 70. rokov, množstvo reminiscencií na tvorbu Yes, resp. ich americkej obdoby staršej tvorby – Starcastle, ale v žiadnom prípade nejde o nejaký plagiát, myslím si, že ani klon. Istú nostalgiu za 70. rokmi evokuje aj obal bookletu CD – ako keby vypadol z dielne štúdia Hipgnosis (obaly vinylových albumov Pink Floyd, Wishbone Ash a mnohých ďalších).
Samotný album má atmosféru podobnú, akú som cítil pred 30 rokmi z Going For The One kapely Yes – akordy gitár a skvelej steel gitary Johannesa Luleya často pripomenú fragmenty z Turn Of Century, alebo z eposu Awaken, občas mám aj pocit, že počujem Steve Howea vo vrcholej forme z doby albumu Relayer.
Klávesová pasáž uprostred skvelej Walk It Off zase pripomenie hru Ricka Wakemana v časti I Get Up, I Get Down z titulnej skladby Close To The Edge. Keďže album neobsahuje žiadnu vatu, ani sekundu hluchej sekvencie, ťažko sa vyberá nejaký vrchol tejto placky, ale všeobecne je zaňho považovaná najdlhšia skladba Salvo (13:34), zásluhou istej komplikovanosti, s množstvom hudobných nápadov, umne skĺbených do dokonalé fungujúceho celku. Efektne pôsobí aj rozdelenie kompozície Against The Suns na dve časti, predelenej skladbou Walk It Off. Celkove album graduje a dokonale popiera komerčnú filozofiu zostavovania skladieb v poradí od najsilnejších k priemerným a slabším.

Prvotina Moth Vellum sa síce objavila na trhu koncom roka 2007 (MP3), ale keďže vyšla neznámej kapele vo vlastnom náklade, bez akejkoľvek promo kampane, trvalo jej to chvíľku, kým prerazila, aspoň medzi znalcov a fajnšmekrov. Nepochybujem, že o to dlhšia bude jej životnosť medzi poslucháčmi, ktorí kvalitnej hudbe fakt rozumejú. Žiaľ, zostalo iba pri tomto jednom diele…
Hodnotenie: 4,5 (s tendenciou hore).
SKLADBY:
1. Let The Race Begin (9:14)
2. Whalehead (7:13)
3. Salvo (13:34)
4. Against The Suns (11:22)
5. Walk It Off (11:23)
6. Against The Suns (Reprise) (5:11)
ZOSTAVA:
Johannes Luley – guitars
Tom Lynham – keyboards
Matt Swindells – drums, vocals
Ryan Downe – bass, lead vocals
Moth Vellum
Moth Vellum
Prog Rock
MySonicTemple
2008
CD
6