Jedna z najlepších hardrockových kapiel pochádza z Nemecka a volá sa Lucifer's Friend. Po vynikajúcom debute prišla v roku 1972 s albumom Where The Grupies Killed The Blues a ja si ho dnes pripomeniem.
Kapela v čase svojej najväčšej slávy fungovala na štúdiovom princípe, a teda nevystupovala naživo. Všetci jej členovia hrali v iných projektoch, nahrávali s inými interpretmi, skrátka, žili svoj profesionálny život v štúdiu a ako sprievodní muzikanti. Je to možno škoda, že ich fanúšikovia nezažili a dnes nieto video materiálu. Nič to, máme tu aspoň albumy!
Where The Grupies Killed The Blues predchádza povesť najprogresívnejšieho albumu kapely. Osobne si to nemyslím, je to skrátka ostrý hard rock, z ktorého ubudlo z debutovej temnoty a pribudlo hudobného mixovania, kedy sa hudobné nápady trieštia ako pri Brownovom pohybe. Napriek tomu mu nič nechýba. Sedem skladieb núka košatú inštrumentáciu a Lawton nad ňou s prehľadom jačí o dušu. Je zaujímavé, že pôvodná platňa mala inak usporiadané skladby, ale všetky ostatné vydania idú podľa tu uvedeného poradia.
Hobo začína bubeníckym sólovým vstupom. Reitenbach je špičkový bubeník, radosť počúvať. Inak je to ostrá vypaľovačka, kde nie je miesto na žiadne jemné nuansy, všetci hrajú o dušu a Lawton by mohol vyučovať spolok priaznivcov vystrašených reakcií, ako sa výska. Pozornejší poslucháč si všimne, že namiesto organových orgií sa klávesák zašil za piano, čo je inak výrazná zmena oproti debutu, kde to bolo presne naopak. Akoby ma Hecht počul, zatrilkuje si klavírne intro k skladbe Rose On The Vine. Hesslein napokon vymláti z gitary metalový rif a už to ide! V tejto muzike skrátka nie je miesto pre útlocitné uši. A to ani vtedy, keď sa skladba preklopí do akéhosi blues. Vôbec je charakteristickou črtou prezentovanej muziky neustála zmena. Tu sa psychedelicky šramotí, tam to buráca…
Mother si to rozdá na férovku s Black Sabbath, temnota srší ešte aj z klavírnej melanchólie. Skladba miestami  pôsobí, akoby sa z pekelnej jamy vyvrhla na okolie matéria chaosu, dokonca tam počuť husle! Lepší obraz psychického rozpoloženia nášho premiéra ešte nikto nestvoril. Titulná skladba Where The Grupies Killed The Blues má pekne našliapnuté, dravá smršť Prince Of Darkness ešte viac, no a potom je tu kompozícia Summerdream. Podľa všetkého je rozdelená na tri časti a psychickú ťaživosť bravúrne kombinuje s pomalou rockovou náladou. Výraznú rolu hrajú sláky, miestami si pripadám ako v horore. Záverečná baladická skladba Burning Ships využíva ako podklad šum mora a perkusie. Pôsobí katarzne.
Where The Grupies Killed The Blues – vynikajúca muzika, aj keď azda miestami roztrieštená, vynikajúci album. Čo dodať. Po tomto diele sa kapela po vzore Atomic Rooster vydala do priestoru – čo album, to iný štýl. A hoci aj tam našla výbornú inšpiráciu (napr. takmer džezrockový album Banquet), prvé dva albumy sú pre mňa tým naj, čo kapela nahrala.
Skladby:
Hobo 3:42
Rose On The Vine 8:19
Mother 7:25
Where The Grupies Killed The Blues 5:04
Prince Of Darkness 5:37
Summerdream/Delirium/No Reason Or Rhyme 8:56
Burning Ships 4:34
Zostava:
Peter Hesslein: gitara, perkusie, vokály
Peter Hecht: klávesy
John Lawton: spev
Dieter Horns: basa
Joachim Rietenbach: bicie, perkusie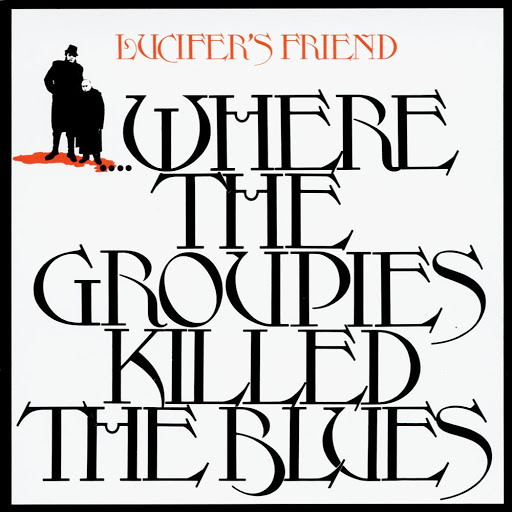 Where The Groupies Killed The Blues
Lucifer's Friend
hard rock
Vertigo
1972
CD (Repertoire Records, 1991)
7