Už je to veľa rokov dozadu, čo som sa zoznámil s ruskou skupinou Lost World Band a jej debutovým albumom Trajectories z roku 2001, vtedy ešte pod značkou Lost World. Jej traja zakladajúci členovia sa stretli na moskovskom konzervatóriu; Andy Didorenko (gitary, husle, spev) a Vassily Soloviev (flauta) sú stále súčasťou kapely, zatiaľ čo Alexander Akimov, pôvodný klávesák, prevzal produkčnú úlohu. Na predošlom diele Of Things And Beings (2016) ešte pomáhal bubeníkovi Konstantinovi Shtirlitzovi, ktorý sa k Lost World Band pripojil albumom Solar Power (2013).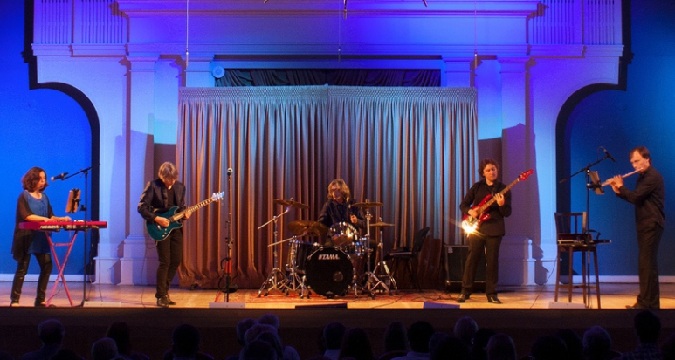 Z novej nahrávky cítiť silu kompletnej skupiny, pretože k triu sa pripojili Yuliya Basis (klávesy) a Evgeny Kuznetsov (basa). Všetky piesne pochádzajú opäť z Andyho dielne. Čo ma však skutočne ohromilo, je to, akým komplexným spôsobom pätica poňala svoju muzikálnu zručnosť a urobila ju neuveriteľne hodnovernou. Cez všetku tu rutinu, skladby ako Running In The Sun volajú po veľkých rozhlasových vysielaniach, pretože sú plné háčikov, zložitých vrstiev a muzikálnosti. Vokály sú hladké a príjemne harmonické, husle a flauta sú všade, zatiaľ čo basa a bicie vytvárajú správny podklad. Keď príde k slovu sólo na elektrické husle, je to krátke, sladké a plné neudržateľnej energie.
Máme tu ruskú skupinu, ktorá sa od svojho debutu posunula neuveriteľným spôsobom. Dá sa povedať, že je takmer úplne iná. Napriek tomu stále používa flautu a husle ako kľúčové nástroje, čím udržiava svoju hudbu zakorenenú v minulosti. Samotný album začína inštrumentálnym číslom, kde si klávesy a gitary vymieňajú akordy, husle a basa neustávajú v behu a my sme po hlave vrhnutí do prudkého progresívneho čísla, z ktorého cítiť harmonické prepojenie. Hudobníci sa striedajú vo vedení a makajú za rovnakým účelom. Keď som si Spheres Aligned prehrával prvýkrát, zarazil ma a vlastne ho musel zastaviť, aby som sa uistil a skontroloval, či som nahral ten správny album, pretože je zložitý i melodický zároveň, radostný i dramatický, avšak prenikavo harmonický.
Na Spheres Aligned sa Lost World Band rozšírili mnohými smermi, čo môže mať za následok, že niektorí poslucháči nebudú spokojní úplne so všetkým, čo začujú, pretože v hre sú rôzne štýly. Ja si však myslím, že je to ich najlepší, najkomplexnejší, najprístupnejší a najúžasnejší album v doterajšej histórii. Lost World Band sú späť s poriadnym treskom, a toto dielo by mali vyhľadať všetci fanúšikovia progresívneho rocku.
SKLADBY:
01. Aligned (3:56)
02. Rockfall (3:44)
03. Dawn Day Dusk Night (3:37)
04. Running In The Sun (3:47)
05. Symphonic (5:05)
06. Aise (1:26)
07. Sail Away (3:43)
08. Crystalized (4:18)
09. Lighter Than Air (3:53)
10. Pressured (4:35)
11. I Am The World (8:45)
ZOSTAVA:
Andy Didorenko – violin, guitar, vocal
Vassili Soloviev – flute
Yuliya Basis – keyboards
Evgeny Kuznetsov – bass
Konstantin Shtirlitz – drums
Composed and recorded between November 2017 and December 2018 in New York and Moscow, released April 8, 2019.
Words and music – Andy Didorenko
Mixing and mastering – Alexander Akimov
Produced by Alexander Akimov and Andy Didorenko
Spheres Aligned
Lost World Band
Symphonic Rock, Prog Rock
Samum Publishing
2019
CD
11