Strawbs patrí medzi popredné folkrockové kapely z Británie. Hrali v nej viaceré svetoznáme esá (Rick Wakeman hovorí za všetky), napriek tomu ma z jej muziky oslovujú skôr jednotlivé skladby než kompletná diskografia. Nečudo, že som si roky vystačil s reprezentatívnym výberom Halcyon Days. Ale existuje jedna výnimka. Mrazivá a podmanivá doska From The Witchwood. Čo ma na nej tak priťahuje?
Album nahrávali v londýnskych Air Studios vo februári a v marci roku 1971, na pulty sa dostal v júli a navzdory letnému počasiu prinášal príjemnú dávku zimnej melanchólie (už len ten obal zasneženého zimného stromu vyvedený v negatíve). Ide o labutiu pieseň Ricka Wakemana, ktorého výkony boli vo folku okato okliešťované. Napriek tomu dokázal z minima vyťažiť maximum a každému bolo jasné, že skončí úplne niekde inde. Áno, v Yes. Už na predchádzajúcom koncertnom albume Just A Collection Of Antiques And Curios predviedol, že nie nadarmo študoval vážnu hudbu, nuž sa jeho eskapády výrazne podpísali aj na From The Witchwood. Aby toho nebolo málo, Cousins si zadovážil elektrickú gitaru! Prerod folkovej kapely v niečo, čo sa blížilo rockovej muzike zavŕšil Hudson, ktorý si prvý raz dovolil využiť kompletnú sadu bicích nástrojov. Pravda, aby skalných fanúšikov nešokovali, pre istotu bubny v mixe stiahli, ako to len šlo.
A poďme na muziku!
Ak ste náhodou z predchádzajúcich viet vyrozumeli, že dostanete voľajakú rockovú nádielku, tak to pŕŕŕ! Stále je to v podstate folk, občas doplnený o progresívne (populárne označenie pre vtedajšiu muziku) rockové prvky. Tie sú vteperené do klávesového hrania hodného génia  v skladbe Hangman And The Papist, čo je inak srdcervúca balada o jednej poprave z náboženských dôvodov a nechýba ani rodinná dráma!
Bez váhania ju označím za najlepšiu skladbu kapely! V tesnom závese ju nasleduje úžasná melancholická balada Witchwood, ktorú milujem! Inak, Rick Wakeman v nej hrá na klarinet, čo bol jeho druhý nástroj počas štúdií a údajne je to asi jediný raz, čo naň hral na nejakej nahrávke.
Nebudem pitvať všetky skladby, tým obyčajným nebudem krivdiť a tým neobyčajným venujem aspoň krátku pripomienku. Takmer všetky z druhého ranku sú správne smutné. A je to práve tá odťažitá a neveselá nálada, ktorej na albume holdujem (s výnimkou melodickej a takmer katarznej piesne I'll Carry On Beside You). Bez ohľadu na to, či už je to mŕtvolná vecička Cannondale alebo ostrá rocková vsuvka Sheep, ktorá musela v radách akustických krajanov vyvolať paniku rovnú vlkovi, čo vkĺzol do košiara… Rovnako sitárová haluzoidná tíšina The Shepherd's Song má niečo do seba. Svoj zoznam zavŕšim ďalšou krehkou a smutnou baladou In Amongst The Roses. Romantická atmosféra rozpadajúceho sa domu a prirovnávania dieťaťa k životu, do toho tradične tragický symbol ruží… Nádhera!
Ozaj, ešte niečo! Bonus Keep The Devil Outside pochádza zo singlu, ktorý sa na žiaden album nedostal, ale na From The Witchwood by sa naozaj hodil. Refrén síce spevne rockovo buráca, ale tie pietne slohy ma doslova rozochvievajú ako povestnú osiku vo vetre.
Mrazivá atmosféra tohto dielka ma dostáva a pripomína mi, že hudba je najlepším nástrojom na vyjadrenie ponurých emócií! Tie mi v umení boli vždy bližšie než svetlá strana prežívania. A tak musím tento album velebiť, nielen preto, že je tu hneď trojica skladieb, ktorá patrí do zlatého fondu populárnej hudby (Witchwood, The Hangman And The Papist, In Amongst The Roses a Keep The Devil Outside je v podstate taký D'Artagnan k trom mušketierom)! Ak potrebujete prepadať melancholickej trudnomyseľnosti, skúste ho!
Skladby:
A Glimpse Of Heaven 3:50
Witchwood 3:23
Thirty Days 2:52
Flight 4:24
The Hangman And The Papist 4:11
Sheep 4:14
Cannondale 3:46
The Shepherd's Song 4:34
In Amongst The Roses 3:48
I'll Carry On Beside You 3:09
Bonus:
Keep The Devil Outside 3:02
Zostava:
Dave Cousins: spev, gitary, bendžo, cimbal
Tony Hooper: spev, autoharfa, ak. gitara, tamburína
Rick Wakeman: organ, čelesta, klarinet, piano, el. piano, Moog, čembalo, Mellotron
Richard Hudson: bicie, spev, sitár
John Ford: basa, spev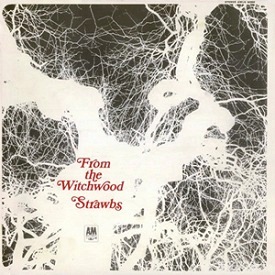 From The Witchwood
Strawbs
folk rock
A&M
1971
LP, CD
10