Myslím si, že niektoré hudobné webové sídla, kde sa zhromažďujú priaznivci rockovej muziky, vcelku úspešne skresľujú, aké je povedomie verejnosti o niekdajších velikánoch rockovej hudby. Stále viac sa mimo netu stretávam s tým, že prichádzajúce generácie o Led Zeppelin sem-tam síce počuli, ale už ani zďaleka netušia, čo je to za muzika. Aj preto mám pocit, že minimálne v našich končinách je štvorica Page, Plant, Bonham a Jones nie, že odviata vetrom, ona už nefunguje ani ako vzdialená ozvena pominuteľného krásna, ktoré valcuje hamburgerová (ne)kultúra.
Aby bolo jasno, debut Led Zeppelin so zažitým označením I je dielom hudobného génia. Snúbi blues s tvrdým rockovým vyznením, aby bolo možné hovoriť o novom žánri v hudbe – hard rocku. Na dnešné prešpekulované pomery, kedy sa v maxi baleniach s pestrofarebnými reklamnými dizajnmi a sloganmi predáva obsah tvorený z dvoch tretín vzduchom, to bude znieť možno šokujúco, ale horiaca vzducholoď na obale všetok prebytočný vzduch pekne strovila a dielo tak ponúka cca 45 minút čistého extraktu jedinečnej a neopotrebovateľnej hudby s veľkým Há, s guľami a v neposlednom rade so srdcom. Emócie šponované na mieru týždňa pred výplatou sú samozrejmosťou. Iste, oskarový výkon to nie je, dnešní herci prezlečení za muzikantov sú schopní onakvejšej citovej choreografie, ale mne sa aj tak viac páčia prirodzené a uveriteľné ľudské prejavy, než fabrikanty rovné juhoamerickým telenovelám.
Neprekvapuje ma preto, že celé dielo podľa Pageových slov zbúchali za 36 hodín čistého času, aj s mixom. Pamätám si vyjadrenie nejakého súčasného producenta, že keby im dnes niekto ponúkol takéto mizerne nahrané demo, nik by s takouto zvukovo nezaujímavou kapelou zmluvu nepodpísal. Ha, ha, ha! Cha! Myslím, že to o súčasnom hudobnom biznise vypovedá viac, než je potrebné rozoberať.
Čože to teda dnešným tvorcom biznisplánov narúša pokojný spánok? Stredne rýchle porozbíjané tempo, gitarové rezbárstvo korunované letlampovým sólom, do toho jačiaci spevák majúci na pamäti aj takú očividnosť, akou je spevný refrén, to je v kocke Good Times, Bad Times. Pravým opakom je vybrnkávaný krehký úvod skladby Babe I'm Gonna Leave You. Osamelé vpády gradácií doplnené o katarzné – bejby, bejby, bejby, bejby, am gona lív jú… ma zakaždým dostávajú do kolien. A nabudený pasáž ukončená unisonom bicích a ďalších nástrojov ma z tých kolien zatlčie rovno do zeme. A je tu blues! You Shook Me nemá chybu. Gitara sa zladila so spevom, nechýbajú dokonca harmonika a organ, paráda! Vrchol albumu sa nazýva Dazed And Confused, kde sa podarilo nielen vďaka sláku a gitare stvoriť psychedelickú skladbu prvej akosti, bez zbytočných nezmyselných zvukových koláží, ktoré menej talentovaným umelcom zaručujú auru nezávislosti (najmä od kompozičných nárokov). A rýchla hardrocková smršť, ktorú v strede spustí rytmika s gitarou (so vzdychajúcim spevom v pozadí) sa ani nedá opísať, to treba počuť, zažiť, zamilovať si a už nikdy sa nerozísť!
Your Time Is Gonna Come sa vracia k spevnej pohode, osobne ma táto skladba až tak neberie, ale ani mi neprekáža. Čo sa nedá povedať o orientálne šmrncnutej medzihre Black Mountain Side, ktorej som na chuť neprišiel nikdy. Našťastie je krátka. A po nej nasleduje hardrockový etalón dokonalosti – Communication Breakdown. Rýchlo a zbesilo, bez kompromisov, bez šetrenia síl, kričím veľké ÁNO! A smolou oťažené nohy I Can't Quit You Baby sú oslavnou ódou na blues! Page zo svojej gitary dostane všetko to, za čo dnes solíme ťažké prachy u psychoterapeutov a ďalších príživníkov. A pritom stačí pustiť si túto skladbu a muzikoterapia zariadi všetko aj za babku (počiatočný nákup albumu na vybranom nosiči). Záverečná prehliadka rodiaceho sa hudobného štýlu, How Many More Times s neodmysliteľnou "hunterovskou" vsuvkou asi nebola mienená ako slovníkové heslo pre hard rock, každopádne sa ňou môže pokojne stať a nik by nenamietal. Hudobníci si dosýta zaimprovizujú, no a Plant zasadí hlasivkám ťažkú ranu, ktorá sa mu po rokoch bolestivo pripomenie. Ale keby sa šetril, tak z toho nikdy takto uveriteľná túžba po explózii všetkého, čo má na srdci, nevylezie.
Mix psychedélie, blues a tvrdosti, ktorý zrazu vytvára niečo nové, a predsa neurážajúce svoje korene, to je jednoducho ono! Dámy a páni, servíroval sa hard rock! Príďte aj nabudúce! Debut Led Zeppelin radno priviať do každého ucha, ktoré lační po nefalšovanej rockovej muzike!
Skladby:
Good Times Bad Times 2:46
Babe I'm Gonna Leave You 6:41
You Shook Me 6:28
Dazed And Confused 6:26
Your Time Is Gonna Come 4:14
Black Mountain SIde 2:05
Communication Breakdown 2:27
I Can't Quit You Baby 4:42
How Many More Times 8:28
Zostava:
Jimmy Page: gitary, vokály
Robert Plant: spev, harmonika
John Paul Jones: basa, organ, vokály
John Bonham: bicie, tympani, vokály
a
Viram Jasani: tabla (6)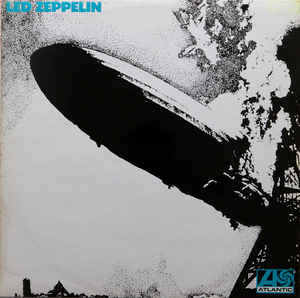 Led Zeppelin
Led Zeppelin
hard rock
Atlantic
1969
CD (Atlantic, 1994)
9