Kanada a hard rock? Prečo nie. Kapiel tam na to mali dostatok. Jedna sa však objektívne stala kráľovnou, svetoznámou celebritou, skrátka, pojmom. Nech žije Rush! Nedá mi nepripomenúť môj najobľúbenejší album Caress Of Steel z roku 1975.
Moje cesta k Rush nebola práve priama. Myslím, že prvý raz som zachytil jej tvorbu z 80. rokov, takže som ju rovno vyradil z centra záujmu. Ale poznáte to, čas plynie a informácie o muzike sa internetom šíria takmer nekontrolovateľne. A preto bola len otázka času, kedy sa pozriem na zúbok aj jej ranej tvorbe. Stalo sa.
Z klonovacej ságy na debute (Led Zeppelin v DNA neprepočuje nikto) sa jej tvorba postupne vydala na hranice inštrumentálnej zdatnosti daného štýlu, takže ju dnes častujú aj výrazmi ako – progresívny rock. Nech je to ako chce, pre mňa je jej esenciálnym dielom tretí album s názvom Caress Of Steel.
Obsahuje púhych päť skladieb, pričom dve predstavujú výlet k dlhotrvajúcich kompozíciám deleným na časti. Tie sa kapele zapáčili už na predchádzajúcom diele Fly By Night, nuž nečudo, že ich má na svojom konte celkom pekný počet. Kým sa k nim dostaneme, absolvujeme "zeppelínovský" nárez Bastille Day, pozitívne naladenú I Think I'm Going Bald a podmanivo krehkú záležitosť Lakeside Park. Rytmika Peart-Lee je technicky nedostižná, zároveň sa nedrží na uzde, je dravá ako fauna v Amazónii, čomu výborne sekunduje ako gitarista Lifeson, tak Geddyho neskutočný "jačák". Lepší prejav do hardrocku neexistuje. Myslím, že podľa toho, ako zvládate nekompromisné vrieskanie spevákov ako napr. Gillan, Plant, Lee, Shelley, Surkamp atď. poznáte, či máte hard rock v krvi. Alebo aj nie, hudba nie je o škatuľkách.
Vrcholom albumu je pre mňa viac ako dvanásťminútová skladba The Necromancer. Kým my sme si tu (ja konkrétne nie, ale rozumiete mi) užívali následkov normalizácie, angloamerický svet si užíval J.R.R.Tolkiena. A výsledkom je napríklad táto neskutočná perla z produkcie svetového hardrockového oceánu. V pasáži, kde sa spieva "…the Wraith of a Necromancer...", zažívam poslucháčsky orgazmus (ehm).
Dvadsaťminútová sedemdielna rocková jazda The Fountain Of Lamneth už len podčiarkne očarujúcu muziku, ktorú následne kapela dovedie do dokonalosti. Pre mňa je však tento prvý "klasický" album Rush tým naj, čo kapela ponúkla.
Láskanie ocele sa k hardrockovej muzike hodí. A to až tak, že si môže dovoliť vydať sa do oblastí, ktoré boli v tej dobe vlastné artrockovej muzike. Nič nechýba, nič nie je navyše, ide o dokonalé rockové dielo, ktoré by som si, keby som musel, vzal na opustený ostrov (opustený až v modernej dobe, aby tam bola zabudovaná elektrina).
Skladby:
Bastille Day 4:39
I Think I'm Going Bald 3:42
Lakeside Park 4:10
The Necromancer 12:34
I. Into The Darkness
II. Under The Shadow
III. Return Of The Prince
 5. The Fountain Of Lamneth 19:57
I. Into The Valley
II. Didacts And Narpets
III. No One At The Bridge
IV. Panacea
V. Bacchus Plateau
VI. The Fountain
Zostava:
Geddy Lee: basa, spev
Alex Lifeson: gitara
Neal Peart: bicie nástroje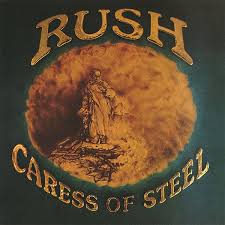 Caress Of Steel
Rush
hard rock
Anthem
1975
LP, CD
5