Milí pacienti. Vítame Vás v našom ústave pre liečbu politickej korektnosti. Na dnešnej lekcii s názvom "Tak to je a basta" si názorne ukážeme, ako funguje jediná pravda. Tá moja… ehm, Vaša. Kde máme rekvizity? Aha, tuhľa! Deep Purple – Infinite. Do toho!
Začnime očividným. Deep Purple je najlepšia hardrocková skupina všetkých čias. Zostava s Ritchiem Blackmoreom, Ianom Gillanom, Rogerom Gloverom, Ianom Paiceom a Jonom Lordom v rokoch 1970 až 1972 povedala všetko podstatné. Človek je tvor spoločenský a rád diskutuje stále o tom istom, a preto vôbec nie je na škodu, že aj iné zostavy udržovali diskusný krúžok na tému – hráme hard rock – pri živote.
Súhlasíte? Však preto!
Od 90. rokov, kedy sa gitary chopil Steve Morse, vydáva jeden dobrý album za druhým, čo na tom, že potreba vlastniť ich ma minula. Ale čo to! Aktuálne sa kapela vydala na, údajne, posledné turné a k tomu pridružila, možno, posledný štúdiový album. To je, milí nekorektní priatelia, dôvod na kúpu! Bavíme sa tu o legende, čo si zaslúži tú trošku pozornosti, ktorú obetujete na úkor apatického ťukania do klávesníc a dotykových obrazoviek, ktoré Vám nahradili medziľudský kontakt. Chcete zdieľať naozajstné zážitky? To nie je o tom, že sa omylom ocitnete na koncerte a fotíte si selfie namiesto, aby ste počúvali! Je to o tom, že si vychutnáte kultúrny zážitok, umelecký prejav. Vstrebávate emócie a necháte zarodiť nové! A potom o nich nadšene rozprávate s kamarátmi, priateľmi, blízkymi osobami. Konfrontujete, pritakáte, občas sa povadíte. To všetko z očí do očí, takpovediac na dotyk. Teplý. Ľudský. Žiadna umelá hmota, žiadna chladná obrazovka, vibrátor namiesto lásky!
Že už pomaly netušíte, o čom to meliem? Však preto ste v ústave!
Povedzme si pravdu o Infinite. Kapela pripravila rozumnú kolekciu desiatich skladieb, ktoré nepresahujú trištvrte hodinovú seansu. A je to hard rock bez kúska kompromisu! Určite ste už zachytili diskusie na internete, ako ide o návrat do 70. rokov, ako na ňom počuť ducha Blackmorea alebo Lorda (a je jedno, že prvý ešte žije), prípadne, že ide o najlepší album od čias Perfect Stangers. Milí moji platiaci pacienti, som rád, že sedíte, pretože príde šokujúce odhalenie. Všetko je to pravda! Naozaj! Akokoľvek šokujúco to pôsobí, aj najväčší producent lží na svete, internet (kam sa hrabú mediálne trusty na davové šírenie bludov priamo z mozočkov bytostí stvorených, prepytujem, na obraz boží) občas pripustí pravdivý obraz skutočnosti.
Iste, zamlčí, že okrem párplovských duchov sa tu i tam ozve aj nejaká tá dúhová "starstruckovina" (All I Got Is You) alebo Louieho rifovica (Johnny's Band), celkovo však dostaneme presne to, čo od Párplov chceme! Ostré vypaľovačky (Hip Boots, Johnny's Band), melodický pátos (One Night In Vegas), hutné reminiscencie na obete močiarov (Get Me Outta Here, Birds Of Prey), slaďáky na vydýchnutie (All I Got Is You), rockové istoty (Time For Bedlam, On Top Of The World) a ešte aj čosi navyše. Cover Roadhouse Blues od The Doors je úlet, ale znie presvedčivo. Tempo skôr znaveného osla po celodennej šichte, než raného mustanga pred rozcvičkou na trysk, skladbe prospieva. A harmonika jej dodáva potrebné korenie. Prečo nie!
Čo to tam počujem? Chybičky?
Samozrejme! Nájdu sa. Zvuk je natoľko prebudený, že v ňom dosť vecí zaniká. Prebasované hučanie utápa celok najmä v momentoch, kedy sa nesóluje (platí pre CD). Rovnako obligátny neduh orientálneho strihu v The Surprising nemôže chýbať, odvahu zbaviť sa ho už asi dnešné kapely nenájdu. Aj tak ide o jednu z tých pôsobivejších skladieb na albume. Vážna a pokojná nálada jej pristane. Jeden by sa tiež mohol začudovať, prečo je úvod v Time For Bedlam akoby vystrihnutý z nejakého techna z 90. rokov, kedy sa v týchto speváckych efektoch vyžívali nielen masochisti. Ono si Gillan častejšie vypomáha štúdiovou technikou, vôbec to nie je na škodu.
Infinite nie je ani trošku chladný album, neverte obalu! Počúva sa jedna radosť, muzika je to chytľavá, nezapredaná, párplovská a vôbec! Aj keby už nikdy nič iného nevyšlo, ostane skvelou bodkou za kariérou velikánov združených okolo, aby sme boli pôvodní, Iana Paiceho, najlepšieho hardrockového bubeníka, aký kedy sedel za bicou súpravou. A každým ďalším počúvaním vniká hlbšie a hlbšie do srdiečka.
Chalani, ďakujem za všetko, ste celoživotnou extázou!
No, trošku som sa nechal uniesť. Čo si z toho, milí účastníci prednášky, odnesiete? Umenie je záležitosť srdca, citu, nie objektívneho a korektného newspeaku. Zabudnite na diplomaciu a buďte úprimní, vráti sa Vám to!
Skladby:
Time For Bedlam 4:35
Hip Boots 3:23
All I Got Is You 4:42
One Night In Vegas 3:23
Get Me Outta Here 3:58
The Surprising5:57
Johnny's Band 3:51
On Top Of The World 4:01
Birds Of Prey 5:47
Roadhouse Blues 6:00
Zostava:
Ian Gillan: spev, harmonika
Ian Paice: bicie
Roger Glover: basa
Steve Morse: gitara, vokály
Don Airey: klávesy
a
Bob Ezrin: klávesy, vokály, perkusie
Tommy Denander: gitara (8)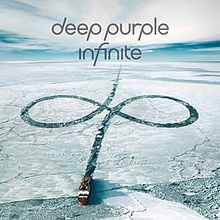 Infinite
Deep Purple
hard rock
earMUSIC
2017
LP, CD
10