Opäť som nakukol do vlastného archívu a zaumienil som si postupne pripomenúť koncertnú trilógiu s legendárnou skupinou Lynyrd Skynyrd, bez ktorej sa nezaobíde žiaden správny americký film. Že ju nepoznáte? Sweet home Alabama Vás pravdepodobne usvedčuje z nepresnosti. Takže – diel č.1. 
LYNYRD SKYNYRD
Dátum: 25.05.2009
Miesto: Kolín nad Rýnom, Palladium, Nemecko.
Kapacita: 4000 osôb. 
Zostava
Johnny Van Zant: vocal
Gary Rossington: guitar
Rickey Medlocke: guitar, vocals
Michael Cartellone: drums
Mark Matejka: guitar
Robert Kearns: bass
Peter Keys: keyboards
+
Steve Traum – Harmonica
Dale Krantz Rossington – Background vocals
Carol Chase – Background vocals

Pondelok, na aký sa nezabúda. Cesta autom z Bratislavy do Kolína patrí k tým, ktoré sa najlepšie popisujú ako dlhé. Hodinka postávania pred Palladiom a mohlo sa ísť na vec.
Plánovaný začiatok koncertu bol o 19:30 a na sekundu presne na pódium vybehol Holanďan Julian Sas so skupinou. Klasické trio hrajúce niečo medzi Molly Hatchet a blues, fajn muzikanti, ale materiál ma dajako nechytil za srdce. Každopádne, nahral vcelku dosť CD, takže nejaké som si pripísal na zoznam. Svetlým okamihom bol bubeník, ktorý sa evidentne tešil z každej noty. Ako predskokan Julian veľa priestoru nedostal, skončil kúsok po ôsmej.
Následne sa pódium vyprázdnilo a o 20:30 si na stoličku sadol Nór Björn Berge. Chlapík hrá blues na akustickej dvanásťstrunnke. A ako! Využíva rôzne krabičky a efekty, jeho technika hry usvedčuje drvivú väčšinu akustických gitaristov z amaterizmu. Jeho schopnosť osloviť davy čakajúce na 9-člennú skupinu je minimálne obdivuhodná. Čo ten stváral, to sa musí počuť, na bočný balkón vyliezol aj Medlocke a tlieskal o dušu. A keď dal na záver Ace of Spades od Motörhead v bluesovej podobe, tak dav doslova šalel. Napriek mojej spokojnosti si myslím, že nebol úplne vhodne zvoleným predskokanom, skôr by sa hodil do podniku, než do haly. 

A tá sa, mimochodom, postupne úplne zaplnila. Zloženie obecenstva kopírovalo všetky vekové kategórie, od puberťákov po dôchodcov, staršie ročníky boli jasne v prevahe. Jazyková zmes spočívala predovšetkým z angličtiny a nemčiny, ani po dôkladnom snorení sa mi nepodarilo zachytiť češtinu alebo slovenčinu.
Prestávky medzi kapelami vyplnili rockové šlágre, zazneli AC/DC, Rush, Deep Purple, Free, ZZ Top, alebo hoci Jimi Hendrix.

O 9:30 sa za zvuku Thunderstruck ozvalo: "Ladies and Gentleman, Lynyrd Skynyrd", svetlá potemneli a zmienenú skladbu uťali prvé tóny Workin' for MCA. Lynyrdi, hoci v dôchodkovom veku, vzali halu útokom, zvuk bol výborný, protagonisti sa evidentne zabávali. Celý koncert si gitaristi, spevák a basák menili miesta, takže som ich všetkých videl asi tak z dvoch-troch metrov (vyplatilo sa uzurpovať si strategické miesto zľava tesne pred pódiom).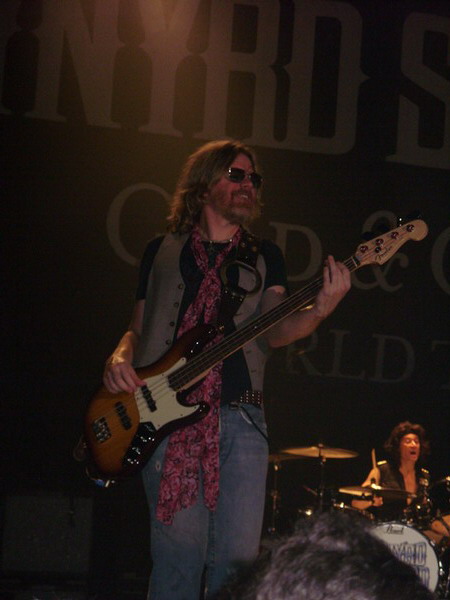 Noví členovia zapadli bez väčších problémov. Basák hral tak, ako mal, klávesák bol trošku stiahnutý, namiesto klavíra mal dva synťáky a počet jeho sól bol na úrovni čísla dva.
Absolútne najlepším nováčikom bol Matejka, tento gitarista s "najamerickejším" menom na svete mal pomerne dosť priestoru na sólovanie, do každého však pridal niečo svojské, pričom zachoval ducha pôvodnej skladby. A to sa nie vždy vydarí. Počas sprievodov spieval, pobádal publikum, slovom, bol na neudržanie. A to platí aj o ostatných s výnimkou Rossingtona, ktorý mal evidentne stále problém s chôdzou, takže väčšinu koncertu postával na jednom mieste a len občas vyšiel na kraj pódia.
Duo vokalistiek bolo na pódiu iba niekedy, ale nemalo chybu. Všetci sa evidentne zabávali, a aj keď ich podozrievam, že to mali nacvičené, Johnny Van Zant často podpichoval ďalších členov, čo vyvrcholilo tým, že Medlockovi vytrhol vlas a hodil ho do davu ako trsátko.

Playlist kopíroval best of z rokov 1970-1977, čo bola trošku škoda, taká Workin' alebo Last rebel by dobre padli. Evidentne, keď už Skynyrdi prekročia Atlantik, tak stavajú na istote. V momente, keď nastúpila nesmrteľná Simple man, spievala celá hala. V Tuesday's gone priskočil chlapík hrajúci na harmonike, koncert gradoval a vyvrcholil v parádnej Call me the breeze. V nej zároveň prvý raz dostal priestor Keys a jeho sólo sa snažilo podobať na svojského Powella. Následne nastúpila Sweet home Alabama, dav opäť spieval s kapelou. A bodka. Padla. Lynyrdi zamávali a ubzikli z pódia.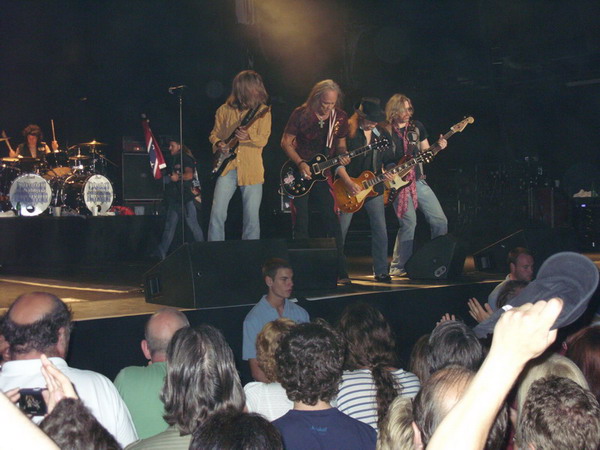 Samozrejme, po obligátnej chvíľke, počas ktorej trošku obmenili scénu (nový stojan na spev s južanskou vlajkou a pod.), boli späť, Johnny oznámil, že dajú ešte jednu skladbu a spýtal sa, ktorú by sme chceli. Netreba hádať, že vyhral Free bird. K tomu nemám moc čo napísať, počuť ho naživo od Lynyrdov patrí k najkrajším okamihom môjho života. Musím povedať, že záverečné sólo obohatili o kúsok improvizácií, ktoré som ešte nepočul, predovšetkým Matejka si tam v spoločných sólach s Medlockom trošku zaimprovizoval a sedelo to!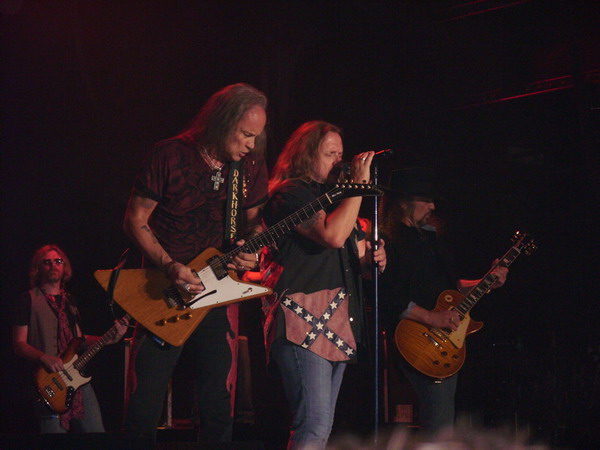 Čo dodať na záver? Asi to vystihne krátka veta. Videl som Lynyrd Skynyrd. Páni!
PLAYLIST:
01. Workin' for MCA
02. I ain't the one
03. Gimme back my bullets
04. What's your name
05. That smell
06. Simple man
07. Whiskey rock'n'roller
08. Down south jukin'
09. Tuesday's gone
10. Needle and the spoon
11. Gimme three steps
12. Double trouble
13. Call me the breeze
14. Sweet home Alabama
15. Free bird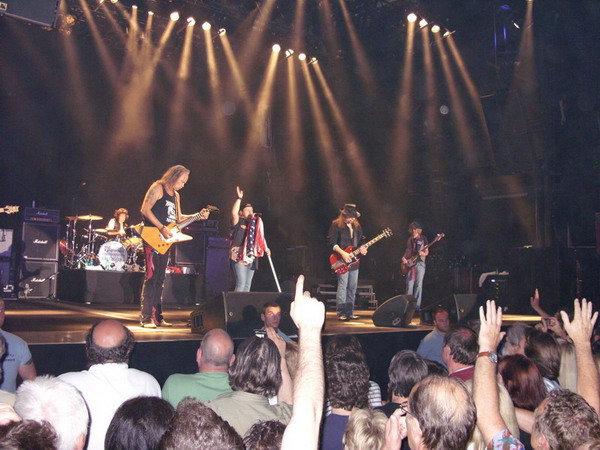 P.S. Škoda, že tá hodina a pol prešla tak rýchlo, šou skončila krátko po jedenástej, takže neostávalo iné, než vyraziť späť do Bratislavy, to je už ale iný príbeh.