Uplynulo šesť rokov od môjho tretieho koncertného stretnutia s legendárnou skupinou Lynyrd Skynyrd. Už dávno sa Lynyrdi nedostali tak blízko môjho bydliska, ako 1. mája 2015, kedy zavítali do Plzne. Iste, tesne predtým boli vo Viedni, ale ísť do krajiny, kde nielen, že všetkému rozumiem, ale aj postretávam množstvo známych, tomu sa nedalo odolať.
Plné auto najbližších rodinných príslušníkov (plus jeden spriaznený muzikant) si to v pokoji namierilo cez celé Čechy a nezastavilo ho ani to, že diaľnicu medzi Prahou a Plzňou uzavreli. Bez GPS, mapy, čohokoľvek iného, sme si popozerali aj miesta, v ktorých by hádam zablúdili aj miestni.

V Plzni sa konali veľké oslavy oslobodenia americkou armádou v 2. svetovej vojne, nuž sme sa mohli pokochať vojenskými kulisami (a vysvitlo, že americkú armádu reprezentovali napr. aj Slovinci), dokonca som splašil DVD Asterix a Kleopatra (ten starý animák) pre deti a komiks Spider-man: Dolů mezi mrtvé pre iné dieťa personifikované do mojej maličkosti.
LYNYRD SKYNYRD
Miesto:
Plzeň, Areál ploché dráhy
Dátum:
01.05.2015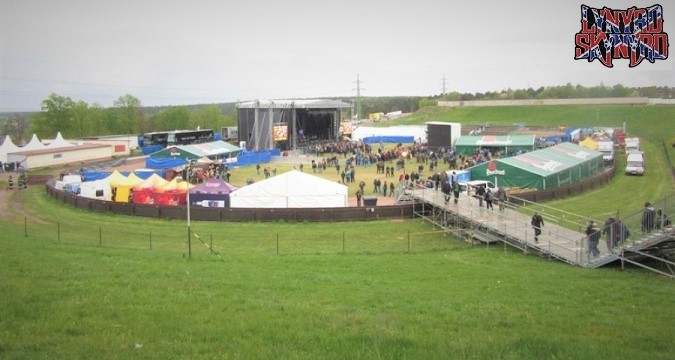 Areál plochej dráhy bol podozrivo veľký, až som mal obavy, aby sa hlavné hviezdy večera nezľakli prázdnoty, ale postupne sa narval k prasknutiu (aspoň pod pódiom sa nedalo hýbať). Keďže sme prišli už niekedy okolo tretej popoludní, začuli sme aj kus zvukovej skúšky, na ktorú tancovali lahodnými mokmi naplnení biletári (asi). Mal som pocit, že ak to takto pôjde ďalej, koncert prespia kdesi v jarku. Ale k veci. Už tradične sa pred koncertom a medzi kapelami ozývala reprodukovaná rocková muzika, od Led Zeppelin cez Bachman Turner Overdrive, Alice Coopera až po Deep Purple atď. Absolvovali sme aj mediálnu šou, keď som poskytol odpovede blonďavej anketárke na tému – je to váš prvý koncert Lynyrd Skynyrd? Nuž nie, bol tretí.
ŽLUTÝ PES

O pol ôsmej nabehla predkapela Žlutý Pes. Jemne naznačované južasnké boogie mixované s typickou českou bigbítovou produkciou preniklo do deviatich skladieb, v ktorých som najviac fandil gitaristke. Pravda, veľa priestoru nedostala. Frontman, ktorého nebudem menovať, sa snažil budiť dojem, ako je nad vecou, ale miestami mi jeho komentáre o publiku, ktorého kvality údajne stretáva tak raz-dvakrát do týždňa prišli ako kamufláž miernej trémy. K vlastným skladbám (typu Modrá (je dobrá), Žlutý Pes, Zůstaň klidná, Sametová alebo hoci Indiánská dýmka míru) dodali vynikajúcu verziu Boogie no more od Molly Hatchet, počas ktorej predstavili trojlístok osôb hrajúcich na gitary. Nechýbala ani klasika od Rolling Stones – (I Can't Get No) Satisfaction. Prišla mi celkom zbytočná, keď sa predskakuje velikánom, volil by som skôr vlastné skladby, ale publikum sa bavilo, tak bolo všetko fajn. Komentár k Free Bird, ktorý zahrať jednoducho nemohli, sa naopak vydaril a vyvolal veselú odozvu. Celkovo sa kapela zhostila svojej roly so cťou, i keď nie som jej zanietený fanúšik, nenudil som sa.
Na pódium sa následne vyrojili bedňáci, ktorí po vzore húfu kobyliek spásli prebytočné nástrojové vybavenie a nastavili aparatúru hlavnej hviezde večera. Popri tom na obrazovkách premietali "spontánne" reklamy na koncert Lynyrd Skynyrd, kde ma vyslovene bavila scénka s nákupom platne v brnenskom obchode. O päť minút deväť sa ozval Thrunderstruck od AC/DC, pódium vytvorilo videoklip bez muzikantov a následne to začalo.
LYNYRD SKYNYRD
Zostava:
Johnny Van Zant: spev
Gary Rossington: gutara
Rickey Medlocke: gitara, vokály
Michael Cartellone: bicie
Mark Matejka: gitara
Johnny Colt: basa
Peter Keys: klávesy
Dale Krantz Rossington – vokály
Carol Chase – vokály
Steve Traum – harmonika
neohlásený perkusionista

Playlist:
Working For MCA
I Ain't The One
Call Me The Breeze
What's Your Name
That Smell
Saturday Night Special
Needle And The Spoon
I Need You
Simple Man
Mississippi Kid
Tuesday's Gone
Gimme Three Steps
Sweet Home Alabama
Free Bird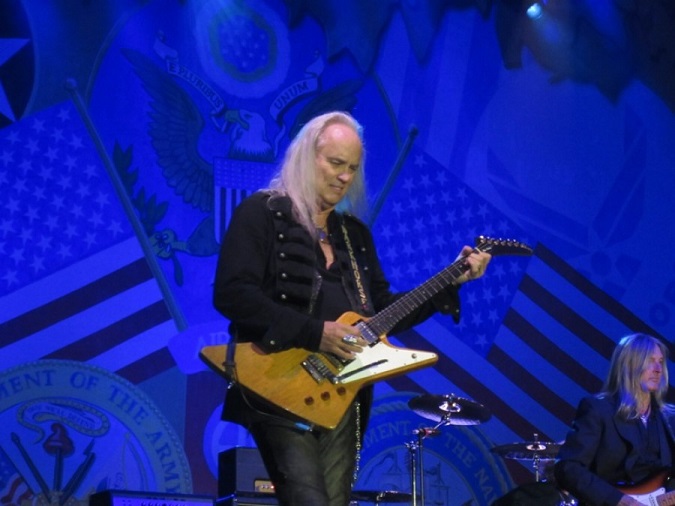 Lynyrd Skynyrd je monštruózna koncertná kapela. Mám pocit, že hráči majú čoraz viac energie, behali po pódiu ako banda nadržaných misionárov v rozvojovej zemi. Z pódia sa ozývalo samé "God bless" toto, "God bless" tamto, "Czech" a "America" a podobné kľúčové slová, ktoré spevák Johnny Van Zant trúsil ako keď sa bábätká učia používať príbor. Mávanie s českou vlajkou ani nerátam.
Setlist pozostával výhradne z vecí z prvých piatich štúdiových albumov, aj to bez Gimme Back My Bullets. Je to asi jediná vec, ktorá ma na koncerte zamrzela. Aspoň zo dve skladby z Last Of The Dyin' Breed by som uvítal. Žiaľ, ako som už niekoľkokrát konštatoval, akonáhle Lynyrdi prekročia Atlantik, nie sú schopní vymaniť sa z best of polohy časov minulých (akokoľvek skvelých). Pritom rozhodne nepatria do starobinca! Úvodná rutina Workin' For MCA a I Ain't The One vyznievala všakovako, len nie rutinne. Členovia skupiny behali, gestikulovali, vyzývali publikum a popri tom, akoby mimochodom, hrali o dušu. Zostava sa evidentne vymanila z nedávnych úmrtí a pôsobila kompaktne.
Vizuálne  ma bavil basák Colt, ktorý striedal prapodivné lovecké pokrývky hlavy a úspešne sa vžíval do nebohého Wilkesona. No a Ricky Medlocke strúha grimasy, ktoré jednoducho treba vidieť. V Call Me The Breeze sa zahral na Hendrixa a okusoval struny, pričom stihol aj odspievať niektoré slohy.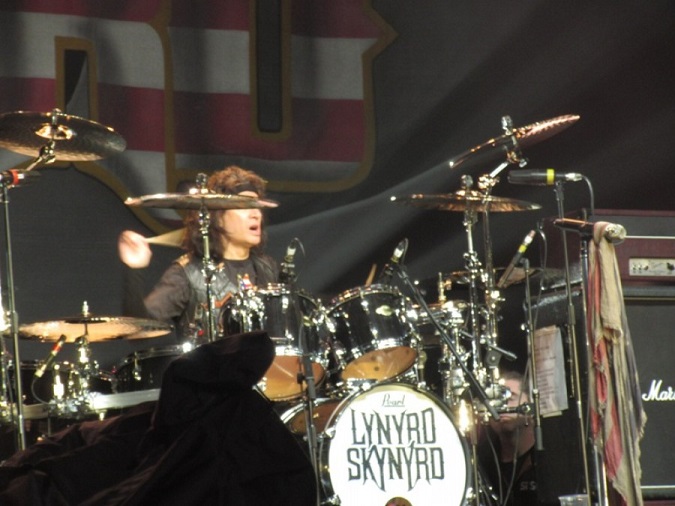 Osobne mám rád prejav bubeníka Cartelloneho, je to drevorubač ako sa patrí. Jedna klasika striedala druhú, What's Your Name a That Smell nechýbajú azda na žiadnom vystúpení. Saturday Night Special z Nuthin' Fancy som ešte naživo nepočul, to už sa na pódiu zjavili aj obe vokalistky, super. Po Needle And The Spoon ma kapela potešila asi najviac. Zahrala baladu I Need You, ktorú doteraz nemajú zachytenú na žiadnom živáku. Venovala ju všetkým ženám v publiku a v jednom refréne si Van Zant s Matejkom poplietli text, čomu sa schuti zasmiali.
Koncert vrcholil nástupom ultimátnych songov v čele so Simple Man. Nádherná atmosféra podporovaná svetelnou šou (ktorá bola skvelá počas celého koncertu) spravila zo skladby niečo nadpozemské. V tej chvíli som mal pocit, že už nikdy nebudem mať hlas, ako som "spieval" všetky texty s kapelou. Ale napokon som našiel skryté rezervy a hulákal až do konca.
Akustická srandička Mississppi Kid z debutu ma tiež potešila, ešte som ju naživo nepočul a muzikanti ju hrali tak autenticky, že som mal pocit, že som kdesi na bavlníkovej plantáži. To sa už blížilo finále, Tuesday's Gone ukázala všetkým, ako sa tvoria balady, v Gimme Three Steps sa zasa na pódiu namiesto vokalistiek usadil perkusionista. Počuť ho nebolo, ale užíval si to.  Gitarové intro predznamenalo najväčší hit kapely. Sweet Home Alabama stála za to. Publikum zvládlo aj obligátne spievanie refrénu.
Skynyrdi hrajú zásadne jeden prídavok, bez výnimky je to južanská hymna Free Bird. Perfektne ju uviedol klavírnym introm Peter Keys. Sólová zbesilá jazda bola v jednom momente doplnená o vesmírnu svetelnú šou, bolo to niečo neuveriteľné. A tie unisona!
Publikum bolo, logicky, medzinárodné, zaznievala slovenčina, poľština, nemčina, angličtina (a čeština, to je snáď jasné). Všetci boli evidentne v laufe. Atmosféra koncertu pod holým nebom sa vydarila. Kým pri predkapele mrholilo, headliner mal nebo suché, akoby sa aj tam hore nemo prizerali geniálnemu koncertnému predstaveniu, ktorému nechýbalo nič! Naopak, malo na rozdávanie! Kto nebol, môže ľutovať.
P. S. Ukoristil som jedno brnkátko od Matejku, to sa mi ešte nikdy nepodarilo.
P. P. S. Stretli sme sa s Borkom, tomu som tiež rád a verím, že si to ešte zopakujeme.