LIBRA
Biografie
Slovo "Libra" znamená v italštině Váhy. Tedy, astrologické znamení. Ve zvěrokruhu je v pořadí na sedmém místě, vychází ze souhvězdí Vah, a je vnímáno jako extrovertně pozitivní. Vyznačuje se podnikavostí a schopností vycítit situaci. Ať měly, nebo neměly, tyto vlastnosti na osud hudební skupiny LIBRA nějaký vliv, faktem je, že byl výjimečný. Vždyť, která italská kapela mohla o sobě tvrdit, že získala smlouvu s americkým vydavatelem na deset alb? Nevím o žádné další.
O vznik se zasloužil zpěvák, kytarista a autor hudby Federico D'Andrea, který začínal roku 1970 jako polovina dua MYOSOTIS. Druhou půli souboru tvořil Stefano Marcucci (ex The ANCIENTS), společně vydali téhož roku 2 singly s beatově laděnou muzikou obsahující náznaky progresivního soundu. D'Andrea pak odchází do rozpadlých římských GENESI, kteří byli v té době bez zpěváka (odvezl si ho během italské koncertní šňůry Brian AUGER do svého projektu OBLIVION EXPRESS), s nimi vytváří band s názvem LOGAN DWIGHT a částečně se podílí na natáčení stejnojmenného LP. Deska nemá podporu vydavatelství a skupina se následně rozpadá. Pro zajímavost, Stefano Marcucci vydal roku 1975 experimentálně elektronicko ethno funky artové album scénické hudby Tempo Di Demoni, Papi, Angioli, Incensi E Cilici (dodnes nereeditované na jakémkoli nosiči) a v následujících desetiletích se scénické avantgardě věnoval mimo jiné se studiovým souborem GRUPPO SOUND.
Federico D'Andrea si bere z nefunkčních LOGAN DWIGHT kytaristu Franco Venturu a dávají v Římě na jaře roku 1973 dohromady novou skupinu s názvem LIBRA. Sestavu spolu s nimi tvoří klávesista Sandro Centofanti (z BUON VECCHIO CHARLIE), dále kytarista Nicola Di Staso (ex I LOMBRICHI, Le RIVELAZIONI, FM2 a REALE ACCADEMIA DI MUSICA) a David A. Walter, hráč na bicí. D'Andrea napsal nové skladby a nějakou dobu se se s nimi snažili bezvýsledně získat zájem hudebních manažerů a producentů. Aby upoutali pozornost, rozhodli se vystupovat v muzikálu "Jacopone da Todi" o blahoslaveném italském františkánovi ze 13. století. Pro tento účel v sestavě Franco Venturu nahradil na podzim 1973 Claudio Barbera, také ex LOGAN DWIGHT. Díky tomuto angažmá navazuje se skupinou spolupráci producent Danny B. Besquet, který jim nabídne zajištění nahrávacího kontraktu.
Do skupiny přichází basista a zpěvák Dino Cappa, střídá C. Barberu, a v této stabilizované sestavě nahrají po ukončení turné demo snímek v Sonic Studio v Římě. Nahrávka jim získává smlouvu se společností Ricordi, pro kterou nahrávají na podzim 1974 v Milánu své první album Musica & Parole. Na produkci alba se podílí i Claudio Fabi, který měl jinak na starosti PREMIATA FORNERIA MARCONI. Ve studiu D'Andrea současně nahrává i anglicky zpívanou verzi alba s vlastními texty. Vycítění situace? V každém případě byl Federico znalostí anglického jazyka skvěle vybaven, neboť je zcela prost rušivého přízvuku, navíc je evidentní, že ví, co zpívá. To oceňují i pamětníci, kteří zmiňují, že často byly pro exportní verze italských alb zpěvákům předloženy texty, kterým vůbec nerozuměli, jen je foneticky odzpívali. Na výsledku se oba přístupy vždy výrazně podepisují, v tomto případě velmi pozitivně.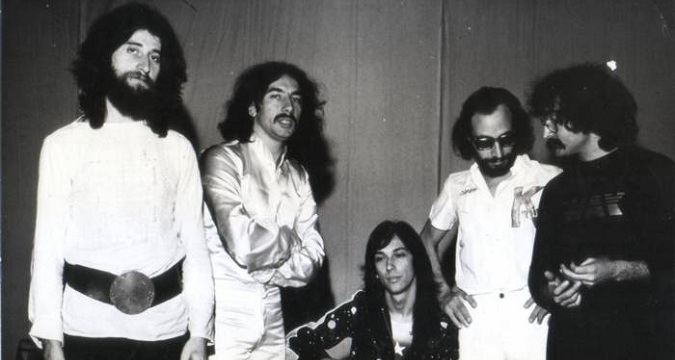 Deska vychází v únoru 1975. Jedná se o rockovou nahrávku s mnoha dalšími vlivy, jako je jazzrock, funk, soul, artrock, některé momenty mohou připomínat například PFM. Zajímavé je, že závěrečná, téměř čtrnácti minutová skladba Inquinamento, je zpívaná v římském dialektu, a také, že jediná skladba, která byla i na původním italském LP zpívaná anglicky, je zdánlivě koncertní Beyond The Fence, dojem vytvářejí uměle přidané živé vstupy. Na podporu prodeje alba podnikají hudebníci od března téhož roku koncertní turné se skupinou BANCO DEL MUTUTO SOCCORSO. První koncert v Teatro Malibran v Benátkách v dubnu 1975 navštívil v publiku Keith Emerson. Recenze na debut skupiny jsou příznivé a skupina prožívá úspěch.
Dalším úspěchem je, když se dozvědí, že producent Besquet, který měl mnoho kontaktů v USA, mezitím osobně zařídil skupině smlouvu s americkým vydavatelstvím Motown na 10 alb, přičemž firmě současně poskytnul anglickou verzi debutu. Ten vychází na americkém trhu pod názvem Libra, obal je odlišný od italského, a náklad edice je velmi vysoký. Skupina získává nového bubeníka (Walter Marino, ex RITRATTO DI DORIAN GRAY, REALE ACCADEMIA DI MUSICA, GOBLIN) a v létě 1975 se přemisťuje do USA, kde podniká turné, začínající 15. října v Los Angeles. Vystupují společně s legendami světového rocku, jako Frank ZAPPA, TUBES, CHICAGO, STEPPENWOLF, SAVOY BROWN, THEE IMAGE (Mike Pinera) a ARGENT. Po létech vzpomíná kytarista Di Staso "Byli jsme kluci z Říma, hráli jsme v Americe, zpívali anglicky, měli smlouvu s velkou firmou.. Všechno bylo tak autentické, ten svěží a tajemný duch úspěchu."
Koncem roku nahrávají v USA druhé album, ale v už prosinci 1975 většina hudebníků po neshodách s producentem odlétá zpět do Itálie. D'Andrea zůstává o několik týdnů déle, aby na albu dotočil vokály. Druhé album vychází v USA pod názvem Winter Day's Nightmare v létě 1976, je více komerčněji laděné než debut, a má v duchu vydavatele daleko více funky prvků. Deska nezaznamenává žádný úspěch a skupina v Itálii přerušuje svoji činnost.
Soubor záhy reformuje sestavu bez Federica, doplňuje ji klávesista Maurizio Guarini z GOBLIN a kytarista Carlo Pennisi z FLEA. LIBRA pak nahrávají a vydávají v Itálii roku 1977 další album, tentokrát pro label Cinevox. Jde o silně elektro Goblinovsky laděný soundtrack Schock (Transfert-Suspence-Hypnos) k filmovému giallo hororu. Pak se opět rozpadají. Než může uskutečnit svoje další hudební plány, Federico D'Andrea umírá 28. listopadu 1978, kdy ho v Římě srazilo auto. Rockové publikum tak ztrácí velmi originálního muzikanta, jehož styl byl osobitý a nenahraditelný.
Prakticky kompletní poslední sestava LIBRA doplněna dalšími hudebníky z FLEA a GOBLIN ještě nahrává pod názvem POLE POSITION elektro disko funky album Starter, vychází roku 1979.
LIBRA – diskografie:
Musica & Parole (1975) vyd. Ricordi
Libra (1975) vyd. Motown
 – totožné jako Musica & Parole, s anglickým zpěvem
Winter Day's Nightmare (1976) vyd. Motown
 – obě alba pro Motown nebyla dosud reeditována na žádném nosiči, dostupná jsou pouze původní LP.
Schock (Transfert – Suspence – Hypnos) OST (1977) vyd. Cinevox
 – LP vychází pro Evropu a Japonsko s rozdílnými obaly. Pozdější reedice na CD mají další odlišné obaly.    
Použité zdroje:
Weby – Italianprog; Progarchives; Classik Rock; Discogs; Yastaradio
Publikace – Il libro bianco sul pop in Italia; Ciao 2001, 13 aprile 1975