Pravidelně jsem chodil sledovat, co připlavalo Československou plavbou labsko-oderskou z Hamburku, abych si nahrál zajímavé novinky. Většinou jsme se tam sešli všichni milovníci bigbítu. Rodiče spolubydlícího majitele LP měli vinný sklep u Strážnice. Ten přivezl demižónek vína, popili jsme, pokecali a poslechli novinky. Když na podzim roku 1976 dorazila nová deska Led Zeppelin, tak mi kamarád říkal: "Rychle si dojdi pro pásek, než to Jirka (tak se majitel LP jmenoval) sjede na té krystalce (safírový hrot přenosky gramofonu litovelské Tesly)". Zašel jsem si na pokoj a přinesl pásek, který mi online kamarád nahrál na magnetofonu Sony TC 366.
Album Presence začíná desetiminutovou skladbou Achilles Last Stand ve stylu, který započal už na LP Houses Of The Holy. Dokonalá rytmika, skvělá hra Jimmyho Page a mně se velmi líbící civilní způsob zpěvu Roberta Planta. Ty záseky a repetitivnost prostě miluji a tuhle skladbu bych vydržel poslouchat celý den. Nasleduje For Your Life s parádním základním riffem. Royal Orleans, nejkratší píseň desky, uzavře první stranu alba.
S Nobody's Fault But Mine začíná druhá strana, opět skladba postavená na základním repetitivním riffu s nádhernými záseky. Přes Candy Store Rock a Hots On For Nowhere se dostáváme k jediné písní alba postavené na blues. Jmenuje se Tea For One a pro mě je naprosto parádní. Je srovnatelná s nejlepší skladbou prezentovanou Led Zeppelin ovlivněnou blues, a tou je Since I've Been Loving You z alba Led Zeppelin III. Tyhle dvě bluesovky jsou dílem skupiny, ostatní, jako třeba In My Time Of Dying, jsou tradicionály, nebo převzaté od jiných interpretů.
Led Zeppelin jsou skupina, která na každé desce přišla s něčím novým a neopakovala se jako jejich hard rockoví souputníci. Presence je originální a neopakovatelná. Zároveň si nedovedu představit vyznění jakékoliv písně v provedení jiného interpreta. To by byla katastrofa, stejná jako pokusy rockových zpěváků na koncertě na počest Freddieho Mercuryho.
Už jsem to tady psal, pro mě je celé dílo této kapely to nejlepší, co na hard rockové scéně vzniklo, ostatní jsou o stupeň níž. Stejně tak jejich desky jsou za maximum, za pět hvězdiček je i Presence.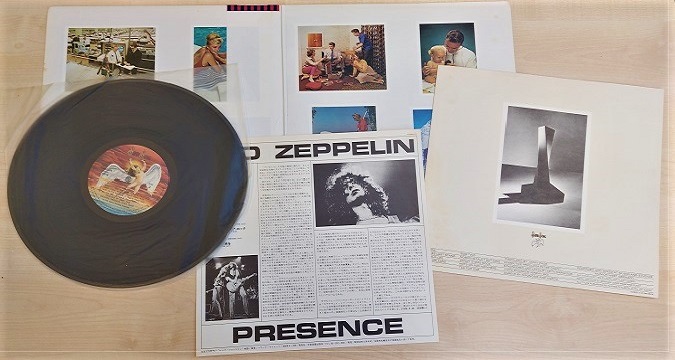 SKLADBY:
1. Achilles Last Stand (Page/Plant) 10.:22
2. For Your Life (Page/Plant) 6:20
3. Royal Orleans (Page/Plant/Jones/Bonham) 2:58
4. Nobody's Fault But Mine (Page/Plant) 6:27
5. Candy Store Rock (Page/Plant) 4:07
6. Hots On For Nowhere (Page/Plant) 4:43
7. Tea For One (Page/Plant) 9:27
NOTES:
Originally released as Swan Song 8416 on March 31, 1976.
Recorded and mixed in November – December 1975 at Musicland Studios, Munich, Germany.
Engineered and mixed by Keith Harwood.
Produced by Jimmy Page.
Executive producer: Peter Grant.
SESTAVA:
Jimmy Page – electric guitars
Robert Plant – vocals, harmonica
John Paul Jones – 4&8-string bass guitars
John Bonham – drums, percussion 
Presence
Led Zeppelin
Hard Rock
Swan Song
1976
LP
7
LP Swan Song P-6521N /1981, Japan/