V září roku 1970, při první vycházce z prostor internátu, jsem ve výloze prodejny zahraniční literatury uviděl několik fotografií bigbítových skupin po 2 Kčs. Polovinu kapesného jsem uvalil za pět fotek, které měly na rubu popis, o jakou kapelu se jedná. Mezi zakoupenými fotografiemi nechyběly Beatles, Rolling Stones, Procol Harum, Animals. Nejcennější byla nejhezčí fotka mně tehdy neznámých Led Zeppelin, hudebníci měli nejdelší vlasy. Po přečtení textu na zadní straně a sdělení spolužáka, který je slyšel, že je to něco nesrovnatelného s běžnou produkcí v rádiu, jsem je chtěl slyšet taky. To se mi za čas podařilo, když mi jiný kamarád pustil Immigrant Song.
Chtěl jsem magnetofon, ale musel jsem si prve vydělat potřebné finance. To se mi podařilo na prázdninové brigádě a na konci prázdnin jsem si magnetofon koupil. První, co jsem si mimo Beatles nahrál, byla dvě alba Led Zeppelin, debut a Led Zeppelin III. Jak šel čas, tak jsem si postupně nahrával další, jak vycházela. LP Houses Of The Holy předcházela fáma, že už to není takové, že jedině The Ocean za něco stojí. Od počátku jsem s tím nesouhlasil, protože mě se líbila.
Pátá studiová deska Led Zeppelin se lišila od předchozích názvem, předešlé byly označené pořadovým číslem a čtvrté pouze čtyřmi runovými symboly. Název je podle písně, která vyšla na dalším albu. Úvodní skladba The Song Remains The Same (Píseň zůstává stejná) je přesně v duchu písní na předchozích LP, pouze zpěv Roberta Planta je více civilní a mně se tahle poloha líbí, taky je tu méně blues. The Rain Song je nádherně prosluněná píseň s akustickou kytarou a klávesovými vstupy. Když ji slyším, tak vidím převtělování Roberta Planta v keltského bojovníka ve filmu, který je pojmenován podle úvodní skladby této desky. V Over The Hills And Far Away vynikají akustické folkové prvky a podobá se skladbám z legendární "trojky". Na závěr první strany zařadila skupina skladbu The Crunge, do které jsou zakomponovány funkové prvky a dokonalé proti rytmy.
Druhá strana začíná s Dancing Days, ve které mimo funkových prvků slyšíme něco orientu. Tohle směřování se projevilo na následující desce v jejich pro mě nejslavnější skladbě Kashmir. Po D'yer Mak'er, skoro taneční písní s prvky reggae, přichází No Quarter, skladba s největším podílem Johna Paula Jonese a pro mě nejhezčí z celé desky. Je zde slyšet velký vliv Pink Floyd a uhrančivé klávesy výše jmenovaného mistra. Závěrečný The Ocean je nejtvrdší skladbou desky a taky se nejvíce podobá těm z počátku kariéry.
Skupina na prvních deskách navázala na tvorbu kapely The Yardbirds, hlavně co se týká vlivu blues. Na třetí LP začíná experimentování s folkem a od této doby se začíná jejich spolupráce s Royem Harperem. Přínos Jimmyho Page na jeho deskách Stormcock a Lifemask je parádní a neopakovatelný. Na Houses Of The Holy skupina hledá směr, kterým by se odlišila od ostatních hardrockových skupin a podařilo se jim to, jsou tu originální a perfektní.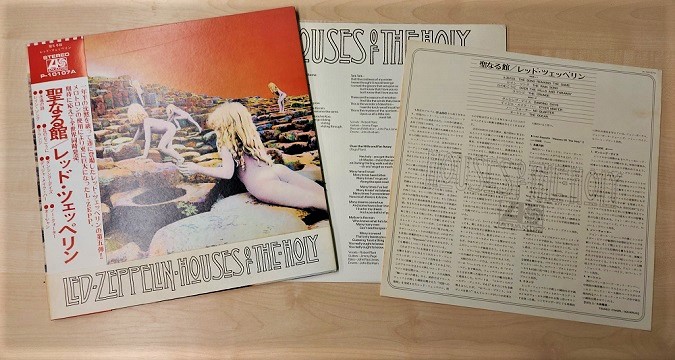 Led Zeppelin pro mě představují už více než padesát let nejlepší skupinu na tvrdě rockovém poli a Houses Of The Holy je deska, kterou mám nejradši a pouštím si ji z jejich katalogu nejčastěji. Má taky nádherný obal od firmy Hipgnosis a hodnocení je jednoznačné.
SKLADBY:
1. The Song Remains The Same (Page/Plant) 5.28
2. The Rain Song (Page/Plant) 7.39
3. Over The Hills And Far Away (Page/Plant) 4.47
4. The Crunge (Page/Plant/Jones/Bonham) 3.13
5. Dancing Days (Page/Plant) 3.41
6. D'yer Mak'er (Page/Plant/Jones/Bonham) 4.22
7. No Quarter (Page/Plant/Jones) 6.59
8. The Ocean (Page/Plant/Jones/Bonham) 4.30

Originally released as Atlantic 7255 on March 28, 1973.
Recorded in January – August 1972 at Stargroves, England, with The Rolling Stones Mobile Studio; Headley Grange, Hampshire with The Rolling Stones Mobile Studio and Island Studios, London.
Mixed at Olympic Studios, London with Keith Harwood (1,2); Electric Lady, New York with Eddie Kramer (3-6,8) and Olympic Studios, London with Andy Johns (7).
Engineered by Eddie Kramer and Andy Johns.
Produced by Jimmy Page.
Executive producer: Peter Grant.
SESTAVA:
Jimmy Page – acoustic guitar, electric guitar, pedal steel guitar, backing vocals
Robert Plant – vocals, harmonica
John Bonham – drums, backing vocals
John Paul Jones – organ, mellotron, bass guitar, backing vocals, piano, synthesizers, harpsichord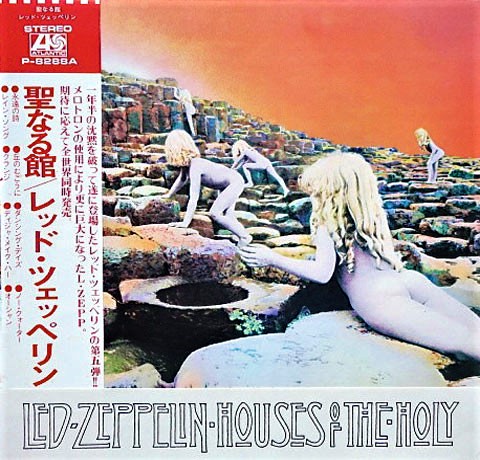 Houses Of The Holy
Led Zeppelin
Hard Rock
Atlantic
1973
LP
8
LP Atlantic P-10107A /1976, Japan/