Vzhľadom na to, že existuje niekoľko rôznych verzií tejto skupiny a dokonca aj v súčasnosti existujú dve, môže byť trochu ťažké pochopiť, ktorá z nich je tou skutočnou. Značku L. A. Guns totiž vlastnia dvaja muzikanti – gitarista Traciii Guns i bubeník Steve Riley. Bez ohľadu na tento guláš je potrebné povedať, že pre mňa a mnohých ďalších fanúšikov je dôležitá tá, v ktorej pôsobí Tracii Guns. A ak je k tomu v zostave aj spevák Phil Lewis, potom je to tá podoba skupiny, o ktorú sa treba zaujímať.
Lewis a Guns počas svojho dlhého vzťahu, ktorý siaha až do roku 1987, mnohokrát opustili rady kapely, ale keď sú spolu, niet pochýb o ich spoločnej chémii. Prvý raz som sa s Lewisom stretol, keď som v roku 1980 kúpil druhý singel skupiny Girl – Hollywood Tease. Potom som bol zvedavý, čo britská skupina urobila s klasikou Kiss, skladbou Do You Love Me, na vynikajúcom debutovom albume Sheer Greed. Po jeho úspechu som bol trochu prekvapený, že sa rozpadli, ale vzhľadom na to, že gitarista Phil Collen pokračoval s Def Leppard a Lewis sa upísal americkým L. A. Guns, bol to dobrý zácvik.
Kedykoľvek je Lewis pri mikrofóne, stelesňuje formu drsných a ironických vokálov. A keď má vedľa seba Gunsa, obaja predstavujú tú rýdzu podobu L. A. Guns. Niet pochýb o tom, že za posledných 30 a viac rokov, odkedy sa prvýkrát stretli, boli ich najlepšie momenty vtedy, keď boli obaja v skupine, ktorej históriu je možné vysledovať až do roku 1983 (samozrejme, došlo k malej obchádzke, do nejakého oblečenia zvaného Guns N' Roses). Toto je Lewisova a Gunsova show, ktorá Vás zrazí na kolená. Lewis kričí so silou a energiou, akoby mal stále dvadsať rokov, keď vrieskal v skladbe Sex Action (1988) "Let pouting me be rude, do you mind if I'm crude, I'll insult all of your friends", zatiaľ čo Guns robí všetko čo je v jeho silách, aby mu pomohol na svojej strane javiska a dokázal, kto je skutočným vlastníkom mena skupiny.
L. A. Guns sú späť s obrovským treskom a The Devil You Know si zaslúži zvýšenú pozornosť. Toto je rock, toto je roll, ozajstný hnací motor. Skutočná transakcia, scéna z osemdesiatych rokov, ktorá nám priniesla skupiny ako Faster Pussycat, bola oživená relevantným a zábavným spôsobom. Tento album mi urobil radosť.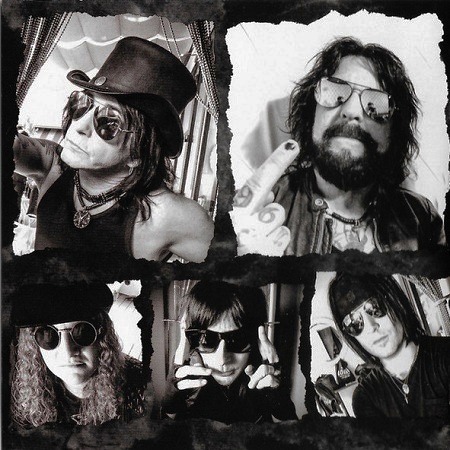 SKLADBY:
01. Rage – 4:00
02. Stay Away – 4:02
03. Loaded Bomb – 4:50
04. The Devil You Know – 5:20
05. Needle to the Bone – 4:01
06. Going High – 4:27
07. Gone Honey – 5:45
08. Don't Need to Win – 4:06
09. Down That Hole – 4:31
10. Another Season in Hell – 6:22
11. Boom (CD & digital only) – 3:15
ZOSTAVA:
Phil Lewis – vocals
Tracii Guns – guitar
Johnny Martin – bass, backing vocals
Shane Fitzgibbon – drums, backing vocals
Mitch Davis – backing vocals
The Devil You Know
L. A. Guns
Hard Rock, Glam Metal
Frontiers Music SRL
2019
CD, LP
10+1