Jednou z nejvýraznějších a nejvýznamnějších stoner rockových kapel jsou američtí KYUSS. Jejich stylotvorný podíl je natolik silný, že bývají označování jako "otcové stoner rocku". Vznikají roku 1987 v Kalifornii, ve vyprahlém městě Palm Desert, tehdy ještě pod názvem KATZENJAMMER, což je německý slangový výraz pro kocovinu. Sestavu tvořili: Josh Homme (kytara), John Garcia (zpěv), Brant Bjork (bicí) a Chris Cockrell (basa). V roce 1989 mění název na SONS OF KYUSS a následujícího roku vydávají EP Sons Of Kyuss. Poté svůj název zkracují na KYUSS a do skupiny nastupuje nový basák Nick Oliveri (hrával už dříve druhou kytaru v KATZENJAMMER), který nahrazuje Chrise Cockrella. Jméno KYUSS vybral Brant Bjork podle nemrtvého monstra (revenanta) v první edici knižní série "Advanced Dungeons & Dragons" řady "Fiend Folio".
Zpočátku fungovali jako party skupina na různých akcích v malých pouštních městech. Početně omezené publikum a hraní v nevlídných podmínkách mělo velký vliv na soudržnost kapely. Na vystoupení museli s sebou vozit diesel agregát, pomocí kterého vyráběli elektřinu pro svá vystoupení pod širým nebem. Podle toho se těm vystoupením říkalo také "generátorové večírky". Homme později v rozhovoru pro časopis Billboard řekl: "Nebyly tam žádné hudební kluby. Museli jsme hrát zadarmo na ulici pro pár lidí. Když se jim muzika nelíbila, přišli za tebou a řekli ti to".
Později podepisují smlouvu s nezávislou nahrávací společností Dali, která vydává jejich debutové album Wretch v roce 1991. Na albu se vedle nových skladeb objevilo také několik předělávek z EP Sons Of Kyuss. Prodej desky byl nevalný, skupina získává pověst hlavně pro svá živá vystoupení. Jedinečný byl především styl hry kytaristy, který na podladěném nástroji vytvářel hutný psychedelický sound přes zesilovače určené pro baskytaru.
V roce 1992 se spojují s novým producentem Chrisem Gossem a pracují na novém albu Blues For The Red Sun. Goss velmi dobře pochopil skupinu a dokázal na studiovou nahrávku věrně přenést jejich originální živý zvuk. Po vydání v červenci téhož roku se album stalo okamžitě velmi úspěšným, dnes je všeobecně považováno za průkopnické pro stoner rockovou hudbu. Stávají se žádanými a vyhledávanými pro koncertní vystoupení, absolvují například turné se skupinou METALLICA v Austrálii. Také se často objevuje srovnání jejich stylu s hudbou BLACK SABBATH. Ovlivnění touto skupinou někteří členové přiznávají, druzí naopak popírají.
Po vydání Blues For The Red Sun skupinu opouští Oliveri a nahrazuje ho Scott Reeder, přičemž tato změna byla dohodnuta již půl roku předtím, během West Coast turné s The OBSESSED. V této sestavě podepisují smlouvu s Electra Records a připravují své první album pod velkým vydavatelstvím. Produkci opět obstarává Chris Goss a díky tomu je zvuk opět perfektní. Album bylo sice nahráno na začátku 1993, ale kvůli různým vydavatelským peripetiím se dostává na trh až v červnu 1994. Původní název měl být prostě "Kyuss", potom byl pracovní název "Pools Of Mercury", aby se nakonec mezi fanoušky dostalo jako Welcome To Sky Valley. Jedná se o vyzrálé rockové dílo se silným psychedelickým akcentem.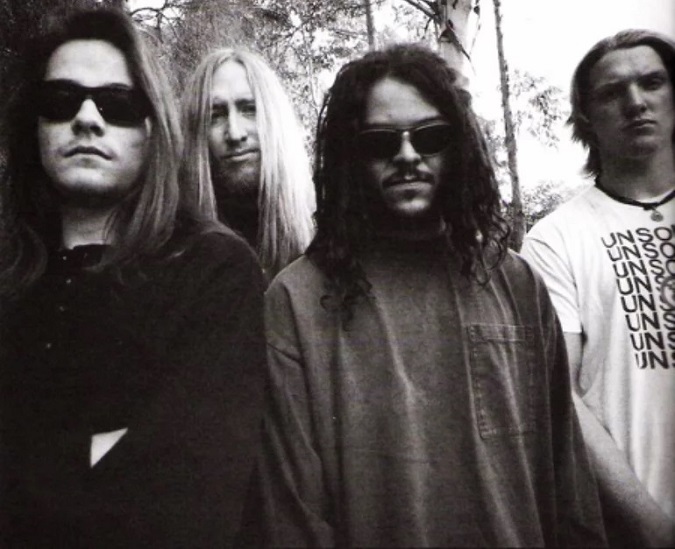 Už během nahrávání Welcome to Sky Valley nastaly rozpory mezi bubeníkem Bjorkem a zbytkem kapely. Nakonec jeho nechuť jezdit se skupinou na turné vyústila v odchod ze skupiny. Nahradil ho Alfredo Hernández, který hrál v 80. letech s Reederem v kapele ACROSS THE RIVER. S ním nahrávají KYUSS své poslední studiové album, které vychází s názvem …And The Circus Leaves Town v červenci 1995. Prodeje byly zpočátku horší než u předchozích dvou děl. Ovšem, když skupina začátkem roku 1996 poměrně překvapivě oznámila rozpad, prodeje se rychle zvednuly a dnes je album hodnoceno na úrovni svých dvou předchůdců.
Zpočátku se zdálo pravděpodobné, že KYUSS se dají časem znovu dohromady, ale faktem je, že k tomu již nikdy oficiálně nedošlo. Dnes tomu brání i právní důvody, kdy je použití jména skupiny silně omezeno. Jediné, čeho se posluchači dočkali, bylo posmrtné vydání výběrového alba Muchas Gracias: The Best Of Kyuss (listopad 2000), na němž se objevily, kromě pěti již vydaných albových skladeb, také raritní písně z B stran singlů a záznam z koncertu z května 1994 v německém Hamburku. Nejblíže k původní sestavě měl koncertní projekt KYUSS LIVES!, který vzniknul z jiného projektu zpěváka Garcii GARCIA PLAYS KYUSS. Vystoupili také 3. června 2012 v Lucerna Music Baru v Praze. Setkaly se zde 3/4 sestavy z prvního alba KYUSS, ovšem bez kytaristy Joshe Hommea, který v roce 2012 právní cestou zabránil používání jména KYUSS v jakémkoli projektu bez jeho osoby. KYUSS LIVES! se pak změnili na VISTA CHINO. Ostatní bývalí členové mateřské kapely jsou aktivní v různých hudebních uskupeních, z nich nejznámější jsou QUEENS OF STONE AGE, které založil kytarista Josh Homme (zde zpívá, hraje na piano a kytary). V průběhu času se v nich objevili i další ex-KYUSS hudebníci, a dnes tu působí jako bubeník Jon Theodore známý ze skupiny The MARS VOLTA.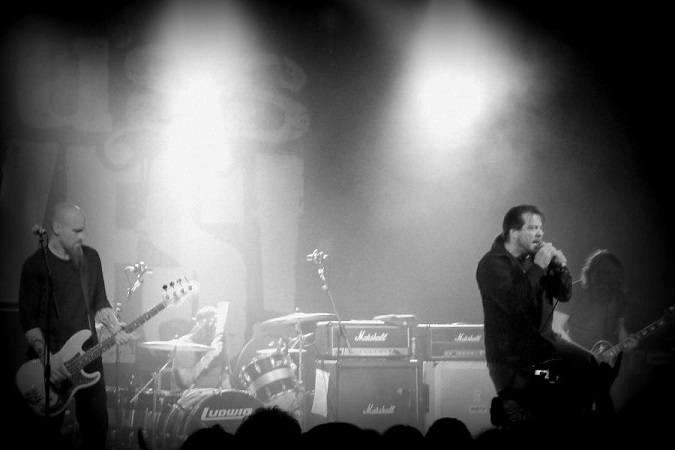 Odkaz KYUSS je velmi bohatý a silný, těží z něj dodnes celá stoner rocková scéna. KYUSS představují těžko dostižný vzor, v jehož zvuku jsou kombinovány prvky heavy metalu, psychedelic rocku, blues rocku a doom metalu, to vše ve zcela nezaměnitelné atmosféře.
KYUSS – diskografie:
Sons of Kyuss (1990) EP, jako SONS OF KYUSS
Wretch (1991)
Blues For The Red Sun (1992)
Welcome To Sky Valley (1993)
…And The Circus Leaves Town (1995)
Muchas Gracias – The Best Of (2000) 5 skladeb z alb, plus rarity z různých SP
(uveřejněno 2017 na PgB, přepracováno a doplněno 2021)