Klasické rockové trio z Middlesborough – Cycle – neprerazilo, ale napriek tomu sa zapísalo do mapy hardrockovej Európy rarít a iných kuriozít.
Najstarším členom kapely bol bubeník Norman Smith. Narodil sa v roku 1946 v Cardigane vo Walese, kde sa po vojne usadili jeho rodičia. Po niekoľkých sťahovaniach napokon celá rodina zakotvila v Middlesborough. Mladý Norman sa vstupom do puberty rozhodol, že sa stane bubeníkom a čoskoro sa stal stálicou lokálnych kapiel. S The Scorpions sa niekedy v roku 1965 zaoberal hraním skladieb od The Beatles, s ďalšími kapelami (The Moonbeams, The Sunsets, The Milestones, Chelfont Line) hral pop a soul a vôbec! Vôbec sa mu to nepáčilo. Uznával The Who a to, čo za bicími stváral Keith Moon.
Ronnie Patterson (basa, spev) sa narodil v roku 1948 v Stockton-On-Tees kúsok od Middlesborough. Od dvanástich hral na gitaru a jeho prvou kapelou bola od roka 1964 Patchwork Sound, ďalšia coverová dobová záležitosť. Keď odišiel basák, preorientoval sa na tento hudobný nástroj. Táto skupina sa rozpadla v roku 1968.
John Whittingham (gitara, spev) bol rodák z Middlesborough, narodil sa v roku 1950. Na gitare hral odmalička, v roku 1964 založil svoju prvú kapelu The Down And Outs. Tá dostala zaujímavé promo v miestnych novinách. Pod titulkou "Kapela potrebuje dodávku" sa skvela fotka chalanov stojacich v daždi na autobusovej zastávke. Už o rok bol členom formácie The Elastic Band. Miestna scéna vtedy žila, hralo sa prakticky všade, a preto sa pomaly stával známym. Potom, čo časť kapely odišla (a sformovala Soul Supply), pokračoval s The New Elastic Bandom, kde hrali aj Mick Burns (spev), Adrian Prest (klávesy), Phil Lockey (bicie) a niekoľko basgitaristov.
Veci sa pohli, keď manažér kapely Derek Elliott a Whittingham oslovili Pattersona, aby sa pridal. Bolo to v roku 1968 a kapela zmenila názov na Cycle. Z pôvodného popového prejavu začala postupne pritvrdzovať. Napriek častému koncertovaniu sa kapela nevyhla personálnym zmenám, postupne z nej odišli všetci pôvodní členovia vrátane manažéra Elliotta, ktorí sa radšej začal venovať iným kapelám, lebo z tejto mu moc nesypalo. Napokon z nej bolo duo John a Ronnie. Pribrali klávesáka Jimmyho Broughtona a oslovili Smitha, či by s nimi nebubnoval. Tomu sa páčilo, že hrali tvrdú muziku a okamžite súhlasil. To sa už písal rok 1969. Broughton sa v kapele dlho neohrial, pretože na pódiu polial svoje Hammondy petrolejom a zapálil ich, takže nemal na čom hrať. Takisto si rád vypil. Napriek uvedenému neskôr kapele občas vypomohol ako bedňák. Trio začalo intenzívne cvičiť, vystupovať a okrem coverov sa začali objavovať aj prvé vlastné skladby. V okolí Middlesborough mali výhodu, málokto tam hral tak tvrdú muziku, a preto ich čoskoro každý poznal.
Myšlienka nahrať album viedla v roku 1971 až do Bradfordu do štúdia SRT (Sound Recording Technology), ktoré založil v roku 1968 David Richardson (pôvodne ako Sun Studios). Ponúkal okrem nahrávania aj výrobu LP, v malých nákladoch, čo bolo ideálne pre začínajúce kapely. Chalani z Cycle si všimli reklamu v miestnych novinách a rozhodli sa ísť do toho. Jedno ráno prišli, doobeda nahrali podklady ku šiestim skladbám, poobede dohrali spevy a bolo! Inak, všetky skladby odspieval Whittingham, iba jednu, Confusion, naspieval Patterson. Večer sadli do dodávky a šli domov. Kvôli daniam sa dohodli, že bude vyrobených 99 kusov LP, zabalených do čistého bieleho obalu. Album mal jediný účel, mal poslúžiť ako demo pre "naozajstné" vydavateľstvá a pre podniky, kde chceli hrať. Jeden výlisok poslali aj Johnovi Peelovi, ktorý ho údajne aj pustil do éteru.
Kapela intenzívne koncertovala, ale všetci členovia mali zároveň robotu, a preto sa nedokázali odpútať od Middlesborough. Hrali s veľkými kapelami, napr. s Argent, Van Der Graaf Generator, Mott The Hoople, East Of Eden, Man alebo hoci s Atomic Rooster. Viacerí im hovorili, aby šli do Londýna, že spravia kariéru, ale nikdy k tomu nenabrali odvahu. Radšej hrali v okolí Durhamu. Podľa publika menili playlist, v repertoári mali covery od Black Sabbath (Fairies Wear Boots), Deep Purple (Child In Time), T2 (In Circles), Groundhogs (Cherry Red, Split Part One), Traffic (Pearly Queen) alebo Stray (Afret The Storm) a dokonca tvrdšiu verziu skladby Lucy In The Sky With Diamonds od Beatles. Jeden z bedňákov, Andy Chisholm, dovliekol oscilátor a kapela ho občas prizvala na pódium. V tej dobe fičala kapela Hawkwind, ktorú všetci z kapely zbožňovali.
Avšak, v roku 1973 sa Patterson oženil a opustil hudobný biznis. Zostal v kontakte s Whittinghamom, ktorý si následne vzal sestru jeho ženy. Nahradil ho basák Malcolm Harker. V tom istom roku sa kapela zavrela v dome u Chisholma a nahrala ďalších šesť skladieb. Inšpirácia Hawkwind priniesla ovocie, akurát sa nahrávky nikam nedostali. V roku 1975 sa na pár koncertoch pridal starý známy Broughton, ale opäť dlho nevydržal. Kapela sa zavrela v dome u Harkera a nahrala dve demo skladby (Walking Through The Darkness a Dawning Of The Last Life). Harker mal rád  funky, takže výsledok tomu zodpovedal. Na jednej skladbe hral aj na xylofóne.
V roku 1976 to napokon zabalili. Nastupovala éra punku, Smith odišiel do kapely Desperado, neskôr sa pridal i Whittingham. Hrali veci od Eagles i Davida Bowieho. Smith príležitostne bubnuje. Whittingham sa neskôr pridal do kapely Rised On Rusks, s ktorou hral až do novembra 2014. Okrem toho si založil malé štúdio a venoval sa učeniu zdravotne znevýhodnených detí. Ako riaditeľ školy dostal v roku 2000 ocenenie z rúk samotnej kráľovnej. Zomrel v januári 2015. Patterson sa venuje kariére inžiniera. Nikto nevie, čo je s Broughtonom, Harkerom i Chisholmom.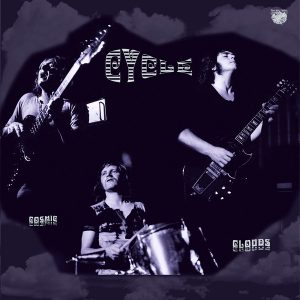 V roku 2019 vyšiel na značke Rise Above Records album Cosmic Clouds, ktorý obsahuje všetky nahrávky kapely. Okrem toho je v ňom výpravný booklet s množstvom dobového fotografického materiálu a obsiahla štúdia o kapele, ktorú som sem v skrátenej podobe prerozprával. Škoda by bola na ostrý hard rock á la Cycle zabudnúť.
Diskografia:
Cycle (1971)
Cosmic Clouds (2019)