Tohle je to přelomové album ve tvorbě Kraftwerk! Před tímto dílem byla hudba Kraftwerk opravdu hodně náročná, pro řadu lidí těžce poslouchatelná a až příliš experimentální (první album, vydané ještě pod názvem skupiny Organisation, Tone Float z roku 1970, dokonce připomíná psychedelické Pink Floyd).  Úplně zapomeňte na pojem rocková písnička. 
Na následujících albech Kraftwerk hudbu postupně zjednodušovali do jakéhosi melodického, romantického elektropopu (ale stále velice kvalitního, mám rád všechna alba této skupiny, která se prostě posouvala a vyvíjela). Ale tohle album má v sobě 60% toho nejlepšího z předcházejícího období a 40 % toho nejlepšího z období budoucího. Tohle je to album, na které pěl ódy David Bowie a jeho berlínská alba (instrumentálky) jsou jasně ovlivněná právě touto deskou.
Je zajímavé, jak každá z velkých německých skupin ve své době zněla jinak. V tomto za Anglií tedy nezaostávaly. Sólovky Klause Schulzeho neznějí jako jeho mateřská kapela Tangerine Dream, Kraftwerk znějí už úplně jinak, Can nebo Amon Düül II přece jen neopouštěli základní pevnou rockovou půdu, zejména tedy ti druzí jmenovaní. Eloy (čerpající z britského hardrocku, pak z Pink Floyd a nakonec z Kraftwerk a ještě navíc zpěv, barva hlasu jejich zpěváka připomínala Iana Andersona z Jethro Tull) na to šli také úplně jinak… A dalo by se pokračovat dál… Zajímavé… Každé takové seskupení bylo nezaměnitelné s jiným.
Už úvodní Electric Roulette má v sobě něco, co by se dalo nazvat pevnou melodií. Krátká skladba Mountain Of Sound (samozřejmě opět instrumentální) je obohacena dokonce nádhernou pastorální flétnou. Crystal nezapře psychedelické ovlivnění, ale velice dobře se poslouchá, klávesy zde znějí skoro jako artrocková improvizace… Album plyne, až přichází závěrečná čtrnáctiminutová Ananasová symfonie, nesymfonická progresivní elektronika, rozličné klávesy (z nichž některé znějí trochu jako Gilmourova kytara) vytvářejí možná až relaxační variace na improvizovaně znějící hlavní hudební motiv; velice zajímavé!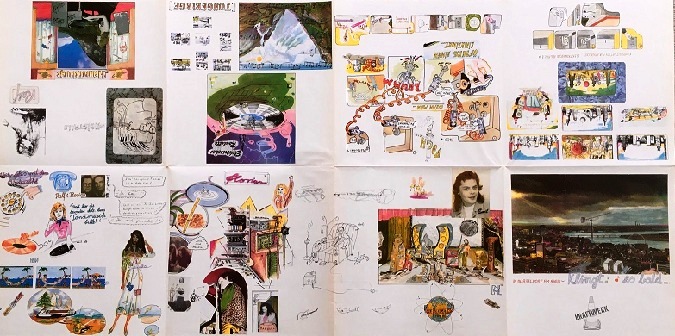 A já si jen říkám, proč je tohle výborné album tak krátké! 38 minut. Slabou útěchou budiž mi fakt, že třeba alba italských progrockových legend jsou často ještě kratší.
SKLADBY:
1. Electric Roulette (Elektrisches Roulette) (4:19)
2. Mountain Of Sound (Tongebirge) (2:50)
3. Crystal (Kristallo) (6:18)
4. The Bells Of Home (Heimatklange) (3:45)
5. Dance Music (Tanzmusik) (6:34)
6. Pineapple Symphony (Ananas Symphonie) (13:55)
SESTAVA:
Ralf Hütter & Florian Schneider – vocals, keyboards (Farfisa organ, Minimoog, EMS Synthi AKS, vocoder), string & wind instruments, drums, electronics, production
+
Konrad "Conny" Plank – engineer
Ralf & Florian
Kraftwerk
Electronic, Experimental
Philips
1973
LP
6