Dejiny Free by neboli úplné bez albumu Kossoff, Kirke, Tetsu, Rabbit, ktorý vznikol v krátkej pauze medzi rozpadom a obnovením tejto legendárnej britskej bluesrockovej formácie.
Free sa rozpadli počas austrálskeho turné, a tak sa členovia pobrali každý svojou cestou. Rodgers sformoval Peace, Fraser Toby, no a Kossoff s Kirkem sa rozhodli odísť do USA. Zobrali so sebou Američana Johna "Rabbit" Bundricka, ktorého stretli počas turné a sadol im do noty. Medzinárodnú zostavu ich nového projektu doplnil Japonec Tetsu Yamauchi. Kapela nahrala jediný album, ktorý nesie mená (prípadne prezývky) všetkých štyroch členov.
Desať skladieb nesie všetky znaky Free, akurát, že materiál nie je nijako výnimočný. Je počuť, že absencia Rodgersa je citeľná a nielen v speve. Nie, že by to bol zlý album, je však "iba" dobrý. Kto má rád Free, nudiť sa nebude, hoci celkové vyznenie nie je až také neopakovateľné. Kossoff dáva miestami zo seba to naj, čo ho zdobilo, napríklad v inštrumentálke Just For The Box. Aj balady, napríklad Anna, sa počúvajú bez problémov. Celkovo mám však pocit, že to mohlo byť lepšie. Určite ešte vyzdvihnem parádnu rockovú skladbu Hold On, ktorá by sa nestratila na žiadnom albume Free.
Ťažko povedať, ako by sa situácia ďalej vyvinula, ale Kossoff prepadol drogám a z problémov ho vytrhla až šanca na reunion Free. Nevyšlo to. Čo vyšlo, bolo, že prakticky celá táto zostava nahrávala album Heartbreaker, posledný štúdiový album Free. Fraser sa totiž počas amerického turné pobil s Rodgersom a opustil kapelu, nuž zaskočil Tetsu. A pridal sa aj Rabbit. Ale to je už iný príbeh. Do tohto patrí už len jedna podstatná informácia, skladba Just For The Box z albumu Kossoff, Kirke, Tetsu, Rabbit sa dostala na výberovku The Free Story z konca roku 1973, čím tento čin v podstate kodifikovala ako niečo, čo má s Free neoddeliteľný vzťah. Pravda, album obsahoval aj skladbu od Peace (Lady) a dokonca niektoré nemecké vydania obsahovali omylom aj skladbu Travelling Man od Toby. Nakoľko Fraser bol v nemilosti, všetky ostatné vydania ponúkajú túto skladbu vo verzii od Free.
Štvorica Kossoff, Kirke, Tetsu, Rabbit je prakticky zostavou Free, a preto tento album patrí k povinnej výbave každého jej fanúšika.
Skladby:
Blue Grass 5:21
Sammy's Alright 4:05
Anna 3:39
Just For The Box 3:30
Hold On 5:21
Fool's Life 4:27
Yellow House 3:23
Dying Fire 4:29
I'm On The Run 4:33
Colours 4:46
Zostava:
Paul Kossoff: gitara, vokály (10)
Simon Kirke: bicie, spev
Tetsu: basa
Rabbit: el. piano, piano, mellotron, organ, spev
a
B. J. Cole: dobro (7, 9)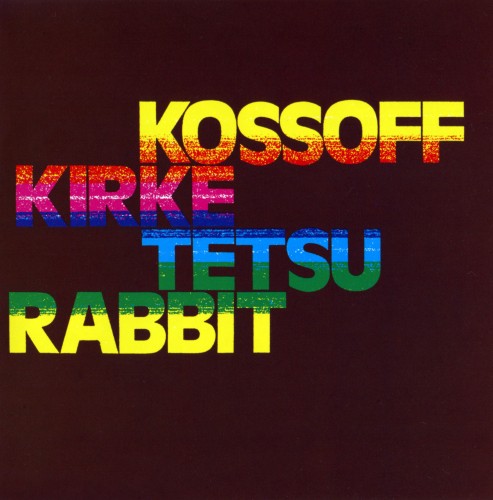 Kossoff, Kirke, Tetsu, Rabbit
Kossoff, Kirke, Tetsu, Rabbit
blues rock
Island
1972
CD (Island Records, 1990)
10