Album vnímám jako pokračovatele předchozího hudebního opusu, doslova jako Larks' Tongues In Aspic II, jehož koncept je tu řádně rozvíjen. Jakoby kapela zkoušela, kam až se dá zajít. No, daří se jim dojít opravdu daleko, předaleko. Současně zde vnímám větší suverenitu, souhru a souznění všech hudebníků, dojdou nejenom dále, ale i výše, na vyšší vrcholy. Zdá se, že si docela sedli, a přese všechnu muzikantskou schizofrenii, vaří společný eintopf jako praví mistři svého řemesla. Tímto mnohovrstevnatým rozčepýřeným galimatyášem mi na několika místech připomínají GENTLE GIANT, a to tak, že hodně.
Koncept roztříštěných motivů umetených na jednotlivé hromádky s označením "skladby" zůstává zachován. Podíl nelibozvučných (motto dne – pryč s prvoplánovou libozvučností!) a náhodných zvukových seskupení je stále enormně vysoký. Nic překvapivého, neboť improvizace byly vždy nedílnou součástí procesu vytváření skladby KING CRIMSON. Navíc, hranice mezi improvizací na koncertě a studiovým preludováním je nejasná, je-li vůbec jaká. Zde se naštěstí, a to obdivuji, podařilo docílit výrazné splývavosti hudby. Ať to zní jakkoli podivně, ty ostnaté skladby skoro vůbec nedrhnou, a dají se s hrubozrnným požitkem poslouchat, což je vlastnost, která minulé desce chyběla.

Dílo obsahuje několik zaznamenání hodných aspektů. Housle, co minule hodně rušily posluchačskou strukturu skladby svojí nepropracovaností a neotesaností, kdy připomínaly zaseknutý Mellotron, nyní na to jdou úplně jinak. Tady mi připadá, že většina houslových motivů na desce vzniknula prostým rozvinutím motivu z filmu Ptáci. I zde často smyčec evokuje nápřahy ruky s dýkou, co ve zničujícím důsledku plátkuje jednotlivé porce skladby. Dále, ty mírné písně, které na každém albu aspoň trochu dávají náznak romantismu, jsou zde hojně zastoupeny, avšak napuštěny jedem. A jedem! A kam? A jakým? Tak třeba Lament je Brufordovo vosí hnízdo, v němž se divoce útočí na vše, co se pohne. Sténající Wetton tomu dává psychokultůru, aby nátěr druhé půle měl důstojnou ceremonii, než ji někdo utne. Hned následující hemživé mihotání levitující v chaosu má název We'll Let You Know, a není se čeho chytit. Noční hlídka dusí jako mlha kalného rána. A tak dál. Jedna lahvička s trávící tinkturou za druhou zde vylévají svůj leptavý obsah. Z čpící acidní směsi tu a tam vyčouhne kus pevného a jasně definovaného motivu, který po zanoření ponechává v posluchačově mysli alespoň bublinu, alias hezkou vzpomínku.
Krom intuitivního až autopilotního zvukoplošnění lze vytušit v posledních dvou skladbách jisté cílené autorské snahy. Táhavá vnadidla lákají ošálenýma ušima na lep. I sednout se naň dá. Za odměnu tě řežou do setmění, aby ráno začali/ly/la znovu. Rezavě i řeřavě. Tančit bosýma nohama na žhavých uhlících je slast proti tomu. Ale zase, jako již přetím kdys, mámí Fracture k další návštěvě mučírny s názvem Starless And Bible Black. Na konci desky jsem rád, že jsem přežil.

V případě KING CRIMSON je mimo jiné nutno smeknout nad tím, jak hudebně nepřívětivou až kolizní hudbu dokázali protáhnout k relativně široké posluchačské obci a dosáhnout u ní věhlasu. O jejich genialitě rozhodně nepochybuji, ačkoli je tato leckdy s pozdviženým obočím obtížně posluchačsky zpracovatelná, vždy však ovoce přinášející.
Čtyři krvavé hvězdy.
01. The Great Deceiver – 04:03
02. Lament – 04:02
03. We'll Let You Know – 03:41
04. The Night Watch – 04:42
05. Trio – 05:41
06. The Mincer – 4:09
07. Starless And Bible Black – 09:14
08. Fracture – 11:17
Total 46:36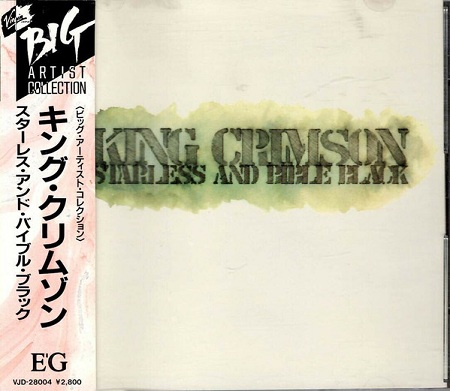 Starless And Bible Black
VJD-28004
King Crimson
Art Rock
Virgin Japan (1988)
1974
CD
8