Trabl. Rok pauza. Trabl vyřešen. Na čas.
Fripp všechny vyhodil a najal nové spoluhráče.
Pak jim řekl, ukažte, co umíte. Hoši.
Nebo si aspoň nalaďte.
Najděte ten, no.. novej sound, však víte.
Jdu si koupit židli.
Hoši preludovali. Ladili. Jamovali. Občas i hráli.
Fripp se vrátil. S židlí.
Šéfe, už jsme naladili.
Dobrý, to nechte.
Můžeme hrát.
Klídek. Nechte mě tu o samotě, s mojí kytarou, a židlí.
Baj, baj.
Pustoprázdné album se zbytkovou odlidštěnou muzikou. Každý tón vrže a drhne jako vocucaný dřívko vod zmrzliny. Nedotažené náznaky, pokusy, chabá nahození hrachu na stěnu, z níž neodpadnul, neboť ani nedoletěl. Nevlídné motivy se málokdy složí v něco, co bych mohl nazvat hudbou. Pár fragmentů se vydařilo. Byl by to slušný singl. Takhle, suchopár. Motivy vlídné jako průvan.
První skladba, tři minuty harmonické struktury čmajznuté z Close To The Edge. I s Brutem. Brufem. Brufenem. Brufordem. V pozadí kdosi cosi plká. Co? A pak ještě. Slyšel jsem někdy někde Crosse takhle nudně hrát? Neslyšel. Není se čeho chytit. Zlatý kakofonie. Book Of Saturady je takový.. Krimsonní. Už to tu bylo, a lépe, tyto odlehčené skladby jim šly. Tři minutky hezkého pábení. Milé a mrazivé. Wetton není můj oblíbený zpěvák, ale teď se dal vydržet, docela jeho skřípění ladí s atmosférou skladby. A houslemi, to zase později.
Je to dřina udržet pozornost, mysl se od té desky snaží utýct. Pud sebezáchovy, nebo co. Dávám si ji už druhý týden denně, jako sakra trpkou medicínu. Účinek se nedostavuje, ale mám splněno. Ostatně, čemu se divím, takhle na mne působila vždycky, za těch víc jak dvacet let, co se známe, to bylo vždycky setkávání nemluvného s introvertem. Nepokecali jsme, a asi to už ani nepůjde.
Přitom to vyloženě není zlá muzika. Když vyhodím třetinu zbytečných blbostí, zbude polotovar, s nímž se dalo něco dělat. Ale neudělalo. Nedovařené, neslané, nedomleté. Ten Wetton má fakt hlas, jako když škrábeš železným hákem po plechu, úúúúú! Exiles je óda kostlivce na hladomornu. V Easy Money jim už přeskočilo, z toho utrpení, mně taky. Ale nechechtám se. Padadau, tudydau, tudytúúúú.
Skladbám chybí ucelenost. Samotné sekvence jsou místy zajímavé, nikdo je ale nesešrouboval dohromady, leží tu poházené. Jistá snaha je znát z The Talking Drum, sice je to jen postupné zvyšování gradace až do krátkého kataklyzmatu, ale co, aspoň nějaký koncept. S rafinovaností předchozích desek se to ovšem nemůže rovnat. Je třeba přistoupit na tuhle hru. Na tuhle chudobu. Přijmout ji, pak si dílo do jisté míry užívám. Vyprahlostí k předzheblému jásotu.
Druhý díl titulní skladby má taky docela sílu. Vlastně celá druhá půlka desku zachraňuje. Vytahuje ji z hluboké studny zasypané pouštním pískem. Dalo to dřinu, tu poctivou posluchačskou dřinu, prohrabat se až na dno, ke troše vláhy. Odřený uši, skoro fyzicky.

Určitě si tohle album občas pustím. Občas si něčím musím odrhnout mysl, abych věděl, jak se mám fajn. Občas musím kousat i do citrónu. I hladovka dělá organismu dobře. Občas a přiměřeně. I Larks'.. I Tongues.. I(n) Aspic..
Ukrutná prázdnota. Táhne z toho na nohy.
01. Larks' Tongues In Aspic, Part One – 13:35
02. Book Of Saturday – 2:56
03. Exiles – 7:40
04. Easy Money – 7:41
05. The Talking Drum – 9:29
06. Larks' Tongues In Aspic, Part Two – 5:23
Total 46:49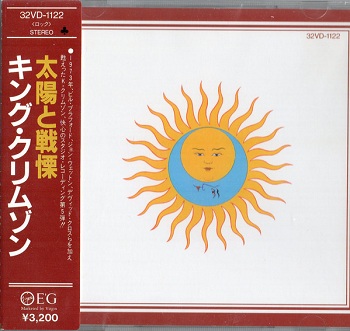 Larks' Tongues In Aspic
32VD-1122 (Black Triangle)
King Crimson
Art Rock
Japan Toshiba EMI (1987)
1973
CD
6