Joustone, Hiléme, Vynku, Džamilo, mám problém. Každé album, které od KING CRIMSON právě poslouchám, se mi zdá nejlepší. Toto je čtvrté nejlepší album v řadě, a je monstrózní. Doufám podle italského přísloví – problém, který se sám nevyřeší do čtrnácti dnů, nemá řešení – že tento problém se nevyřeší nikdy.
Po natočení Lizard se Fripp jal vytvořit novou sestavu svého tělesa. Za tímto účelem najal Boze Burella na basu a Iana Wallaceho na bicí nástroje. Zpěvu se ujal taktéž Burell a musím říci, že je takovým derivátem dvou předchozích vokalistů, jeho projev mi do soundu i atmosféry zapadá skvěle. Sice se objevuje na desce v nepříliš rozsáhlých plochách, ale na pravých místech. Z minulé sestavy zůstává dechař Mel Collins, do svého arzenálu přidává Mellotron, hlavně tedy na vystoupeních. Dále je tu několik hostů, kdy za zmínku určitě stojí Paulina Lucas, která svým vokálem nádherně okořenila první skladbu, nebo Keith Tippett, bez jehož klavíru by album nemělo to vyznění a sílu.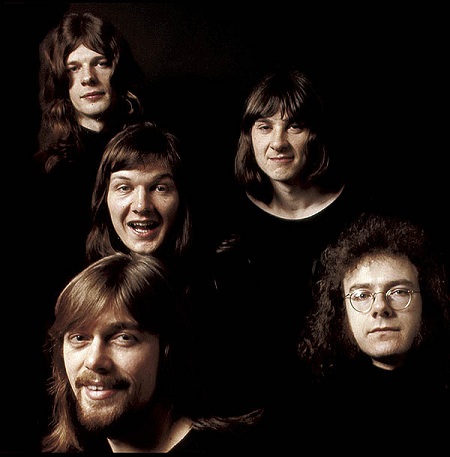 Malé odbočení. Islands je také poslední dílo souboru, kde se objevuje Peter Sinfield. Jeho následující kariéra byla docela zajímavá. Snažil se prosadit mimo jiné i jako hudebník a vydal roku 1973 album Still, později reeditované jako Stillusion. Hlavní náplň jeho aktivit byla i nadále tvorba textů pro jiné hudebníky. Těmi se posléze podílel na tvorbě výrazných art rockových souborů jako EMERSON, LAKE & PALMER a PREMIATA FORNERIA MARCONI, a také osobností jako Angelo Branduardi, Leo Sayer a Celine Dion. V osmdesátých létech psal také texty na všechna čtyři alba eurovizních popíkářů BUCK FIZZ. Z cvičných důvodů jsem si je poslechl, ale je to opravdu jen pro otrlé.
Zpátky k tématu. Jak uklidil kapelu, uklidil Fripp i muziku. Uklidil, ne uklidnil. Muzika je tu opět na cvokhaus, ale jiné oddělení. Místo šílenců v deliriu tremens se tady potkávají labilní melancholikové. Hudební kraj za okny stroje času se proměnil, stal se poklidnějším a vážnějším, dominuje výhled na daleké štíty, co se vypínají nad širými pláněmi. Ve zvuku a pojetí kompozic lze vnímat zklidnění, provzdušnění, až minimalismus. Skladby jsou zahleděné do sebe, promyšleně sestavené a navrstvené, úplně cítím, jak se v každém vrznutí, úderu, stonu i drnknutí skrývá síla dočasně uspané erupce. To napětí, v pár katarzních momentech explodující, očarovává moji pozornost a já poslouchám jako ochrnutý.
Celá první strana desky má v sobě výraznou příměs free jazzu. První tři skladby jsou ohromně silné a tak nacpané emocemi, že nenechají na vteřinu vydechnout, oddechnout, ani nadechnout a vzdechnout. Možná tak zdechnout. Druhá polovina Sailor's Tale je přímo zabijácká. Nebo prostředek The Letters. Nebo ta basová figura v Formentera Lady, co má účinek kapek vody dopadajících pravidelně na hlavu, kap, kap, kap, kap, a současně vás mučící horkými gejzíry houslí, flétny a saxofonů. Tyto skladby vás zádumčivě rozebírají na kousíčky, aby pak do zjihlé duše bleskově zaťaly nelítostný spár.
Dožít se druhé strany desky je záslužný výkon, za odměnu vám Ladies Of The Road zahrají The BEATLES. Je zvláštní, že tato zhruba čtyřiceti sekundová pasáž jakoby určila charakter celé skladby, přičemž její naprostá většina se nese opět ve skřípavě freejazzovém duchu za podpory záhrobních tónů chraplavých saxofonů. To prostě miluju! Teprve vplutí do klidných vod Jezera Klidu, jež nese název Prelude: Song Of The Gulls, přináší kýženou útěchu. Ta skladba nese dědictví dávnějšího období sestavy Giles, Giles & Fripp, jak jsem se dočetl, ale příliš to tam neslyším. Byly doby, kdy jsem tuto kompozici měl úplně nejraději, Islands bylo "to" album, kde je "ta" skladba. Pak jsem ji jako zas tak dobrou nevnímal, dnes však opět ano, neboť hudba jest proměnlivá a omamná.
Titulní závěrečná píseň je rozloučení. Bolestné, zdlouhavé, oddalované, natahované. Odloučení bez návratu. Bez naděje. Je to žalost a smutek. Skladba nemá konec, nemá gradaci, postupně se vytrácí a rozplývá v nekonečnu. Trubka pěje jako z druhé strany břehu, houpavě lká, mizí v záchvěvech. Přímo paralyzující depka, citlivější povahy by mohlo jebnout, hehe.
První čtyři alba KING CRIMSON přinášejí vše, co si od hudby můžu přát, vše, co si dokážu představit. Jejich poslech je vždy maximální zážitek nevýslovné intenzity.
01. Formentera Lady – 10:15
02. Sailor's Tale – 7:34
03. The Letters – 4:32
04. Ladies Of The Road – 5:35
05. Prelude: Song Of The Gulls – 4:15
06. Islands – 11:54
Total 44:07
Islands
EGCD 5, Mastered by Nimbus
King Crimson
Art Rock
E.G. Records Ltd. (1987)
1971
CD
6