Už sedm měsíců po debutní desce přichází na svět dvojka KING CRIMSON, In The Wake Of Poseidon. Greg Lake je jednou nohou pryč, čeká ho další monstr projekt EMERSON, LAKE & PALMER. Ale ještě se uvolil album nazpívat, což je jednoznačně dobře, ten nezaměnitelný hlas dělá na prvních dvou deskách hodně. Jeho vokální dvojtón mi s poselstvím hudby KING CRIMSON dokonale souzvučí. Ian McDonald je pryč nohama oběma, k velkému zklamání Frippa. McDonaldovy kompoziční pozůstatky lze ještě v některých stopách vysledovat, domnívám se, že i v těch, kde uveden není, neboť duch jedničky je na Poseidonovi převelice intenzívní. Rytmiku zajistila studiově dvojice bratrů Gilesových, která je náramně sehraná a účinná ve své střídmosti.
Dílo nabízí, ba přímo do hlavy šroubuje, spoustu kruciálních momentů. Nepřebernou spoustu. Máme tady tentokrát osm skladeb, ale vlastně je opět použit model pěti výrazných kompozic. Tři zbylé nejkratší skladby tvoří poklidnou suitu Peace, která album uvádí, předěluje i uzavírá. V dalších skladbách lze nalézt prvky známé již z debutu. Jak razantní útočnost v řezavých promyšlených riffech v Pictures Of A City (including 42nd at Treadmill a In The Wake Of Poseidon (including "Libra's Theme)), tak kontrastní lyrickou notu v Cadence And Cascade, kterou nazpíval Frippův kamarád ze studií Gordon Haskell. Stále je tu dost prostoru pro flétny, které jsou v hudebních plochách nejen svěžující, ale také vytvářejí další dimenzi, do níž se lze v představách uchylovat. V neposlední řadě je nutno zmínit Mellotrony, které obzvláště v titulní skladbě vytvářejí monumentální architektonické prvky. Střízlivá hra na bicí dává akcent v těch přesných okamžicích, přesvědčivý Lakeův vokál, upozaděná, avšak základní kontury načrtávající kytara, a máme tu KING CRIMSON.
Kontrasty ve vývoji skladby, elektrizující náboj v téměř každém taktu, stupňování napětí, jež je místy rozptýleno jen, aby se vrátilo v ještě naléhavější podobě, to jsou základní skladebné principy, jež nás očarovávají při poslechu díla. Tuto auru nepostrádá žádná píseň, kromě uklidňující Peace trilogie. Za zmínku také stojí přímé citace z Court, objevující se ve více skladbách. V titulní skladbě na pár místech jen čekám, kde se ozve "Confusion, is my epitaph…"
Dá se říci, že reformovaní KC zde jdou v lecčems ještě dál, než na debutu. Skladby jsou promyšlenější, strukturovanější, propracovanější, zřetelnější. Separace motivů dovoluje se s každým poslechově doslova pomazlit. Při vší obtížnosti mají skladby schopnost v každém detailu potěšit, aniž by byly jakkoli podbízivé. Předkládají nejvyšší stupeň intenzity zážitku, přičemž vyžadují vrcholné soustředění. Poté, co dojde k naladění, lze naplno rezonovat, opájet se harmonií bezbřehé hudby a vnímavé duše. Ještěže tu máme Peace, které hodno svého názvu nás z transcendentálních výšin bezpečně navrací dolů na zem. Velmi ohleduplné.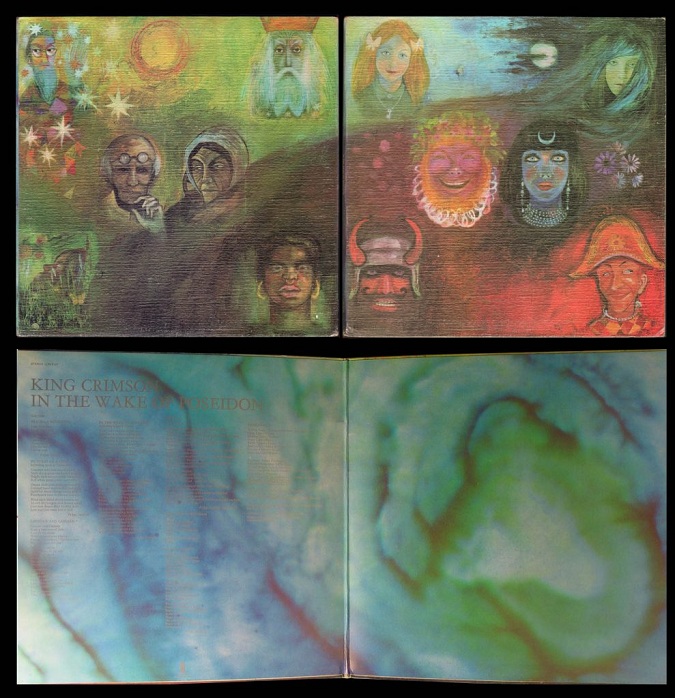 Deska má jedinou nevýhodu, je až druhá. Vždyť je zde všechno, co si lze přát, a mnohé navíc. Jen tu není ten efekt ohromení z neslýchaného. Poprvé je jen jednou. Věřím, že ten, kdo touto deskou diskografii KING CRIMSON začal, bude ji mít s vysokou pravděpodobností na piedestalu. Takhle si ji absolutně vychutnávám a dává mi úplně stejně explozivní zážitek, jako debut. Všech pět hlavních skladeb stejnou měrou, jsou omračující jako šamanův lektvar. A pak je vydýchávám, nejlépe dalším poslechem téhož.
Když doznívá troubení apokalypsy v Garden Of Worm a já se vracím ze vzdálené planety Duna zpátky na Zemi, vždy si uvědomuji, jak velikým dobrodružstvím jsem si prošel. Hudba odvážně a mistrně balancující na hranici bolesti umocňuje katarzi a vyvolává horečnaté představy. Šílená jízda a pak euforie, že jsi to přežil. Chceš ještě? Jasně. Vždycky mám málo. KING CRIMSON vzbuzují nenasytnost. Někdy mám pocit, že jejich kakofonické tóny požírají samy sebe. Proto je největší extáze v The Devil's Triangle, nejpůsobivější skladba, to je prostě masakr. I proto je tato deska nesmrtelná.
Neumím si vybrat, kterou mám raději. Na pustý ostrov bych musel propašovat obě, a tvrdil bych, že jde o dvojalbum. Já přece nikdy nekecám.. 🙂
01. Peace – A Beginning – 00:49
02. Pictures Of A City, Including 42nd At Treadmill – 08:03
03. Cadence And Cascade – 04:27
04. In The Wake Of Poseidon, Including Libra's Theme – 07:56
05. Peace – A Theme – 01:15
06. Cat Food – 04:54
07. The Devil's Triangle – 11:39
i. Merday Morn
ii. Hand Of Sceiron
iii. Garden Of Worm
08. Peace – An End – 01:53
Total 41:08
In The Wake Of Poseidon
EGCD 2
King Crimson
Art rock
E.G. Records Ltd (1987)
1970
CD
8