Ken Hensley opustil tento svet pred pár mesiacmi, no jeho hudobný odkaz bude žiť, ako sa vraví, naveky. Na poli melodického hardrocku kraľoval s prehľadom, album Faster, ktorý v roku 2011 vydal so svojou sprievodnou skupinou Live Fire, je toho dôkazom.
Kena som spoznal klasicky, cez Uriah Heep. Ono sa mi to vtedy ani nezdalo, ale v podstate bol hlavným skladateľom kapely a jeho nesmrteľné songy pomohli týmto velikánom, aby sa zaradili po bok Led Zeppelin, Deep Purple i Black Sabbath. Následne som zistil, že hral v južanskej veličine Blackfoot a za zmienku stáli aj jeho počiatky kariéry, kedy som ho postupne nachádzal v kapelách ako The Gods, Toe Fat, Head Machine, Weed… Vlastne som sa k jeho sólovej tvorbe dopracoval až nakoniec, nejakých desať-jedenásť rokov nazad. Prvé dva albumy zo 70. rokov vydalo Esoteric Recordings a ja som nezaváhal. Oba sú vynikajúce. Následne som si kúpil Blood On The Highway (2007), album, ktorý sa veľmi príjemne počúva. A minulý rok, po informácii, že Ken zomrel, som do zbierky zaradil album Faster. Prečo? Voľajako som cítil, že chcem byť v kontakte s jeho hudbou nad rámec toho, čo som poznal.
Celý album nahral za tri týždne v Rige, čo je hlavné mesto Lotyšska. Hensleyho aktuálna koncertná kapela sa tentoraz nemusela deliť o priestor s množstvom hostí, ako tomu bolo na minulom štúdiovom albume a ani "coverdaleovský" spevák Lande tu nie je. Oboje považujem za klad. Faster mi preto znie prirodzenejšie a akoby "kapelovejšie". Hudobne je to veľmi podobná záležitosť, pokojne by sa mohla nazvať pokračovaním.
Od úvodnej posadenej hardrockovej pecky Set Me Free (From Yesterday) po poslednú Fill Your Head (With Rock) znie presvedčivá melodická muzika, na ktorú mal Ken talent od boha. Iste, už to neznie ako v 70. rokoch, vôbec mi to neprekáža. Vždy mu šli balady, nuž aj tu je ich niekoľko a majú presne to, čo si predstavujem pod pojmom prívetivá citovka. Ako príklad uvediem skladbu I Cry Alone. Výhodou albumu je, že pôsobí celistvo, pričom nie je problém všímať si tu i tam výraznejšieho motívu alebo momentu, ktorý je "uriáš-hensleyovský" a hneď si do toho kývam hlavou.
Zaujímavý je bonus vlepený na všetky vydania albumu. Skladba Circle Of Hands s fenomenálneho albumu Demons And Wizards od Uriah Heep. Zaujímavý v tom, že ide o koncertnú verziu s orchestrom. Osobne si myslím, že nejde o nič prevratné, kebyže som pred pódiom, verím, že by ma to dostalo, z cédečka však cítiť, že na originál sa táto verzia nedotiahne. Každopádne mi neprekáža.
Na zlepšenie nálady sú Kenove albumy ako stvorené a Faster mi sedí. Výborná muzika z prívetivej strany hudobného spektra. Nemusí byť všetko komplikované, niekedy platí, že menej je viac. A pritom tu toho vôbec nie je "menej". Asi navždy už mi bude troška ľúto, že som Kena nevidel naživo.
Skladby:
Set Me Free (From Yesterday) 6:41
The Curse 6:19
I Cry Alone 5:16
Katrine 4:29
Faster 3:08
Slippin' Away (The Lovers Curse) 3:54
The End Of Never 3:24
Beyond The Starz 6:56
(At) The Last Minute 3:07
Somewhere (In Paradise) 3:41
Fill Your Head (With Rock) 5:35
Circle Of Hands (with the Norwegian Radio Orchestra, live, bonus) 7:30
Zostava:
Ken Hensley: spev, klávesy, gitara
Eirikur Kauksson: spev
Ken Ingwersen: gitara, vokály
Sid Ringsby: basa, vokály
T.A. Fossheim: bicie
a
Iluta Valtere-Gradua: vokály
Kristine Tkacuka: vokály
Leva Katkovska: vokály
The Norwegian Radio Orchestra (dirigovaný Nickom Daviesom): orchester (12)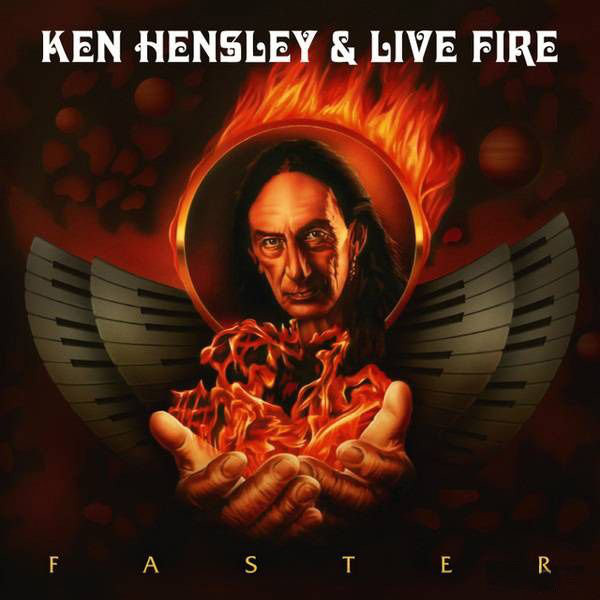 Faster
Ken Hensley & Live Fire
hard rock
Ear Music
2011
CD (Ear Music, 2011)
12