Máj, lásky čas. Keď sa v tomto mesiaci pred štyridsiatimi ôsmimi rokmi zjavil na pultoch album Exile On Main St od Rolling Stones, započal svoju dlhoročnú "ježišovskú" púť do sŕdc fanúšikov. Môjmu sa však vyhol.
Väčšina mojej spisby o rockovej muzike sa nesie v pozitívnom duchu. Rád povoľujem uzdu svojmu nadšeniu a venujem čas propagácii rocku z prelomu 60. a 70. rokov, pretože niekde v kútiku vyprahnutej a cynickej duše dúfam, že to niekomu pomôže objaviť niečo, čo mu obohatí život. Iste, je to naivné, ale úprimne, napĺňa ma to a či to má alebo nemá zmysel pre niekoho iného, neovplyvním, a teda sa podobnými úvahami už ani nezaoberám. Tentoraz však urobím výnimku a vyjadrím svoju neschopnosť prijať album, ktorý má vo všeobecnosti status legendy. Kým začnem, na férovku priznávam, že Rolling Stones nie je moja srdcová záležitosť. Je jasné, že som zaujatý, mne skrátka v rockovej hudbe imponujú sólisti a počas kariéry tejto veličiny mi práve výraznejší inštrumentalisti chýbajú. S výnimkou Taylora. Ale aj on občas zapadol do zabehnutých koľají, ako to krásne počuť na albume Exile On Main St.
K albumu som si snažil nájsť cestu niekoľkokrát. Nezabral na prvýkrát, ani na druhý a vlastne nezaberá dodnes. Napriek tomu som si ho zaradil do zbierky, ako takú výzvu (čo, ak raz?). Mám dvojdiskovú verziu z roka 2010, ale bonusový disk v podstate nepočúvam. Pamätáte si Hobbita od Petra Jacksona? Trilógia, ktorej by prospelo škrtanie, dostala dokonca tantrickú verziu utrpenia v podobe rozšírenej edície. Toto je rovnaký prípad. Oproti predchádzajúcim albumom, vlastne aj tomu nasledujúcemu, mi na ňom chýba čokoľvek výrazné, čo by sa vymanilo z pomerne ležérnej a fádnej polohy. Sticky Fingers bol výborný album, množstvo materiálu z Exile On Main St vzniklo počas jeho nahrávania, takže si dovolím bulvárne skonštatovať, že nepoužité zvyšky dostali svoj priestor o necelý rok neskôr. A je to cítiť.
Pokiaľ si myslíte, že neduh – nemám dosť nápadov, ale nahrám dvojalbum – je príznačný výhradne pre neoprogové zoskupenia, Stouni vás rýchlo vyvedú z omylu. Nekonečný zástup priemerných bluesových, rokenrolových i country skladieb bez výraznejšieho náboja pôsobí ako keď uzatvoria hlavný ťah na posmrtnej diaľnici do Pekla a obchádzka vedie cez Vlčie Hrdlo smerom do Rovinky. Viem, že mimo Bratislavy toto prirovnanie nezarezonuje, nuž vedzte, že to je to pravé dopravné Peklo. Ďalší faktor, ktorý sa snaží odviesť pozornosť poslucháča od podstaty sa skrýva za kadejaké doplňujúce nástrojové aranžmány. Vypomáhajú takmer dve desiatky nájomných muzikantov, vokalistky i vokalisti, dychári, perkusionisti, klaviristi a výsledok? Skutek utek, ako vravia bratia Česi. Nepomohli prehrávky od štúdiových hráčov, materiál na albume ma neustále bezočivo presviedča, že on je lepší ako jeho predchodcovia, on všetko zachráni, on zmení smer za hlasom dokonalosti… A ako v politike, aj tu je pre mňa jeho populizmus nefunkčný.
Aby som nebol vyslovene negatívny, sú tu aj okamihy, ktoré na mňa zaberajú. Bluesová rýchlovka Shake Your Hips mi kurizuje s odhodlaním pokoronovej sociálnej pracovníčky snažiacej sa poodhaliť rúško svojej profesie. Do švédskej trojky priberiem aj odviazanú kurtizánu Turd On The Run. Aby sa mi to tu nezvrhlo do orgií, vyzdvihnem už len jednu skladbu. Ťažkú posadenú bluesovku Ventilator Blues. Pre mňa osobne je práve táto vec vyvrcholením celého albumu.
Album bol v čase vydania prijatý rôzne, ale rýchlo sa stal základným kameňom diskografie a dosiahol na prvú priečku v mnohých rebríčkoch. Nečudo, že je dnes mnohými považovaný za najlepšie dielo Rolling Stones. Tumbling Dice, jedna z najobyčajnejších (čítaj najnudnejších) skladieb z hitového repertoáru kapely,  sa umiestnila v prvej desiatke v rebríčkoch v USA i vo Veľkej Británii.
Aby som to zhrnul, priveľa typicky stounovsky nezaujímavých skladieb, medzi ktorými nie je ani jedna, ktorá by mala v sebe niečo mimoriadne, zabilo Exile On Main St po vzore neschopného poľovníka, ktorý namiesto jednej presnej rany potrebuje osemnásť nábojov, aby skolil korisť. A to veru bolí!
Skladby:
CD1:
Rocks Off 4:31
Rip This Joint 2:22
Shake Your Hips 2:59
Casino Boogie 3:33
Tumbling Dice 3:45
Sweet Virginia 4:25
Torn And Frayed 4:17
Sweet Black Angel 2:54
Loving Cup 4:23
Happy 3:04
Turd On The Run 2:36
Ventilator Blues 3:24
I Just Want To See His Face 2:52
Let It Loose 5:16
All Down The Line 3:49
Stop Breaking Down 4:34
Shine A Light 4:14
Soul Survivor 3:49
CD2:
Pass The Wine (Sophia Loren) 4:54
Plundered My Soul 3:59
I'm Not Signifying 4:54
Following The River 4:52
Dancing In The Light 4:21
So Divine (Aladdin Story) 4:31
Loving Cup – alternate take 5:25
Soul Survivor – alternate take 3:58
Good Time Women 3:21
Title 5 1:47
Zostava:
Mick Jagger: spev, harmonika, gitara, perkusie
Keith Richards: gitara, vokály, basa, piano
Mick Taylor: gitara, basa
Bill Wyman: basa
Charlie Watts: bicie, perkusie
a hostia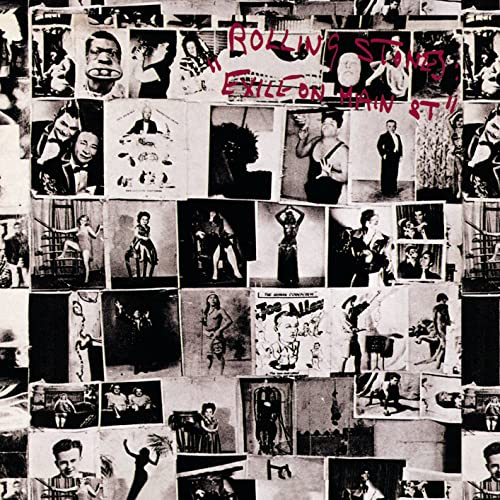 Exile On Main St
Rolling Stones
blues rock, country, rokenrol
Rolling Stones
1972
LP, CD
18