Dobré holuby sa vracajú. Nuž, v prípade americkej pompéznej kapely Kansas to platí. Po dlhých pätnástich rokoch bez štúdiového albumu sa v roku 2016 vrátila s titulom The Prelude Implicit. A dobre urobila.
V zostave pôsobia už len dvaja členovia, čo hrali na debutovom albume. Bubeník Ehart a gitarista Williams. Po roku 2000 sa mi osudy kapely spájajú skôr s formáciou Proto-Kaw, kde hrá Livgren. O to zaujímavejšie mi zneli niektoré pochvalné reakcie na internete. Aj preto som sa rozhodol, že dám šancu tomuto cédečku bez toho, aby som sa pachtil po nete po vzorkách na vypočutie. Reku, nostalgicky si pripomeniem doby, kedy sa albumy kupovali bez predchádzajúceho varovania. A dobre som urobil.
Už prvá skladba With This Heart sa nesie v duchu starého dobrého "Kansasu" a hromová Visibility Zero nenechá bokom ani spevné "sladšie" pasáže, ktoré z hudby Kansas robili odnepamäti niečo, čo sa dá púšťať aj v rádiách. Teda, dalo za čias, kedy som ešte rádio počúval. A tak to ide rad za radom. Nechýba nič! Husle, vtieravé melódie nad nevtieravým, často košatým hudobným sprievodom. Balady sú chytľavo clivé, ostré skladby starostlivo nabrúsené. A to tak, že poslucháči nie sú nabrúsení. Miestami si doslova hoviem v ráznych nárazových vlnách rockovej lavíny (taká osemminútová The Voyage Of Eight Eighteen je bomba!).
Vizuálne obmenená zostava prináša všetko dôverne známe. A podáva to spôsobom, ktorý je životaschopný. Baví ma. Možno je to aj tým, že od kapely som nič neočakával a tento príklon k svojim koreňom jej pristane. Nech je ako chce, artrocková muzika amerického strihu mi sedí. The Prelude Implicit je fajnový album. Som rád, že som sa s ním pobratal.
P.S. Vraj sa tento rok chystá ďalší album, hm, hm…
Skladby:
With This Heart 4:13
Visibility Zero 4:27
The Unsung Heroes 5:02
Rhythm In The Spirit 5:58
Refugee 4:23
The Voyage Of Eight Eighteen 8:18
Camouflage 6:42
Summer 4:07
Crowded Isolation 6:10
Section 60 4:01
Zostava:
Phil Ehart: bicie
Billy Greer: basa, spev (8), vokály
David Manion: piano, klávesy, organ, zvukový dizajn
Ronnie Platt: spev, piano (6)
David Ragsdale: husle, vokály
Zak Rizvi: gitara, vokály
Richard Williams: gitara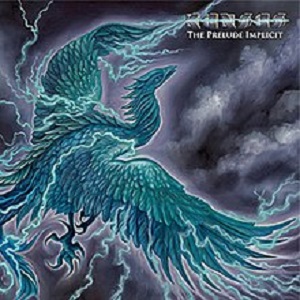 The Prelude Implicit
Kansas
art rock
InsideOut
2016
LP, CD
10