Debutový album americkej pompéznej skupiny Kansas má už takmer štyridsaťpäť rokov, tak prečo si ho nepripomenúť.
Kansas. V 70. rokoch minulého storočia by ste na americkom kontinente zaujímavejšiu rockovú formáciu, ktorá by hrala artrockovú hudbu v jedinečnom domácom vyznení hľadali márne. Odmyslite si Zappu, ten bol predsa len inde. Môj vzťah ku skupine sa zrodil po vypočutí skladby Carry On My Wayward Son, ktorá bola ako správne hardrockovo vybudená, tak aj prekvapivo košatá. A to ani nehovorím, že Dust In The Wind pozná azda každý. Postupne som sa prehrýzol albumovou tvorbou a skončil som s tým, že si vystačím s prvou päticou albumov. Ono, kapela ich nahrala veľmi veľa, aktívna je dodnes a v 80. rokoch s ňou hral aj známy gitarista Steve Morse (áno, ten zo súčasných Deep Purple). Kansas hrali pôvodne artrock blízky tomu britskému, nahrávky z prvej polovice 70. rokov pod hlavičkou Proto-Kaw patria k neskutočným klenotom. Ale poďme k debutu.
Môže zaň Don Kirshner. Ten stál v 60. rokoch za zrodom úspechu kapely The Monkees a v 70. rokoch založil vlastné vydavateľstvo. A práve v ňom sa kapele Kansas podarilo nahrať debutový album. Nahrávalo sa v roku 1974 v New Yorku, ale z ôsmich skladieb boli hneď tri ešte z obdobia Proto-Kaw. Koniec-koncov, práve skladba Can I Tell You presvedčila o rok skôr Kirshnera, aby kapele dal šancu. Z roka 1973 pochádza aj skladba Belexes a Bringing It Back vznikla už v roku 1972.
"Kansasáci" sa vytasili s mixom svižného južanského boogie. Ten "pravý "americký pocit dodávajú predovšetkým husle, ktoré sólujú o dušu. Popri huslistovi Steinhardtovi aj exhibicionistické sólo od Hendrixa pôsobí ako hanblivý prejav introvertného minimalistu! Skladby ako Can I Tell You, Bringing It Back, Belexes alebo hoci The Pilgrimage by sa uchytili na ľubovoľnom albume velikánov južanského rocku. Pôsobia, ako keď u Molly Hatchet hosťoval Charlie Daniels (pravda, to sa stalo o mnoho rokov neskôr). Aby toho nebolo málo, prériová balada Lonely Wind láka na tanečný parket všetkých neborákov sužovaných láskou.
Avšak, nielen južarinou Kansas jest živ! Zárodky pompézneho artrockového vyhrávania sa prejavujú v dlhších kompozíciách Journey From Mariabronn, Apercu a Death Of Mother Nature Suite. Takto budú znieť viaceré ich nasledujúce albumy, na hrane medzi hard a art rockom. Vždy neskutočne živelné, a predsa sofistikované momentky z rockovej majestátnosti. Pokiaľ naďabíte na tvrdenie, že art rock je výsadou európskeho kontinentu a odtiaľ ho ostatné svetadiely v podstate kopírovali, tak Kansas je príklad veľmi osobitého amerického prístupu k veci.
Zo všetkých albumov kapely počúvam debut najradšej a najčastejšie. A basta! (Napriek tomu uznávam, že Leftoverture je ešte o kúsok lepší.)
Skladby:
Can I Tell You 3:32
Bringing It Back 3:34
Lonely Wind 4:17
Belexes 4:23
Journey From Mariabronn 7:58
The Pilgrimage 3:44
Apercu 9:40
Death Of Mother Nature Suite 7:55
Zostava:
Phil Ehart: bicie
Dave Hope basa, vokály
Kerry Livgren: gitara, klávesy, vokály
Robby Steinhardt: husle, spev
Steve Walsh: klávesy, perkusie, spev
Rich Williams: gitara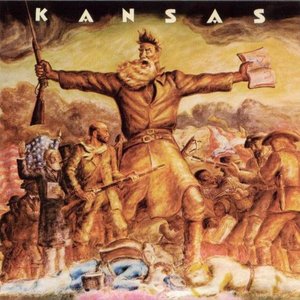 Kansas
Kansas
hard rock, southern rock, art rock
Kirshner
1974
LP, CD
8