Nahrávky kapel se na počátku sedmdesátých let sháněli prabídně a informace o nových deskách byla taky mizerná. Nejlepší nahrávka byla direct drive z LP a těch desek by pohledal, o celých diskografiích nemluvě.
Kamarád na internátě někde sehnal takový seznam LP, které tam nabízeli k nahrání v ceně deset korun za desku. Domluvili jsme se a každý jsme si vybrali osm LP, které bychom si potom vyměnili. Na ty tituly nezapomenu do smrti: Uriah Heep – Look At Yourself, Lindisfarne – Fog On The Tyne, Emerson, Lake & Palmer – Trilogy, Yes – Fragile, John Lennon – Imagine, Colosseum – Collectors, Nice – Five Bridges a King Crimson – Earthbound. Do týdne pásky dorazily a začal poslech na pokoji, na intru…
Nejvíce jsem se těšil na Uriah Heep a Emerson, Lake & Palmer, které jsem už slyšel u kamaráda. Jejich desky nezklamaly, ale tehdy mě více zajímaly neznámé tituly. Na úvodu třetí stopy jsem měl mít nahrané King Crimson. O této skupině jsme absolutně nic nevěděli, a bylo to pro nás tehdy něco jako výbuch atomové bomby. Úvodní 21st Century Schizoid Man totální masakr, tak tvrdou skladbu nikdo z nás zatím neslyšel. Kytarista hrál na kytaru odlišně od ostatních, elektronicky deformovaný vokál, to bylo úplně něco jiného. Skupina King Crimson si mě tehdy získala. Měl jsem od nahrávačů seznam skladeb, ale sestavu tam neuvedli, že kytarista se jmenuje Robert Fripp a zásadně hraje v sedě na stoličce jsem se dozvěděl z německého časopisu POP. Jejich ostatní desky jsem si nahrál až za pár let pořádně a stereo.
Deska Earthbound je sestřih pěti skladeb hraných na koncertech v té době. Každý by předpokládal, že budou většinou z předcházející studiové desky. Nejsou, z alba Islands je pouze Sailor's Tale. Popisuji to s odstupem a se znalostí většiny tvorby skupiny. Deska začíná již zmiňovanou skladbou 21st Century Schizoid Man, kterou tehdy startovala většina jejich koncertů. Peoria se nenachází na žádném z předchozích alb a je hodně ovlivněna jazzem. Mel Collins je vynikající hráč a jeho hra na saxofony je úžasná. Závěr první strany LP tvoří již zmiňovaná skladba Sailor's Tale a pro příklon k jazzu se dokonale hodí k ostatním skladbám na albu.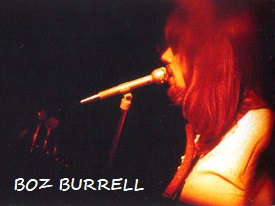 Na druhé straně jsou dvě skladby, titulní Earthbound a Groon. Ani jedna se nenachází na studiové desce. Celá LP je hodně syrová a free. Všechny desky King Crimson do této doby byly dokonalou směsí rocku, klasiky a jazzu. Na Earthbound je podle mě největší podíl jazzu. Mám rád celou tvorbu skupiny, ale tahle deska má pro mě výsadní postavení, protože byla první, kterou jsem od nich slyšel.
U mě jsou snad všechny desky King Crimson za pět hvězdiček, trochu slabší je Beat a Three Of A Perfect Pair, ale i těm bych těch pět hvězd dal, a proto dávám Earthbound taky plný počet.
SKLADBY:
1. 21st Century Schizoid Man (11:45)
2. Peoria (7:30)
3. The Sailor's Tale (4:45)
4. Earthbound (7:08)
5. Groon (15:30)
SESTAVA:
Boz Burrell – bass, vocals
Mel Collins – alto, baritone & tenor, saxophones, mellotron
Robert Fripp – guitar
Ian Wallace – drums
NOTES:
Schizoid Man and Groon were recorded at Wilmington, Delaware on 11 February 1972; Peoria at Peoria on 10 March 1972; The Sailor's Tale at Jacksonville, Florida 26 February 1972; Earthbound at Orlando, Florida 27 February 1972.
The recordings were captured live on an ampex stereo cassette fed from a Kelsey Morris custom built mixer operated by John Robson and Hunter Macdonald on Schizoid Man and Groon and Hunter Macdonald on the other titles: at Jacksonville in the rain from the back of a Volkswagon truck.
VCS3 operated by Hunter MacDonald.
Earthbound
King Crimson
Prog Rock
Island Records
1972
LP
5