Mistr Fripp sedm roků počkal, a pak to do lidí zase napálil. Zase přišel s něčím potrhle svým. Prošel si evidentně autorským i interpretačním vývojem, hrne to dopředu jako odbržděná nákladní souprava. Taky si našel bezva pomocníka, pán jménem Adrian Belew byl mu osudem naordinován nepochybně za odměnu.
KING CRIMSON nehráli nikdy vlídnou ani hřejivou hudbu. V dobách, kdy se artrock dal z velké části považovat za všeobjímající, se vůbec nesnažili o nějakou zkratku k získání posluchačské náklonnosti. Natož v dobách, kdy se hudební trend přesunul k plastové odcizenosti. To se z kapely cenící zuby na každého, kdo šel kolem, stalo těleso jako vytesané ze směsi kovových pilin a rtuti zmrzlé blízko bodu absolutní nuly. Frippova svébytná hudební estetika zde získává ještě víc na nervnosti. Pár podivínů trhaně hraje na kytary s příliš napnutými strunami. Bubeník hopká kolem nové vymoženosti, elektronických bicích, a baskytarista má nástroj, který připomíná všechno, jen ne baskytaru. Poskakující pichlavé tóny nástrojů v napružených harmoniích definují náladu a vyznění celého díla. Zpěv je také v polohách nelíbezných a experimentuje s posluchačem, co ještě snese.
V případě alba Discipline je spousta důvodů, proč se snažit ty nevlídnosti a nelibozvučnosti snášet. Je za nimi skryto něco, co podezřívám z geniality. Není to patrné hned, a není to pro měkkoty. Neodvážného turistu může vyděsit hned úvodní skladba, jejíž tonální jedovatost je umocněna Belewovými výkřiky, jimiž nahrazuje zpěv. Podobnou razanci intergalaktického supercloumáku má i druhá skladba, kde se nesou i zpěvnější linky, ovšem pořád v řádně agresivní atmosféře. Přitom mašina jede úplně dokonale, tento přesně seřízený stroj s mnoha strunami do toho mydlí sice šíleně, zato na setinu neuhne z dráhy. Jako sledovat mraveniště, kde sice přechází zrak, ale vše má svůj řád. To dává jistotu.

Matte Kudasai (z japonštiny "please wait") obrátí kartu a dá připomenout tu romantičtější tvář KING CRIMSON, která se na každém z předchozích alb nějak projevila. Zde se poprvé objevuje závan těch starých Krimznů, jakkoli deska dosud zněla cize. Tuhle skladbu miluju, je dobře načasovaná a je velmi emocionálně účinná. Skoro až flojdovsky, v některých okamžicích. Strašně rychle uteče a už na dveře nedisciplinovaně mlátí bubeníkovy eskapády spolu s kvílením kytar. Zase v tom cítím ozvěnu předchozích období, což je jen dobře. Chybí akorát ty saxofony. Belew je v práci s hlasem neobyčejně tvárný, výrazově vynalézavý, a zcela excentrický. S Frippem tvoří dvojku k pohledání. Mám chuť si s nimi zařvat "I like it!".
Thela Hun Ginjeet  (přesmyčka "heat in the jungle") má správně masivní refrén a skřípající kytary. Ještě než jsem do toho alba pronikl, a to už je opravdu hodně dávno, co jsem absovoval jeho první poslechy, tak právě tato píseň se mi vrývala do paměti nejvíce. Dnes mě přijde přímo extatická. Zase ty Belewovy kecy v průběhu všeho dění, v tomhle byl úplně Watersovský. Dohromady se to se všemi těmi zvuky míchá v dobře protřepanou skotskou. Čím déle toto album znám, tím více se mi dostává pod kůži, a některé pasáže v této skladbě mám doslova vytetované. Mám z toho undergroundový pocit.
The Sheltering Sky je speciální případ. Takhle vypadá ambient v podání KING CRIMSON. A je to opět žraso, kdy moje duchovno plnou hubou nabírá všechny tu zvuky a rochní si v nich jako prasátko v blátíčku. Móc veliká paráda. Nejdelší skladba na albu, ale tak rychle uteče, fňuk. Závěrečná instrumentální zběsilost Discipline evokuje první dvě skladby a vcelku logicky s nimi tvoří zarámování celého tohoto nevšedního alba.
Konečný verdikt je jasný, obzvláště při aktuální poslechové benefici sebraných spisů KING CRIMSON v chronologickém pořadí. Žádná skladba není kompromisní, žádnou bych nezkrátil, i když jsou mučivé, tak ty útrapy si zase užívám. Zase trochu jinak, a pokaždé se na to zase těším. I like it !!!
01. Elephant Talk – 04:41
02. Frame By Frame – 05:08
03. Matte Kudasai – 03:45
04. Indiscipline – 04:32
05. Thela Hun Ginieet – 06:25
06. The Sheltering Sky – 08:22
07. Discipline – 05:02
Total 38:08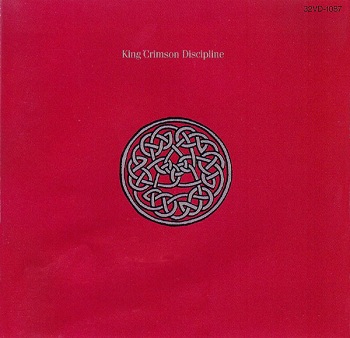 Discipline
32VD-1087 (Black Triangle)
King Crimson
Art Rock
Japan Toshiba (1988)
1981
CD
7