Dvojalbum Streetnoise z roku 1969 kapely Trinity združenej okolo klávesáka Briana Augera a speváčky Julie Driscoll má pre nás zvláštnu príchuť. Je to preto, lebo sa tu nachádza skladba venovaná okupácii Československa. Čo ešte ponúka?
Je toho dosť. Šestnásť skladieb okupujúcich dve platne sa našťastie vošlo na jedno cédečko. Album začína parádne, klávesová smršť  Tropic of Capricorn má priam "classicalrockový" nádych a to ja veru môžem. Czechoslovakia je úžasná. Je to psychedelický klenot roztrhnutý v polovici vskutku omračujúcou beznádejnou  psycho atmosférou. Jools znie, akoby sa za ostnatým plotom narodila. Viachlasý černošský gospel Take me to the Water znie priam autenticky. Pokojnejšia nepokojnosť A Word About Colour je akoby výplň času, kým skončí prvá strana platne.
Prapodivná verzia Light My Fire nedosahuje kvalít originálu, ale je rozhodne zaujímavá. Indian Rope Man správne buráca, je to priam hardrock. Tradicionál When I Was a Young Girl sa spočiatku drží ospalej nálady, ale časom sa dostane až kamsi k ujačanému prejavu a pozvoľnému zvyšovaniu hlasitosti. Poviem vám, ide o pôsobivý osemminútový kúsok, prakticky bez sól. Flesh Failures (Let the Sunshine In) ulahodí najmä muzikálovo založeným hippiesákom.
Inštrumentálka Ellis Island vráti do popredia ostrejší rock, Hammondky to majú na povel a situáciu zvládajú s prehľadom absentujúcim na slovenskej politologickej scéne. In Search of the Sun spieva chlap. Skladba je to počúvateľná a azda aj odporca valčíka si bude v duchu počítať raz-dva-tri, raz-dva-tri. Veľmi sa mi páči taký ten progresívne rockový tvrdý skoro džezrock, akým Auger uviedol o necelé dva roky neskôr svoju formáciu Oblivion Express. Predzvesťou mu bola skladba Finally Found You Out, zasa raz inštrumentálna, ale bombastická!  Tretia strana dvojalbumu patrila evidentne iba Augerovi. Zamdletý klavír vyšťaveného barového hráča schopného namiesto spevu už iba šepkať, to je Looking in the Eye of the World.
Akustická selanka Vauxhall to Lambeth Bridge necháva Julie Driscoll priestor na nežné spievanie, takže si ani nevšimnete, kedy začne skladba All Blues. Je to taká pomalšia "nadžezlá" záležitosť, klavírna "swingovka" pre alkoholikov na polceste k bezvedomiu. Záverečná štvrtina sa nesie v džezovom duchu, aj skladba I've Got Life sa nevtieravo rozkladá v priestore. Prívetivá spevná skladba Save the Country napokon doznie a vďaka "dvojalbumovosti" sa na cédečko viacej nezmestilo, čo je dobre. Aj tak je to riadna nálož muziky.
Streetnoise je veľmi dobrý "šesťdesiatkový" rockový album. Na jedno vypočutie je mi však zavše pridlhý.
Skladby:
How Good It Would Be To Feel Free…
1. Tropic of Capricorn 5:32
2. Czechoslovakia 6:21
3. Take Me to the Water 4:17
4. Word About Colour 1:38
Kiss Him Quick, He Has To Part….
5. Light My Fire 4:21
6. Indian Rope Man 3:22
7. When I Was a Young Girl 7:03
8. Flesh Failures (Let the Sunshine In) 3:04
Looking In The Eye Of The World...
9. Ellis Island 4:10
10. In Search of the Sun 4:22
11. Finally Found You Out 4:12
12. Looking in the Eye of the World 5:02
Save The Country…
13. Vauxhall to Lambeth Bridge 6:31
14. All Blues Davis 5:41
15. I've Got Life 4:28
16. Save the Country 3:58
Zostava:
Brian  Auger: klávesy, vokály
Julie Driscoll: spev, ak. gitara
Clive Thacker: bicie nástroje
David Ambrose: basa, ak. gitara, vokály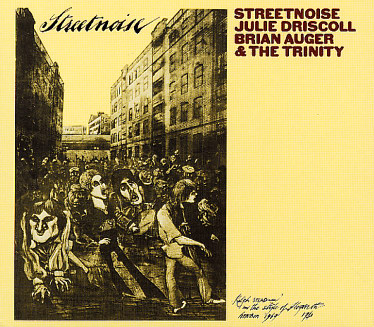 Streetnoise
Julie Driscoll, Brian Auger & The Trinity
psychedelic rock
Marmalade
1969
CD
16