I když nám některé hudební styly mohou znít prvoplánovitě, dost čitelně a řekněme jednoduše, nemusí to vždy znamenat, že jde o komerční záležitost, na kterou se jaksi automaticky nalepí nálepka podbízivosti. V osmdesátých letech vyvstala podobné muziky spousta. Té vysloveně špatné – i když, kdo z nás dokáže přesně definovat co už kýčem je, a co ještě není, i té řekněme přijatelně poslouchatelné. 
Do kategorie líbivý pop-rock (tento termín osobně rád nemám, mnohem sofistikovaněji mi zní terminus pompézní rock, či pomp-rock, nebo přesněji A.O.R. – rock pro dospělé) lze bes skrupulí zařadit i produkci zaoceánských Journey. Ty založil krátce po opuštění doprovodného bandu Carlose Santany jeho pomocník na kytaře Neal Schon, a první alba nesla jak Santanovský odkaz, tak jemnou směsici fusion a jazz-rocku. Jenže Neal Schon toužil otevřít náruč mnohem širším posluchačským masám a pro tyto účely už vokál Gregga Rolieho nedostačoval. Byl angažován nový muž k mikrofonu slyšící na jméno Steve Perry, jehož znělý témbr posílal do kolen nejen převážnou část ženské populace, ale i slušnou skupinku té mužské. Samozřejmě že bylo zapotřebí upravit i celkový reportoár, texty a hlavně složku hudební, což se zakrátko také stalo.

Po komerčním výbuchu dokonale vybroušeného drahokamu Infinity, kuli Journey železo do roka znovu. Tentokrát svou sbírku pojmenovali Evolution a dokonale navázali na počin předchozí.
Znovu pod dohledem dvorního producenta Queen Roye Thomase Bakera, vznikla tentokrát jedenáctipísňová emoční nakládačka, kterou zahajuje melodická miniexkurze Majestic. Následující trojice songů je dnes už legendární. Too Late je klasická vokální akrobacie Perryho, Lovin', Touchin', Squeezin' tempově rozvláčná perla patřící k tomu nejlepšímu v repertoáru Journey, a výpravná City Of The Angels stojí též za hlubší ponor. Po prachobyčejné When You're Alone (It Ain't Easy), vás v rovině pocitové konejší Sweet And Simple s kouzelně klouzající Schonovou kytarou. Do větších obrátek zavelí Lovin' You Is Easy. Vůbec střed desky působí naoko nenápadně a dá malinko zabrat se jím prokousat.  Třeba taková Just The Same Way má celkem zajímavou tempovou strukturu. Tak trochu do počtu mi připadá Do You Recall. Za to předposlední Daydream si jen tak zlehka našlapuje po pestrobarevném chodníčku značky Journey a poslední Lady Luck je důstojnou rockující skladbou odkazující na minulost souboru.
Pro znalce působivé melodiky je tohle album povinnou četbou, která se bude někdy v budoucnu možná i fasovat.

SKLADBY:
01. Majestic (1:16)
02. Too Late (2:58)
03. Lovin', Touchin', Squeezing (3:54)
04. City Of The Angels (3:12)
05. When You're Alone (It Ain't Easy) (3:10)
06. Sweet And Simple (4:13)
07. Just The Same Way (3:17)
08. Do You Recall (3:13)
09. Daydream (4:41)
10. Lady Luck (3:35)
SESTAVA:
Steve Perry – lead vocals
Neal Schon – lead guitar, Roland GR500 guitar synth, backing vocals
Gregg Rolie – keyboards, co-lead (8) & backing vocals
Ross Valory – bass, bass pedals, backing vocals
Steve Smith – drums, percussion
+
Greg Werner – backing vocals (3)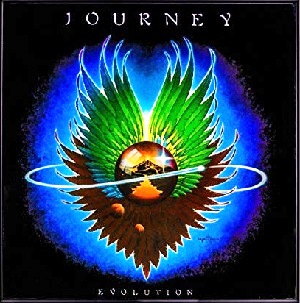 Evolution
Journey
AOR
Columbia
1979
LP
11