Boxsety v "knižnej" podobe som si obľúbil. Zväčša predstavujú prierez kariérou skupiny, ktorá toho nahrala viac ako dosť a samozrejmosťou je bonusový materiál, ktorý sa inde nevyskytuje. Box of Pearls, venovaný najslávnejšej rockovej speváčke všetkých čias – Janis Joplin, sa však vymyká.
Pôvodne vyšiel v Amerike v roku 1999 ako škatuľa, v ktorej boli prosto vteperené štyri radové albumy (s bonusmi) a jedno kratučké bonusové CD nazvané Rare Pearls, na ktorom je cca dvadsať minút nevydaných koncertných skladieb a zo dve nepoužité štúdiové perličky.
V roku 2013 sa objavilo zberateľské vydanie vo forme knižky, ktorá akoby z oka vypadla spracovaniu All This and More… A 4-disc Compendium od Procol Harum, Morituri te Salutant od Colosseum  alebo hoci The World Is Yours – The Anthology 1968-1976 od Caravan. Označenie Limited Deluxe Edition má na svedomí Sony Music a dobrej jej tak.
Vzhľadom na to, že Janis Joplin sa stihla znivočiť v rekordne krátkom čase, nebol problém vtesnať do boxu všetky štyri albumy doplnené o nejaké tie bonusy (nechýbajú dve skladby z Woodstocku), pričom raritné doplnky sa nekryjú s vynikajúcim výberom 18 Essential Songs, čo ma osobne teší. Samozrejme, nechýba ani zmienené EP  Rare Pearls. Hudba Janis Joplin osciluje od typického hippiesáckeho psychedelického čuda po bluesové náznaky. Tie od albumu k albumu naberajú na sile, a preto mám osobne najradšej album Cheap Thrills, na ktorom je táto hudba v najvyváženejšom pomere. Navyše sú tam nesmrteľné skladby typu Summertime alebo Ball And Chain. Nie, že by sa neskôr nezjavilo niekoľko ešte slávnejších vecí (napr. Mercedes Benz), ale toto je najmä muzikálne výnimočný album. Darmo, skupina Big Brother & The Holding Company bola zo všetkých sprievodných "joplinovských" formácií najlepšia. Už len tí dvaja gitaristi (Gurley a Andrew), ktorí milovali prskať kyselinu z gitarových strún priamo do ksichtov poslucháčov, skrátka nemali chybu! Samozrejme, v centre pozornosti je Janis. Jej rozsah, farba hlasu (tváriaca sa ako dúha), prejav, odhodlanie nepoľaviť ani o piaď, to všetko dominuje.
Box obsahuje slušnú literárnu osvetu doplnenú o množstvo fotiek, pričom každý album tu má podrobné faktografické informácie a dostatočne čitateľné fotky predných i zadných strán platňových obalov, a preto nemám čo vytknúť.
Navyše, box sa predáva vo veľmi slušných cenových reláciách (osobne som limitku získal za 25 eur, na Amazone predávajú pôvodný použitý box aj za 10 dolárov, inak sa cena šplhá aj k 50 dolárom). Preto, ak chcete mať v poličke pekne vyzerajúci artefakt, prípadne sa túžite obohatiť o kompletné štúdiové albumy Janis Joplin, toto je dobrá cesta. A nezabudnite, nebavíme sa len o muzike či interpretke, hovoríme tu o legende!
P.S. Poznám jedného človeka, ktorý jej spev charakterizoval takto: "Toto je jediná speváčka, ktorá ma dokáže rozplakať. Šťastím." Osobne som nikdy neprišiel na výstižnejšie slová.
CD 1
Big Brother & The Holding Company (1967)
Bye, Bye Baby 2:37
Easy Rider 2:23
Intruder 2:27
Light Is Faster Than Sound 2:30
Call On Me 2:33
Women Is Losers 2:03
Blindman 2:23
Down On Me 2:05
Caterpillar 2:18
All Is Loneliness 2:31
Bonus:
Coo Coo (single) 1:56
The Last Time (single) 2:15
Call On Me (alternate take) 2:41
Bye, Bye Baby (alternate take) 2:39
Peter Albin: basa
David Getz: bicie
James Gurley: gitara
Sam Andrew: gitara
Janis Joplin: spev
CD 2
Cheap Thrills (1968)
Combination Of The Two 5:47
I Need A Man To Love 4:53
Summertime 3:58
Pice Of My Heart 4:13
Turtle Blues 4:21
Oh, Sweet Mary 4:14
Ball And Chain 9:28
Bonus
Roadblock (studio outtake) 5:31
Flower In The Sun (studio outtake) 3:04
Catch Me Daddy (live) 5:32
Magic Of Love (live) 3:58
Peter Albin: basa
David Getz: bicie
James Gurley: gitara
Sam Andrew: gitara
Janis Joplin: spev
John Simon: klavír
CD 3
I Got Dem Ol' Kozmic Blues Again Mama! (1969)
Try (Just A Little Bit Harder) 3:55
Maybe 3:39
One Good Man 4:10
As Good As You've Been To This World 5:25
To Love Sombody 5:13
Kozmic Blues 4:22
Little Girl Blue 3:49
Work Me, Lord 6:36
Bonus
Dear Landlord 2:31
Summertime (live at Woodstock) 5:04
Piece Of My Heart (live at Woodstock) 6:31
Sam Andrew: gitara, vokály
Richard Kermode: organ
Gabriel Mekler: organ
Brad Campbell: basa
Maury Baker: bicie
Lonie Castille: bicie
Cornelius "Snooky" Flowers: barytónový saxofón, vokály
Terry Clements: tenor saxofón
Luis Gasca: trúbka
Janis Joplin: spev
CD 4
Pearl (1971)
Move Over 3:40
Cry Baby 3:56
A Woman Left Lonely 3:28
Half Moon 3:52
Buried Alive In The Blues 2:25
My Baby 3:45
Me And Bobby McGee 4:30
Mercedes benz 1:46
Trust Me 3:15
Get It While You Can 3:23
Bonus
Tell Mama (live) 6:32
Little Girl Blues (live) 3:55
Try (Just A Little Bit Harder) (live) 6:52
Cry Baby (live) 6.30
Janis Joplin: spev, akustická gitara (7)
Brad Campbell: basa, vokály
Clark Pierson: bicie, vokály
Ken Pearson: organ, vokály
John Till: gitara, vokály
Richard Bell: piano, vokály
hostia:
Sandra Crouch: tamburína
Bobbie Hall: conga, bongá
Bobby Womack: akustická gitara (9)
Pearl: Vince Mitchell: vokály
Phil Badella: vokály
John Cooke: vokály
CD 5
Rare Pearls (1999)
It's A Deal (studio outtake, 1968) 2:18
Easy Once You Know How (studio outtake, 1968) 3:53
Maybe (live, 1969) 4:01
Raise Your Hand (live, 1969) 5:16
Bo Diddley (live, 1969) 6:13
1968
Peter Albin: basa
David Getz: bicie
James Gurley: gitara
Sam Andrew: gitara
Janis Joplin: spev
John Simon: klavír
1969
Sam Andrew: gitara, vokály
Richard Kermode: organ
Gabriel Mekler: organ
Brad Campbell: basa
Maury Baker: bicie
Lonie Castille: bicie
Cornelius "Snooky" Flowers: barytónový saxofón, vokály
Terry Clements: tenor saxofón
Luis Gasca: trúbka
Janis Joplin: spev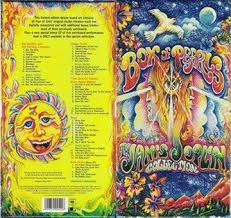 Box Of Pearls - Limited Deluxe Edition
Janis Joplin
blues rock, psychedelic rock, acid rock
Sony Music
2013
CD