Bonamassa je najznámejší zvestovateľ bluesovej muziky v novom miléniu. Aktuálne vydal album Royal Tea a primäl ma zamyslieť sa nad fenoménom zvaným – vlastná tvár.
Joe je brilantný gitarista. V zmysle techniky. Na bluesmana má prekvapivo veľký deficit v cite, ale to je vlastne normálne. Z technicky brilantných gitaristov hrá presvedčivé blues minimum, vlastne iba Gary Moore a aj u toho mnohí puristi ohŕňajú nosom. Napokon, to pravé blues hrali černosi, ktorí toho na gitare veľa nevedeli a emočný prejav bol tisíckrát podstatnejší. Osobne si myslím, že vo vnímaní muziky hrajú veľkú rolu predsudky. Moore je posudzovaný prizmou pop metalu z 80. rokov. Bonamassa nahral na počiatku kariéry niekoľko rozporuplných albumov (kapela detí slávnych otcov Bloodline, album So It's Like That) a jeho imidž á la Kittner (tajne dúfam, že toto prirovnanie už nikomu nič nepovie, svet by bol krajší!) mal od bluesmana ďalej ako premiér od diplomacie. Tú "našu" muziku skrátka hrajú presvedčivejšie skôr ošarpaní ľudia z ulice ako akademici.
Album Royal Tea (mám rozkladací digipak, nemá zmysel investovať do plechovice) neprináša nič nové. Je to úplne rovnaké dielo ako drvivá väčšina z jeho mohutnej diskografie. Prvýkrát som si ho pustil a zistil som, že ho celý dávno poznám. To sa mi nestáva ani pri AC/DC a to už je čo povedať. Oproti minulým albumom je tu podstatne viac baladických a pomalších skladieb, možno preto sa z neho poslucháči na webe tak vytešujú. Zrýchli až v druhej polovici a tá mi hneď príde akási "slabšia". Nemá zmysel opisovať skladbu po skladbe, je to zavedená a poznaná rutina. Skvelo zahratá a akurátne energicky odmeraná, možno preto miestami pôsobí odmerane. Kto to má rád, bude nadšený. Mne Bonamassa vyhovuje ako kulisa ku každodennej činnosti alebo popri čítaní. Nič vyžadujúce pozornosť sa nekoná, a predsa sa to dobre počúva.
Ako si  tak tento album púšťam, zamýšľam sa nad tým, čo to znamená mať vlastnú tvár. Poznáte to. Kapely hrajú svoju muziku, preslávia sa a začnú hľadať nové cesty. Prípadne experimentovať. A strácajú ksicht, fanúšikov, reputáciu. Alebo hrajú stále to isté a časom už nikoho nezaujímajú. Mať vlastnú tvár je nedefinovateľné kvalitatívne kritérium. Nedá sa určiť hranica, čo je ešte autentické a čo už je za čiarou. Napriek tomu často badať, že väčšina fanúšikov to vycíti podobne a zhodnú sa, kedy tento jav nastane. AC/CD hrá celý život to isté a fanúšikov nestráca. Gov't Mule takisto a odliv nastal. Prečo? Neviem. Ono je to tak, že ani u mňa to neplatí na všetkých rovnako. Pri niektorých skupinách mi to neprekáža a užívam si to (svojim spôsobom platí na Bonamassu), pri niektorých ma to znudilo (Gov't Mule, Molly Hatchet). Kapela s vlastným ksichtom má jednu výhodu. Keď si nový poslucháč vypočuje ľubovoľný album, má pocit, že vníma výbornú muziku. Lebo tie albumy v podstate obstoja vždy. Akurát, keď človek pozná širší kontext, zistí, že tie prvé boli presvedčivejšie a obsahovali lepšie skladby. Nepôsobia ako stokrát vylúhovaný čaj. Je v nich tá prvotná energia a originalita.
Bonamassa na umelecké hľadanie rezignoval už pred mnohými rokmi. Je to zle? Možno. Ale napriek tomu si zaslúži uznanie. Ako jeden z mála sa vykašľal na sprostredkovateľov, začal si všetko riadiť sám. Aby mohol promovať koncerty, potreboval štyri albumy ročne, a tak to istú dobu aj robil (Black Country Communion, Beth Hart, sólová tvorba). Jasné, vtedy niet času na serióznu umeleckú výpoveď. Mechanicky sa zapchá miesto na disku a hurá do predaja! Dokázal tým nemožné. Je široko-ďaleko jedinou bluesovou gitarovou hviezdou v celosvetovom meradle. Bez neho by už možno o blues nikto ani nezavadil. Darmo si kdesi na nete hudú geniálni  muzikantskí jedinci, o ktorých traja zasvätenci píšu ódy po webových stránkach, na ktoré chodia iba oni sami. Bez svetovo známej tváre by širšia verejnosť o blues pomaly ani nezakopla. Je takým undergroundom, že mnohé avantgardné kapely môžu slepo závidieť. Ale je tu Joe a tvrdohlavo si ide to svoje, bez nároku na uznanie puristov, zato držiaci povedomie o bluesovej muzike vyššie, než to kedy dokážu jeho kritici. A to mi je na ňom sympatické.
Skladby:
When One Door Opens 7:35
Royal Tea 4:29
Why Does It Take So Long To Say Goodbye 6:45
Lookout Man! 5:31
High Class Girl 4:54
A Conversation With Alice 4:19
I Didn't Think She Would Do It 4:12
Beyond The Silence 6:46
Lonely Boy 4:06
Savannah 4:38
Zostava:
Joe Bonamassa: gitara, spev, mandolína (10)
Anton Fig: bicie, perkusie (4)
Michael Rhodes: basa
Reese Wynans: organ, piano (6, 10)
Jade MacRae: vokály (1-6)
Juanita Tippins: vokály (1-5)
Mahalia Barnes: vokály (6)
Kevin Shirley: ak. gitara (3), perkusie (3)
Errol Litton: harmonika (4)
Greg Morrow: bicie (4), perkusie (4)
Rob McNelley: gitara (6, 7)
Jools Holland: piano (9)
Lee Thornburg: dychové aranžmány (9)
Paulie Cerra: saxofón (9)
Ron Dziubla: barytón saxofón (9)
Bernie Mardsen: vokály (10)
Jeff Boa: orchestrácia (1), perkusie (2)
The Bavaland Orchestra (1)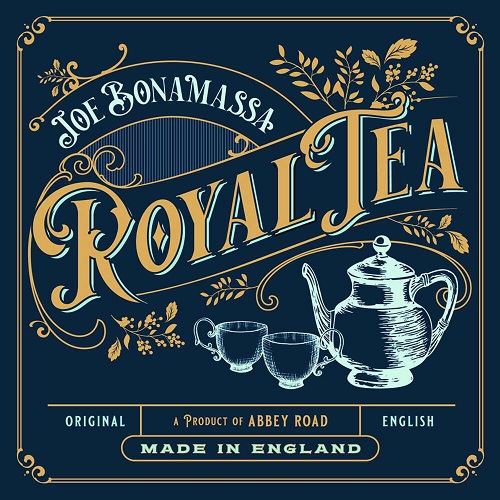 Royal Tea
Joe Bonamassa
blues rock
J&R Adventures
2020
CD (Provogue, 2020)
10