Rok se s rokem sešel, novej Bonamassa vyšel. Teda, dva roky, esi na tem někomu záleží. A já zase píšu dopis ve stylu bodrého žoviála.
Jouey, jaxes mně minule nelíbil, že se válíš v takovým podivným hudebním chroští, pamatuješ ne, tak sem ti tehdá napsal dopis. Že jako todleto nepude, buď děláš muziku, nebo z muziky kasírku. Asi tě to trklo a valils do mokky hudební, teda tam, kde je ta slavná zebra u Abbého von Rouda. Po té, cos ji přeťapal, tě evidentě oblíznula nějaká dřevitá můza, páč z tebe začalo padat jedno blůz za druhým. Fajn. Sice jedna písnička jako druhá a šecky jsme už tady slyšeli asi milijónkrát, ale neva, vo tom bljůz je.
Za muziku bych ti klidně hvězdu, možná i dvě, přidal. Je lepšejší než minule, a evidentně sis moje rady vzal k srdci. S betelnó gytaró, to jako všechna čest i klobouk dolů. Hraješ parádně, máš to v ruce. Jenže, to je málo. Virtuozita nejni jaxi fšecko, ani osvědčený postupy, ani jmen slavných zástupy, nestačí. Když jedou jako parní mašina z kopce, je to jen taká řezničina. Řek bych, že ta tvoje řemeslná ekvilibristika je spíš kontraproduktivní. Jo, já vím, že je to ouplně cizí slovo. No, jako že tam vyjímá, jako barevnej displej na nočníku, jestli jako chápeš. Hlavní je přeci furt takový to sršení, co jednoho chytne za srdce. To se nedá jen tak nabiflovat. Ty ho tam dokonce taky vobčas máš. Ale většinou to je náladově rovný, emocionálně plochý, silou tlačený, prkenný a mechanický mainstream. Žádný pnutí, žádný dmutí, žádný kozy, ani šarkozy.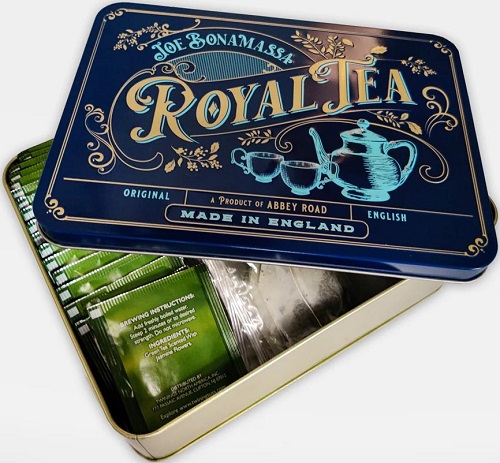 Abych nekecal, tři fláky máš povedený. Jakože jo. Začátek máš napálenej fajnově, je slyšet, že moc dobře víš, jak jsou houpavý rytmy chytlavý. Dobře protřepnutná nálada pošmakuje, až by se jeden těšil, že takhle budeš hrnout vo sto pryč. Že to puide. První vál je prostě boží. Jenže pak už zasejc hrká kolovrátek. Nevíš, co je kolovrátek, jaj. Zeptej se Betky. Další loukoť na tom vymláceným žebřiňáku je až ten Lookout Man! Nebesky vymlasknutý babský sbory, hezky naprďená basa, foukačka, řvu lukaaaut! A pak už jen Beyond The Silence, úplný achichach.. Jinak celkem rutinní věci, klišé na klišé, osvědčený schémata, ratata. Koncovej kántry cajdák Savannah je opruda. Z toho su votrávené, jako vidle na betónu.  Řikám ale, vobčas to de.
Ale nevím, co tě napadlo, podělat výsledný produkt zase jinak. Fak na to máš talent. Jen co vylezeš z jednoho chroští, spadneš do druhýho. Co ten zvuk, Joe? Jak, že nevíš, vo čem blekotám. Zkus si strčit… Klíd, nepřerušuj, slyšíš strčit, a hned divočíš, říkám, zkus si strčit hlavu do míchačky, a zapni ju. Tu míchačku. Pak budeš mít jasno. Možná. Páč já mám z poslechu tvýho čajovýho pytlíku v ušách zalehnuto a zamaltováno.
Jo, prej z desky to hraje líp. Skvjelý. Si mám jako koupit gramošaší, přenosku, rameno, koleno, vemeno, předzes, kabelé, pračku, sušičku a ždímačku vyhnilů, a k tomu eště stolek, kam by se to všecko vlezlo. Kvůli tobě? Seš nor-mál-ní ?
Takže za zvuk ti pane Bonamasso tu hvězdu odebírám. Protože je to strašlivě zmasakrovaný srágo mágo. Esi nevíš, co je sráh´go máh´go, najdi si to ve slovníku. Nebo pusť zase tu míchačku, ale místo betonu tam nasyp štěrkopísek. A prolej mazlavým mejdlem. Břenda, co? Přesně takhles to svý all'bum mixnul. Průplesk ušních bubnů občas neuškodí a třeba se ti i rozsvítí, že tenhle sádelnatě lojový bluvajz není nic, co by tě vošatilo ňák luxusně.
Kdysi, za stara, kdyžs ještě tahal kačerva, sme poslouchali bluesrock na malých chrchlátkách, mono kazeťácích, z trazistoráků, a snili o tom, jak by to hrálo z pořádnej aparatůry. Dneska ty starý věci hrají z aparatury jako z praku. Je to prda, vo jaké se ti ani nesnilo. Pusť si jedničku BAD COMPANY, a esi nejseš hluchoň, tak vomdlíš woe. Zato ty nový věci, jo i ta tvoja trapárna, zněj z aparatury stejně placatě, jako dřív z těch usípaných chcrchlátek. Tadyk nepomůže ani svěcená. K čemu se kua lidstvo vyvíjelo dalších padesát let, aby eště spadlo do takovýho zase chroští. Ve kterým se válíš taky. Ale já se tam válet nechcu. Tož, najdu si jinýho bůzmena, co se nenechachá zpresovat.
Tak třeba zase příště. Seš mladej. Třeba ti jednou dojde, vo čem jako muzika je. Třeba taky nedojde. Ale to je tvůj problém. Já ti ho jen řádně rozmažu o palici. Tak naposledy. V blůzu nic novýho nevobjevíš, i kdyby sis prsty zlámal. Jediný, co tomu můžeš dát, je srdce. Nesmíš je nosit v gatích, nebo vychytrale někde jinde. Jak blues nejni zablácený, kořenitý, jak nedrhne prach a špínu, nejni nic. Jen navoněná umělotina do rádyja.
Muzika semigood, zvuk shit, výsledek hnuj, přinejlepším kompost. Ne komplot, ne kompot, ale kompost nezaleželej.
01. When One Door Opens– 07:34
02. Royal Tea – 04:29
03. Why Does It Take So Long To Say Goodbye – 06:45
04. Lookout Man – 05:31
05. High Class Girl – 04:54
06. A Conversation With Alice – 04:19
07. I Didn't Think She Would Do It – 04:12
08. Beyond The Silence – 06:46
09. Lonely Boy – 04:06
10. Savannah – 04:36
Total 53:12
Dynamic range – DR7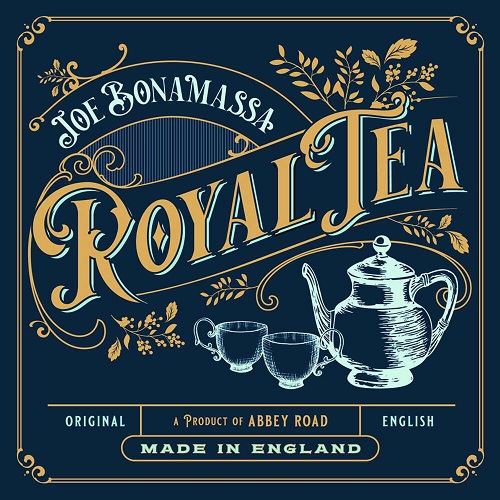 Royal Tea
Joe Bonamassa
Blues rock
J&R Adventures / Provogue
2020
Hi-Res
10
web