The Best Of Jimi Hendrix – Experience Hendrix bola v roku 1997 prvou kompiláciou vydanou pod dohľadom práve založenej rodinnej firmy na vydávanie Hendrixa. V roku 2000 sa dočkala špeciálneho dvojdiskového vydania Special Limited Edition, ktoré pridalo k osvedčenej nádielke hitov niekoľko alternatívnych a koncertných skladieb. Reálne šlo o derivát zo štvordiskového boxu The Jimi Hendrix Experience a pre mňa v tom čase dvojcédečko znamenalo jediné – konečne som prišiel Hendrixovi na chuť. 
Skúšal som to odmalička, doma sa poflakovali "véháesky" s koncertmi, kazety a platne s albumami, skrátka, Hendrix bol aj za Železnou oponou vnímaný ako ikona, génius, neopakovateľná osobnosť. Úprimne, moc ma neoslovoval. Nahrávky zneli ako z kúpeľne, koncerty priveľmi škrípali… Postupom času som nadobudol presvedčenie, že početný zástup jeho napodobovateľov (a že ich je) hrá jeho skladby lepšie, než on sám. Ako som si tak budoval zbierku cédečiek, Hendrixa som odbil akýmsi noname bestofom z lacných výpredajov a viac som sa o neho nestaral. Až prišiel nevydarený koniec počítačového sveta Y2K a v Bontone nad Michalskou bránou v centre Bratislavy vyložili do regálu zmienený dvojdisk. Neodolal som, reku, nech mám aspoň trošku lepší výber v zbierke.
A prvý raz mi zvuk neprišiel úplne hrozný. Prvý raz som si povedal: "Hm, ten Hendrix má niečo do seba!" Pôvodný nosič obsahuje dvadsať skladieb, okrem neskutočných hitov (Hey Joe, All Along The Watchtower, Little Wing…) ukazuje i niekoľko experimentálnejších kúskov (If 6 Was 9), štyri skladby z posmrtného albumu First Rays Of The New Rising Sun (1997), všetky však vyšli už v roku 1971 na albumoch The Cry Of Love a Rainbow Bridge. Záverečná skladba je svetoznáma verzia americkej hymny z Woodstocku – Star Spangled Banner. Celkovo, až na výnimky, ide o krátke skladby, pritom sa v nich deje toľko, že sa človek nestačí čudovať. Hendrix bol inovátor, zvuku, spôsobu hry, skrátka všetkým. Spievať moc nevedel, ale ten jeho recitál je nezameniteľný. Najlepší moment jeho hry sa nachádza v Dylanovej All Along The Watchtover, uprostred sóla sa na chvíľku stíchne a potom sa vylúpne kvákadlom obalená momentka, ktorá nemá obdoby a ten "fíling" nenapodobil žiaden z jeho nasledovateľov. Až tá pasáž nastane, pochopíte, nebojte sa!
Bonusový disk ponúka osem dlhších skladieb, takže si môžete vychutnať Hendrixa v jeho roztatárenej sólovacej polohe, pričom len tri skladby sa dovtedy zjavili na nejakých záznamoch. Sú bohovské, krásne doplnili pôvodnú reprezentatívnu ochutnávku. No, reprezentatívnu. Z názvu si všimnite skôr to Experience, než best of Hendrix, pretože Band Of Gypsys sa tu nenachádza ani v booklete. Ten je, žiaľ prevzatý z pôvodného vydania z roka 1997, a teda obsahuje podrobné informácie o skladbách na prvom disku, o druhom sa nedočítate nič. Akurát na zadnej strane obalu sa píše, že osem skladieb je prevzatých z uznávaného 4 CD/8 LP Box setu. Ak sa Vám nechce pátrať, čo je z čoho, tu je faktografia:
CD2: The Jimi Hendrix Experience Box Set (2000)
1. predtým nevydaná alternatívna nahrávka
2. predtým nevydaná alternatívna nahrávka The Essential Jimi Hendrix (1978) – bonus
3. predtým nevydaná nahrávka
4. predtým nevydaná alternatívna nahrávka
5. predtým nevydaná alternatívna nahrávka
6. predtým nevydaná nahrávka
7. koncertný záznam, Los Angeles Forum, Kalifornia, 26.4.1969, Lifelines: The Jimi Hendrix Story (1990)
8. koncertný záznam, San Diego Sports Arena, Kalifornia, 24.5.1969, Stages (1991)
Písať o Hendrixovi sa dnes už hádam ani nedá. Všetko bolo povedané, všetko premleté atď. Kebyže ste sa s ním ešte nestretli (generácie dorastajú), tento výber patrí k tomu najlepšiemu, ako začať. A preto mu dávam absolutórium, priviedol ma k tomu, že som si časom Hendrixovu diskografiu skompletizoval (tú predsmrtnú, posmrtné zástupy podozrivých nahrávok ma rýchlo zunovali). Nájdete tu ako štúdiovú klasiku, tak dlhočizné gitarové sólovania. Čo viac si od Hendrixa priať?

Skladby:
CD1:
01. Purple Haze 2:51
02. Fire 2:43
03. The Wind Cries Mary 3:20
04. Hey Joe 3:29
05. All Along The Watchtower 3:58
06. Stone Free 3:35
07. Crosstown Traffic 2:19
08. Manic Depression 3:42
09. Little Wing 2:25
10. If 6 Was 9 5:34
11. Foxy Lady 3:18
12. Bold As Love 4:11
13. Castles Made Of Sand 2:47
14. Red House 3:50
15. Voodoo Chile (Slight Return) 5:12
16. Freedom 3:25
17. Night Bird Flying 3:50
18. Angel 4:22
19. Dolly Dagger 4:45
20. Star Spangled Banner 3:46
CD2:
01. Highway Chile 3:39
02. Gloria 8:52
03. It's Too Bad 8:52
04. Spanish Castle Music 5:48
05. Hear My Train A Comin' 6:56
06. Lover Man 2:56
07. I Don't Live Today (live) 6:32
08. Purple Haze (live) 4:03
Zostava:
Jimi Hendrix: gitara, spev, piano, kazoo, flauta
Noel Redding: basa, vokály (CD1: 1-15)
Mitch Mitchell: bicie
Billy Cox: basa (CD1: 16-20)
CD2 neviem preukázateľne overiť.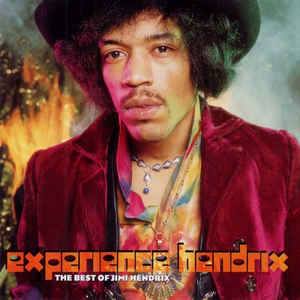 Experience Hendrix
Jimi Hendrix
hard rock
Experience Hendrix/MCA Records
2000
CD
28