Benefit – prvý, opojný, neodolateľný. Album, s ktorým som spoznal Jethro Tull. A bola to láska na celý život.
Otec ho mal nahraný na kazete, na jednej strane bol Benefit, na druhej In-A-Gadda_Da-Vida od Iron Butterfly. V tom krásnom pubertálnom čase, keď som prepadol bicím a starej rockovej muzike, mi tvorila stály prísun potravy pre môj walkman. Pravda, americkú klasiku som pretáčal, aby som mohol dookola počúvať Jethro Tull a Iron Butterfly som docenil až o mnoho neskôr. Prečo? Pre toto: 
With You There To Help Me je jedna z najlepších skladieb, aké kedy kapela zložila. Je v nej všetko. Až sa čudujem, že jej nie je venovaný aspoň jeden celý tribute album. Nič ma nepotešilo viac ako to, že sa jej dostalo aspoň brutálnej cover verzie Tutte le cose v podaní talianskej kapely I Teoremi. Tú treba počuť aspoň raz v živote! Z krehkej nádhery Nothing To Say mám dodnes zimomriavky. Pri nej by som milerád umrzol! Z iného súdka je rovnako krehká, ale podstatne rozšafnejšia Alive And Well And Living In, ktorá na malej ploche neváha vygradovať až do riadne ostrého hardrockového besnenia. Rovnako krátka je aj exemplárne nabrúsená skladba Son, ktorú vyhrotili ako ceruzu v strúhadle. Je až neskutočné, ako na ploche necelých troch minút prejde rinčanie do "fadeoutu", aby sa v stredovej medzihre akusticky "zabaladilo" a ešte prišiel aj návrat k dravému počiatku. Artrockeri na podobné stavy neraz spotrebujú aj polhodinu a nedocielia väčší emočný zásah! Pokojnú, ale znepokojivú náladovku For Michael Collins, Jeffrey And Me by mohli vystavovať v múzeu podmanivej melodiky.
Možno sa vám zdá, že je tu tých clivých vecí akosi priveľa. Nebojte sa! Bývali doby, kedy sa albumy naozaj tvorili a poradie skladieb bola priam raketová veda. V časoch empétrojok a jútjúb-náhod to možno vyznie ako sci-fi, pritom ide o minulosť! Každopádne prichádza vrcholné číslo! Hardrocková noblesa bez priamočiarych trás zvaná To Cry You A Song. Neexistuje iná kapela, ktorá by hrala takto! Jethro Tull je originál, neopakovateľný etalón nenapodobiteľnosti, skrátka, je to majstrovská muzika! Nálada skladby A Time For Everything? Je neopísateľná. Akoby sa melanchólia chystala na maškarný bál a prezliekla sa za cholerika. Podobne spevná a zvláštne citlivá je aj skladba Inside, ktorú by som si z fleku vedel predstaviť ako singel. A čudujsasvete, ono to bol aj singel! Pravda, neuchytil sa, ale je mi jasné, prečo bol, aký bol. Volil by som rovnako. Hardrocková smršť Play In Time opäť nabudí rozcitlivenú dušu, aby ju rozsekal na kúsky záverečný emočný tajfún Sossity; You're A Woman. Ide o akustickú minimalistickú vec, ktorej dominuje Anderson so svojím neopakovateľným hlasom.
Táto benefičná hudba pre milovníkov vrcholnej rockovej estetiky sa nedá opísať. Treba počuť! Benefit má zvláštnu atmosféru, akou sa vyznačuje minimum albumov a keď by sa ma niekto opýtal,  aký je môj najobľúbenejší album od kapely, voľba by to bola okamžitá a odporučil by som ochutnať práve ročník 1970. Na zdravie!
P.S. V čase vydania bol album kritikou pomerne zaznávaný, ani komerčne sa mu až tak nedarilo, ale to mi je jedno. Sám Anderson tvrdil, že sa natoľko zahĺbili do štúdiových možností, že zbytočne nadžgali efekty aj tam, kde ich nebolo treba. Nikdy mi to neprekážalo. Preplácané albumy znejú podľa mňa úplne inak!
P.P.S. Americká verzia albumu obsahovala béčko singlu zvané Teacher namiesto Alive And Well And Living In a hoci šlo o skvelú hardrockovú pecku, britský album je v tomto lepší.
Skladby:
01. With You There To Help Me 6:10
02. Nothing To Say 5:10
03. Alive And Well And Living In 2:43
04. Son 2:48
05. For Michael Collins, Jeffrey And Me 3:47
06. To Cry You A Song 6:09
07. A Time For Everything? 2:42
08. Inside 3:38
09. Play In Time 3:44
10. Sossity; You're A Woman 4:31
Zostava:
Ian Anderson: flauta, ak. gitara, spev, balalajka, klávesy
Martin Barre: gitary
Clive Bunker: bicie, perkusie
Glenn Cornick: basa
a
David Palmer: orchestrálne aranžmány
John Evan: klávesy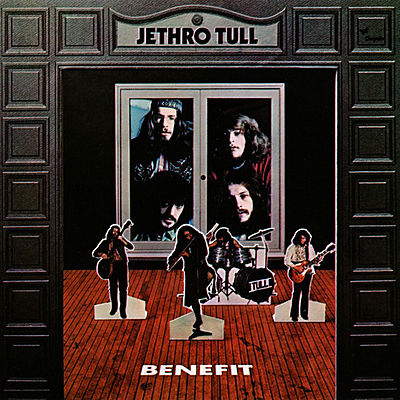 Benefit
Jethro Tull
hard rock
Chrysalis
1970
LP, CD
10