Sanfranciská hippiesácka scéna z druhej polovice 60. rokov bola svojská, originálna, inšpirujúca a až na výnimky sa mi páči. Jednou z najznámejších kapiel z tejto proveniencie je Jefferson Airplane. Jej hudba disponuje vďačnou kombináciou blues, psychedélie a acid rocku, čo z jej albumov robí viac ako výborné diela. Kým prvé dva boli skôr pesničkové a najmä ten druhý, Surrealistic Pillow (1967) zaistil skupine nesmrteľné hity ako Somebody to Love a Whitte Rabbit, tretí album After Bathing at Baxters začrel hlboko do studnice experimentálneho psychedelického rocku. Písal sa rok 1967 a veru to vôbec nebolo zlé!
Celé dielo sa člení na niekoľko častí, ktoré sa skladajú z dvoch, či troch skladieb. Psychedelické svižnejšie bluesové čosi pomenované The Ballad of You & Me & Pooneil nevybočuje z poznaných mantinelov skupinovej tvorby. Samozrejmosťou je kyselinou poliata gitara a speváčka Grace Slick robí iba druhý hlas, často skôr kvíli. Plynulé väzbenie prejde do vskutku freedžezovej psychedelickej haluze A Small Package of Value Will Come to You, Shortly. Kto má rád extrémnejšiu podobu Canterburskej scény, ten si príde na svoje. Zmysel v tom ale nehľadajte. Finále prvej časti albumu zavŕši skvelá spevná skladba Young Girl Sunday Blues. To je acid rock, aký sa hral azda iba na Haight-Ashbury.
Upokojenie prichádza so skladbou Martha, ktorej neagresívne plynutie pristane. Krásne melodické gitary poháňajú rockovú pecku Wild Thyme. Plusom Jefferson Airplane sú aj vokály, takže je na čo sa  tešiť. The Last Wall of the Castle je ďalšia svižnejšia psychedelická rockovica, radosť počúvať. A tie vŕzgajúce gitarové sóla majú v sebe niečo, čo už z muziky vymizlo. Pokojne to nazvite obstarožnou patinou, mne sa to páči. Tajuplný znervózňujúci klavír, akési orientálne dychy a do toho typický speváčkin prejav, skladba Rejoice patrí k vrcholom albumu. Začína byť jasné, že druhá strana dosky bude zvláštnejšia. Watch Her Ride sa vracia k rockovejšiemu rinčaniu,  ale zrazu to príde! Spare Chaynge je deväťminútová inštrumentálka, zmes zvukov, hlukov, ruchov, ale najmä psychedelického rocku. Myslím, že práve táto skladba dodnes odpudzuje poslucháčov, ktorí sú zvyknutí na príjemné pesničky á la Somebody to Love. Dlhočizné gitarové sólo za gradácie rytmických kotlov radím k najlepším momentom albumu. Ťaživá psychedélia vyviera aj zo spevu Grace Slick v skladbe Two Heads. Muzika je to tvrdá a zároveň zaujímavo "nasekaná", nechýbajú jej ani jemnejšie pasáže. Album končí titulom Won't You Try/Saturday Afternoon. Ide o typickú psychedéliu sprevádzanú vydarenými vokálnymi orgiami.
Navzdory niekoľkým naozaj uleteným momentom mám tento album veľmi rád. Je jeden z najlepších, aké kapela vo svojej diskografii má a ja ho môžem iba nadšene odporučiť každému priaznivcovi kvetinovej psychedélie.
P.S: Za priehrštie bonusov na cédečku neurazí, veľa od nich nečakajte. Je tu síce dlhočizná verzia skladby The Ballad of You & Me & Pooneil a demo Things Are Better in the East, pôvodné dielo sa však bez nich zaobíde.
Streetmasse
1. The Ballad of You & Me & Pooneil 4:29
2. A Small Package of Value Will Come to You, Shortly 1:39
3. Young Girl Sunday Blues 3:33
The War is Over
4. Martha 3:26
5. Wild Tyme 3:08
Hymn to an Older Generation
6. The Last Wall of the Castle 2:40
7. Rejoyce 4:01
How Suite it Is
8. Watch Her Ride 3:11
9. Spare Chaynge 9:12
Schizoforest Love Suite
10. Two Heads 3:10
11. Won't You Try/Saturday Afternoon 5:09
Zostava:
Grace Slick (spev, klávesy)
Paul Kantner (gitara, spevy)
Jorma Kaukonen (gitara, sitar, spevy)
Jack Casady (basa)
Spencer Dryden (bicie nástroje, dychové aranžmány)
Marty Balin (gitara, spevy)
Hostia:
Gary Blackman (spevy)
Bill Thompson (spevy)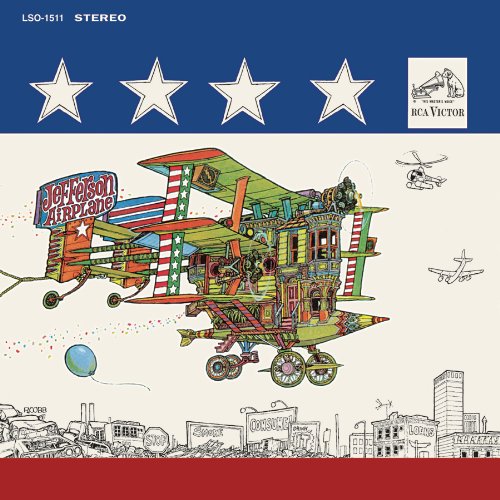 After Bathing at Baxters
Jefferson Airplane
psychedelic rock
RCA Victor
1967
11