Dnes si pripomíname deň úmrtia Konráda Planka. Dovolím si naňho zaspomínať prostredníctvom hannoverskej hardrockovej skupiny Jane. Tá sa doma tešila pomerne veľkej popularite, no vo svete o nej veľa ľudí nevedelo. V roku 1974 vydala svoj "najgitarovejší" album III.
Najgitarovejší preto, lebo kapelu tesne pred nahrávaním opustil klávesák Werner Nadolny. Zato sa vrátil basák Charly Maucher, ktorý sa zotavil z dlhej a ťažkej choroby. Keďže spevácky mikrofón v kapele koloval, rovno mu ho pritisli pred tvár a zhostil sa aj roly hlavného speváka. Vo výsledku tu máme zostavu v zložení basa-bicie-dve gitary. A že sa s tým nepárali, svedčí aj skutočnosť, že celý album nahrali a zmixovali za týždeň (od 13.2. do 20.2. 1974) v legendárnom štúdiu Connyho Planka v Neunkirchene.
Conny Plank (1940-1987) si zaslúži pár slov. Bol to legendárny nemecký hudobný producent a hudobník. Ak je reč o krautrocku (nemeckom rockovom experimentovaní), nemožno ho obísť. Na prelome 60. a 70. rokov pomohol k debutu kapele Kluster, no a jeho záľuba v experimentovaní so zvukom ho radí medzi otcov elektronickej hudby. Stál pri takých legendách ako Cluster, Kraftwerk, Neu! alebo Harmonia. Tiež pomáhal psychedelikom Guru Guru, Can a Holgerovi Czukayovi. Nevyhýbal sa ani ráznemu hard rocku (Scorpions, Night Sun), space rocku (Grobschnitt, Eloy), art rocku (Triumvirat) alebo fusion (Kraan). Aj zahraničné skupiny, ktoré sa nevyhýbali nemeckej proveniencii, k nemu rady zavítali (Sweet Smoke, SBB, Clannad, Ultravox, Eurythmic, Brian Eno). Niekedy si človek ani neuvedomuje, že dobrý producent prináša kusisko toho, čo povrchne považujeme len a iba za výsledok skupinového snaženia. S Jane spolupracoval napríklad na albume III a rozhodne kapele pomohol k novej polohe.
Keďže klávesy hrali rolu prakticky v celej tvorbe skupiny, "trojka" prináša trošku iný zvuk a s tým aj viac rockovejšie zameranie skladieb. Úvodná Comin' Again sa pomaly rozbieha a pôsobí trošku mdlo. To hardrockový valec Mother, You Don't Know je výraznejší kúsok. Vo všeobecnosti možno konštatovať, že album je ťažkopádny v dobrom slova zmysle. Hessove sóla sú tradične rozpoznateľné a evokujú debut. Skladby sú prevažne v strednom tempe, trošku v nich absentuje temná atmosféra už spomínaného debutu. Napríklad baladické skladby I Need You a Way To Paradise sú "iba" clivé a dokonca miestami pokojné. Inak, Maucher spieva drsne, neoslní, jeho prejav sa k hardrockovej polohe diela hodí, hoci som sa dočítal, že dobová kritika jeho výkon skôr hanila. Až ľudový motív vyhráva na úvod ostrej skladby Early In The Morning, ktorá sa inak tvári ako Drsný Harry. Sranda, že sa kapela nebála do playlistu zaradiť aj nezáväzné hranie zo štúdia, šikovne pomenované ako Jane-Session. V Rock 'n' roll Star sa miesi túžba po ráznom drnčaní a typicky zasnenom gitarovom sólovaní. Krásna, ale krátka melodická vyhrávka King Of Thule patrí k tomu naj, čo sa na albume nachádza. Zaujímavá je aj klasická, priam rokenrolová, vypaľovačka Baby What You're Doin' umiestnená na koniec albumu.
Jane bez klávesov? Prečo nie! Je to troška iný, ale predsa "janeovský" kúsok. Obsahuje kusisko dobrej, dokonca veľmi dobrej, priamej rockovej muziky. Krátko po vydaní zdúchla dvojica Maucher a Krantz, aby založila skupinu Harlis (o tej si povieme niekedy inokedy), no a nahradila ich úderná dvojka Martin Hesse (basa) a Gottfried Janko (klávesy, spev) zo skupiny Dull Knife. Nasledujúci album Lady som už recenzoval, tak si ho pokojne pripomeňte tiež.
P.S. Maucher i Panka už nie sú medzi nami, podobne ako spomínaní Hesse a Janko. Ich muzika však, verím, ešte dlho pretrvá.
Skladby:
Comin' Again 9:40
Mother, You Don't Know 5:52
I Need You 4:50
Way To Paradise 3:25
Early In The Morning 5:20
Jane-Session 4:20
Rock 'n' roll Star 4:47
King Of Thule 0:40
Baby, What You're Doin' 3:05
Zostava:
Klaus Hess: gitara
Wolfgang Krantz: gitara, piano (4)
Charly Maucher: basa, spev
Peter Panka: bicie, perkusie, spev (4)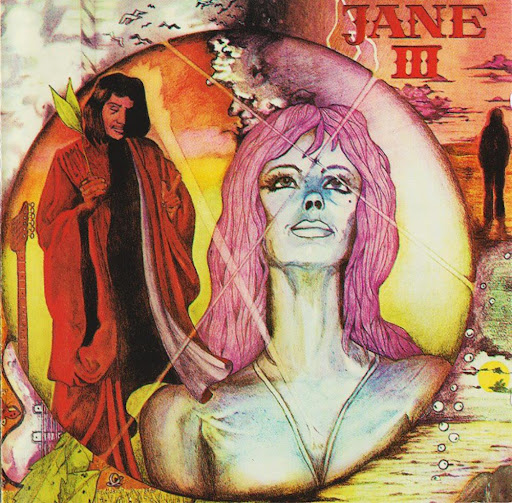 III
Jane
hard rock
Brain Records
1974
CD (SPV/Revisited Records, 2004)
9