V čase zlatej éry rockovej muziky to na pódiách doslova vrelo. Koncertné albumy boli denným chlebom a prinášali doslova všetko, čo si rocker mohol priať. Najvýznamnejšia americká hardrocková kapela, James Gang, si svoju povinnosť odbyla v roku 1971, kedy vyšiel album Live In Concert.
Trio v zložení Joe Walsh (gitara, spev, klávesy), Dale Peters (basa, vokály) a Jim Fox (bicie, perkusie, vokály) malo v tom čase na konte tri štúdiové albumy, druhý lepší ako prvý a príjemný tretí, nuž sa koncert dal čakať. Hoci Walsh už smeroval k sólovej dráhe a tešil sa na pobyt v Hoteli California, na prezentovanej muzike to poznať nešlo. Netajím sa tým, že Jim Fox je môj obľúbený bubeník, vzor hardrockového hrania. Možnosť počuť ho z pódia je zážitok. A tým sa dostávam k samotnej hudbe.
Muzika je to dravá, drsná, neuhladená a neučesaná, slovom taká, aká má hardocková produkcia byť.
Stop! Čisto po názve ide o zvláštnu voľbu na úvod, každopádne, kapela rázne začne a už sa nezastaví. Či sa ponoríme do čierneho pomalého blues You're Gonna Need Me, klávesovej pohody Take A Look Around a Tend My Garden alebo nemenej pokojnej Ashes, The Rain And I, vždy ide o zážitok, pri ktorom Hedonisti vyzerajú ako masochisti postihnutí depresiou. Je prekvapujúce, že sa na album dostali hneď tri ukážky z krehkej polohy albumu Rides Again, keď sa to tak vezme, robí to z Live In Concert vzácnu dosku. Človek čaká smršť a dostane niečo iné. Rovnako pôsobivé. Walk Away je neskutočná hardrocková bomba a bubeník Jim Fox sa v nej patrične vyblázni. Je to však iba predohra k Lost Woman, osemnásť a pol minútovej smršti, v ktorej dôjde ako na bubenícke, tak basové sólo.
Človeka láka premýšľať nad tým, aké by to bolo, keby šlo o dvojalbum (na internete sa nejaké "celé verzie" vyskytujú). Nič to, rozlúčka Walsha so skupinou sa vydarila na jednotku! Nič nechýba, naopak pôsobí ako roh hojnosti, rozdáva veľa a predsa každým počúvaním neubúda. Takéto koncerty milujem!
Skladby:
1. Stop 4:05
2. You're Gonna Need Me 7:30
3. Take A Look Around 3:50
4. Tend My Garden 3:45
5. Ashes, The Rain And I 2:40
6. Walk Away 3:30
7. Lost Woman 18:20
Zostava:
Joe Walsh: gitara, spev, klávesy
Dale Peters: basa, vokály, perkusie
Jim Fox: bicie, perkusie, vokály, ak. gitara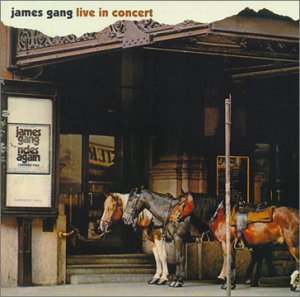 Live In Concert
James Gang
hard rock
ABC Records
1971
LP, CD
7