Pre muziku, ktorá ma osloví, sa nadchnem ľahšie ako opoziční voliči pri nekritickom výbere toho prvého naozaj čestného politika. Niekedy stačí málo, v správnom čase na správnom mieste správne vnímať a mať správne rozpoloženie. Čo by sa mohlo pokaziť? Nič, a preto je James Gang kapelou, ktorá ma sprevádza od puberty až podnes, a bude až do smrti. V akejkoľvek inkarnácii. Napríklad v tej, v ktorej sa zjavil gitarista Tommy Bolin.
Kebyže ste o kapele ešte nepočuli, vedzte, že ide o jednu z najslávnejších amerických hardrockových formácií prvej polovice 70. rokov. Pravda, jej sláva sa poza Železnú oponu nedostávala v miere, akú by si zaslúžila, ešte šťastie, že hrdza urobila svoje a dnes to už nikoho netrápi. Ale k veci. Akonáhle sa kapela ustálila čoby klasické rockové trio bicie-basa-gitara, pričom na posledný menovaný nástroj hral Joe Walsh, šla ich kariéra prudko nahor. Až tak, že sa Walsh osamostatnil a okrem iného pomohol Eagles s Hotel California. James Gang prešla personálnou premenou, spevák Roy Kenner s basákom Dale Petersom sa osvedčili, ale gitarista Domenic Troiano nedokázal prekročiť Walshov tieň a po dvoch albumoch šiel radšej do Kanady. Ku komu? Guess Who!
Potom to prišlo! Gitary sa chopil talentovaný Tommy Bolin, chlapík, ktorý mal zakrátko nahradiť samotného Ritchieho Blackmorea v Deep Purple a onedlho tragicky zahynúť. Skrátka, status legendy podoprel funkčným PR plánom, ktorý vyšiel na sto percent, čo je škoda. Kým sa tak stalo, stihol s James Gang nahrať dva albumy, Bang a Miami.
Vzdušný hardrock, melodicky chytľavý, hudobne nenápadný, ale o to dravší, obletuje deväť skladieb prvého menovaného ako hlúčik supov zdochnýnajúceho pútnika. Hoci sa dá o každej skladbe napísať niečo pekné, na mňa pôsobí ako celok. Samozrejme, mám tu svoje favoritky, taká The Devil Is Singing Our Song by so mnou nemala ostať osamote v jednej miestnosti, lebo za seba neručím! Okrem parádnej temnejšej nálady sa tu zjaví aj zárodok Love Child. Alebo, keď sa z akusticky pokojnej Alexis vylúpne parádny ťaživý gradovaný motív, ktorý podoprie záverečné sólo, to by som skákal až po plafón, ale najlepšie v nejakom hrade, lebo v bežnej bytovke by som sa otĺkol o strop. Azda jediný úlet predstavuje krátke čudo Rather Be Alone With You (aka Song For Dale), ktoré mi vždy naruší tranz, ale zasa, na prebudenie pozornosti funguje lepšie než energetický nápoj na zapitie liekov. A tradične výpravná skladba na záver albumu, Mystery, je naozaj tajomná, citlivá, podmanivá, poliata orchestrálnou polevou a podávaná ako dezert po skvelej hostine.
Čo sa mi páči, je to, že James Gang si udržiava svoju jedinečnú tvár, ktorá, aj keď sa osoby menia, ostáva zapamätateľná a rozpoznateľná. Ako keď človek starne, ale stále je to on. Bez umelých doplnkov, kozmetickej chirurgie, nevkusných líčidiel…
Vynikajúci album srdcovej kapely, z Bolinových dvojičiek rozhodne ten vydarenejší. Započúvajte sa a zistíte sami, či podľahnete jeho zvodom. Ja už ležím.
Skladby:
Standing In The Rain 5:05
The Devil Is Singing Our Song 4:22
Must Be Love 3:48
Alexis 5:07
Ride The Wind 3:45
Got No Time For Trouble 3:47
Rather Be Alone With You (aka Song For Dale) 2:05
From Another Time 4:00
Mystery 6:10
Zostava:
Roy Kenner: spev, perkusie
Tommy Bolin: gitary, spev (4), vokály, syntezátor
Dale Peters: basa, vokály, perkusie
Jim Fox: bicie, vokály, perkusie, klávesy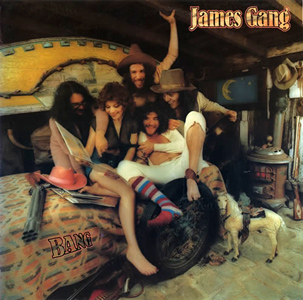 Bang
James Gang
hard rock
Atco
1973
LP, CD
9