Britská bluesová bavlna sa nerodila na plantážach, ale pekne v mestskom znečistenom prostredí. Aj preto sa v nej nájde viacero kapiel, ktoré by bluesoví puristi občas vyťahali za uši a nechali čupieť v kúte, kým sa nepolepšia. Našťastie, tento "rockový" nános nebolo možné vypucovať. Savoy Brown patrila (a patrí) k tým skupinám, ktoré si nemohli sťažovať na nedostatok albumovej produkcie. Taký Jack The Toad je síce "len" z roka 1973, ale poradové číslo v diskografii otvára dvojcifernú pozíciu.
Desiaty zárez na pažbe oslavuje kapela s westernovým obalom, ktorý je tak hnusný, až by som sa nečudoval, kebyže komerčne prepadne. Na svedomí ho má David Anstey, ktorý sa okolo kapely motal pravidelne, ale na svedomí mal napríklad obal k albumu Days Of Future Passed (1967) od Moody Blues alebo Caravan – Waterloo Lily (1972). Za zmienku stoja aj obaly Khan – Space Shanty (1972), 10cc – 10cc (1973), či Aardvark – Aardvark (1970) a mnohé iné. Navrhol tiež logo Camel na album Moonmadness (1976). Sem-tam fušoval aj do klasiky, Beethoven by mohol rozprávať. Zaujímavosťou je, že mal prsty v dizajne obalu k opere Příhody lišky Bystoušky (The Cunning Little Wixen/Das schlaue Fuchslein) z roka 1924 autora Leoša Janáčka, ktorý vyšiel v roku 1982 na značke Decca. Na nahrávke sa podieľal Viedenský filharmonický orchester pod dirigentskou taktovkou Sira Charlesa Mackerrasa a medzi interpretmi nájdete také mená ako Lucia Popp, Eva Randová a Dalibor Jedlička. Každopádne za toto by som mu nezaplatil. V USA mali na to iný názor a album tam v rebríčku Billboardu vyskočil na 34. pozíciu. Ale poporiadku.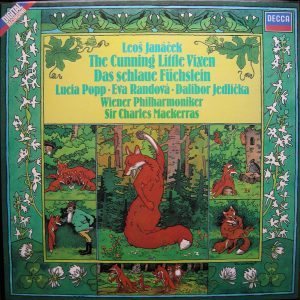 Kapela Savoy Brown mala vo zvyku neustále obmieňať zostavu, nuž sa napokon nedalo cúvnuť pred faktom, že jej personifikáciou bol a stále je gitarista Kim Simmonds. V roku 1972 bola kapela v rodnej ostrovnej koloniálnej veličine prakticky zabudnutá a fičala si v Amerike na turné, na ktorom sa delila o pódium napríklad s Rorym Gallagherom alebo Fleetwood Mac. A práve druhá menová formácia im krátko na to uchmatla speváka. Aby toho nebolo málo, porúčal sa aj bubeník Dave Bidwell, ktorý však stihol nahrať niekoľko skladieb na pripravovaný album. K trojici hráčov Simmonds, Paul Raymond (klávesy) a Andy Pyle (basa) tak pribudol bubeník Ron Berg a najmä výrazný spevák John Lynton. Nakoľko kapele hrozil rozpad, nakrátko to vyzeralo ako spásonosné riešenie. Lynton bol uznávaný anglický rokenrolový spevák, spolupracoval s veličinami ako Billy Fury, Vince Taylor & The Playboys, Wee Willy Harris, Terry Dane a Screaming Lord Sutch & His Savages, a neskôr mal aj vlastný The Jackie Lynton Band.
Keď už som pri zostave, Paul Raymond je určite dobre známy priaznivcom hardrockovej úderky UFO, pred Savoy Brown hral v Chicken Shack. Andy Pyle mal za sebou pôsobenie v Blodwyn Pig a v druhej polovici 70. rokov hral s Kinks. Od polovice osemdesiatych rokov hral s Wishbone Ash. Aj Ron Berg prišiel z Blodwyn Pig, hral na štvrtom albume Juicy Lucy – Pieces (1972) a po Savoy Brown fungoval s Alvinom Leem (album Pump Iron! z roka 1975) a jeho meno je nerozlučne späté aj s neskoršími inkarnáciami Blodwyn Pig.
Na Jack The Toad nájdete deväť skladieb. Produkcie sa ujal zakladateľ Dawn Records Barry Murray a zahral si na ňom aj nejaké tie perkusie. Oproti predchádzajúcim dielam je tento počin oveľa, ako to nazvať, komerčnejší. Vplyv funky je evidentný. Významnú rolu prevzal spevák Jackie Lynton, ktorý zložil aj niekoľko skladieb na albume, napríklad hneď prvú Coming Down Your Way. Štipka funky, kusisko ženských vokálov, takéto čosi dovtedy Savoy Brown nepamätali! Mne sedia skôr tie tradičnejšie veci ako bluesová štandardná situácia Hold Your Fire, priamočiara Endless Sleep, titulná spevná atrakcia Jack The Toad a najmä bluesová extáza Just Cos You Got The Blues Don't Mean You Gotta Sing. Na druhej strane spektra oxidujú skladby "rádiového" zamerania, z ktorých negatívne vyniká predovšetkým Casting My Spell.
Predaju albumu malo pomôcť, že sa kapela vydala predskakovať na britskom turné Status Quo k albumu Hello, ktorý obsadil prvé miesto rebríčka. Po čase sa tak Savoy Brown dostala na milosť domáceho publika. Napriek uvedenému sa album nestal práve komerčným hitom a Simmondsa to tak rozčarovalo, že v roku 1974 kapelu rozpustil a plánoval sa úplne stiahnuť z hudobného biznisu. Nestalo sa, ale to iný príbeh. Jack The Toad radím do zástupu priemerných blues-funky zaobalených albumov, ale občas dobre padne vypočuť si aj niečo bez ambícií.
Skladby:
Coming Down Your Way 4:51
Ride On Babe 4:21
Hold Your Fire 4:16
If I Want You 3:56
Endless Sleep 5:30
Casting My Spell 4:09
Just Cos You Got The Blues Don't Mean You Gotta Sing 5:45
Some People 6:03
Jack The Toad 6:40
Zostava:
John Lynton: spev
Kim Simmonds: gitary, harmonika, spev (2)
Paul Raymond: klávesy, rytmická gitara (2)
Andy Pyle: basa
Ron Berg: bicie a perkusie (3, 4, 6, 8)
Dave Bidwell: bicie (1, 2, 5, 7, 9)
a
Sue & Sunny (Sue Glover, Sunny Leslie): vokály
Barry Murray: perkusie
Frank Ricotti: perkusie
Stan Saltzmann: saxofón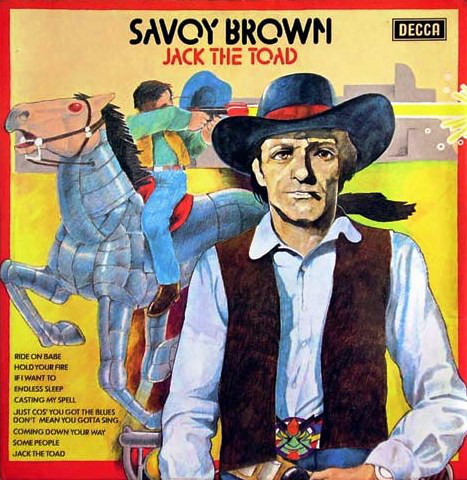 Jack The Toad
Savoy Brown
blues rock, funky
Decca (GB) a Parrot (USA)
1973
LP, CD
9