Nie som práve metalista. Napriek tomu mám doma niekoľko albumov od Metallici, Annihilatora alebo hoci Iron Maiden. Najviac som si obľúbil The X-Factor od posledných menovaných.
Dostal som sa k nemu náhodou niekedy v druhej polovici 90. rokov. To som mal obdobie, že som si rozširoval obzory a počúval všetko možné z metalu, od Cannibal Corpse, cez Obituary až po Iron Maiden. Maidenov som dovtedy vnímal ako niečo, čo mali moji známi metalisti veľmi radi, ja som sa však neprepracoval nad rámec videoklipov a niekedy v pätnástich som počul aj album The Number Of The Beast. K nemu sa mi viaže milá spomienka. Mal som šestnásť, hral som okolo roka na bicie a práve sme s gitaristom Tiborom zakladali našu prvú kapelu Earpick. Potrebovali sme ešte basáka, nuž sme sa vybrali za jedným jeho známym, ktorý hral na gitaru, ale vraj by mohol aj na base. Bol to kovaný maidenovec a nepomerne skúsenejší hudobník ako ja. Pustil nám zmienený album a opýtal sa ma, či by som to zvládol zahrať. Sebavedomo som vyhlásil, že jasné. A tak sme si dali skúšku a… viac sme sa nevideli.
Každopádne, jeden videoklip od kapely ma zaujal. Vlastne dva, ale to je jedno. O Holy Smoke som na Rockovici už písal, ale v nejakej hudobnej relácii zaznela skladba Man On The Edge. Bola rýchla, efektná, živelná. Zapáčila sa mi. Ako na zavolanie, po nejakom čase môj brat dovliekol od nejakého kamaráta CD s titulom The X-Factor. Pustil som si ho a… bol som chytený v hypnotickej pomalej repetitívnej hudbe. Album som si nenapálil, ale rovno som nechal brata vyjednať, za čo by mi ho dotyčný predal. Už si nepamätám cenu, ale viem, že som ju bez váhania vycáloval a CD si nechal.
Počúval som ho často, dokonca tak, že ho ešte aj dnes poznám naspamäť. Výrazne tomu napomohol i fakt, že som vtedy mal doma v izbe bubenícky trenažér a cvičil som o sto šesť. A tento album som sa naučil hrať celý. Nicko McBrain tu odviedol priam didaktický výkon. Tým, že sú skladby až na výnimku Man On The Edge pomalé, bicie sú veľmi prehľadné a v zásade jednoduché. Samozrejme, nájdu sa tu pekné ozvláštňujúce fintičky a zaujímavé rytmické patterny, ako napríklad trioly na kopáku v refréne Aftermatch. Jednoducho je radosť sa v nich štúrať a dolovať jednu fičurinu za druhou. Inak, album je dlhočizný, trvá cca 71 minút. Napriek tomu mi nikdy nerobilo problém ho dopočúvať. Čas je relatívny, keď je muzika po chuti, letí s vetrom opreteky.
Ozaj, v tom čase som vôbec netušil, že spevák Bayley je vnímaný ako nevhodná náhrada za Dickinsona. Mne tam sedel a vôbec mi nenapadlo, že je niečo "zle". Ono to v tých 90. rokoch bolo vlastne oslobodzujúce. Booklet bol úplne nanič, okrem zoznamu skladieb sa v ňom nič nenachádzalo, žiadna zostava, žiadne texty a pod. Jednoducho som počúval muziku a nič ma nerušilo. Iste, zvedavosť napokon vždy zvíťazila a nachádzal som ďalšie a ďalšie informácie. V knihách, v časopisoch, v rádiu i v televízii, v reláciách o hudbe (veru, vtedy sme dokázali oceniť niekoho, kto vedel a vedel to podať, nie ako dnes, kedy je základom úspechu nevedomosť a klamstvo). Dokonca na internete, ale ten sa tomu dnešnému ešte až tak veľmi nepodobal a každá informácia mala cenu zlata.
Ale aj bez ohľadu na všetko uvedené, odhadzujem nostalgiu bokom! Podstatná je muzika. Páčia sa mi dlhočizné intrá, rozvláčne melódie a fakt, že väčšina skladieb je skôr pomalšia než uháňajúca do neviem kam. Skrátka, je to "to" pravé orechové. Nikdy by mi nenapadlo, že jedným zo zásadných albumov môjho života bude tento od Iron Maiden s údajne nevhodným spevákom a s rovnako rozpačitým odklonom od klasiky, ako sa často vyjadrujú priaznivci kapely. Horšie skóre v hodnotení diskografie má hádam len album Virtual XI, ten právom. The X-Factor je bezchybný album atmosférickej muziky a basta! Uvedomujem si, že hudobne sa vymyká klasickej produkcii kapely, mne to vyhovuje.
Čo by som ešte dodal? Azda iba toľko, že od Iron Maiden vlastním ešte zo tri rôzne výberovky (Edward The Great, Somewhere Back In Time, From Fear To Eternity), pretože mi vyhovuje počúvať skôr pelmel ako celé albumy kapely. No a ešte mám Brave New World, čo je album, ktorý sa na tento dosť podobá, tiež je dlhý, repetitívny a má chytľavé refrény. O tom však niekedy inokedy.
Skladby:
Sign Of The Cross 11:16
Lord Of The Flies 5:02
Man On The Edge 4:10
Fortunes Of War 7:25
Look For The Truth 5:10
The Aftermath 6:20
Judgement Of Heaven 5:10
Blood On The World's Hands 6:00
The Edge Of Darkness 6:39
2 A.M. 5:37
The Unbeliever 8:05
Zostava:
Steve Harris: basa
Blaze Bayley: spev
Dave Murray: gitara
Janick Gers: gitara
Nicko McBrain: bicie
a
Michael Kenney: klávesy
The Xpression Choir: gregoriánsky chorál (1)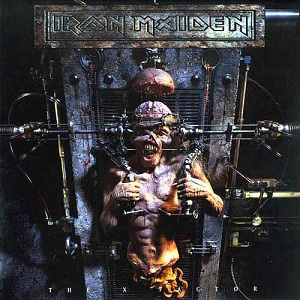 The X-Factor
Iron Maiden
heavy metal
EMI
1995
CD (EMI United Kingdom, 1995)
11