CD RCA Italiana, Sony BMG Music Entertainment – 88697343642  /2008/
Io Come Io je druhým zářezem v diskografii Il Rovescio Della Medaglia a pokud ho porovnáme s o rok starším debutovým albem, najdeme hned několik styčných bodů. Jednak je stejně krátké (sotva 29 minut), druhak koncepční (ambiciózní texty inšpirované německou filozofií) a treťjak – je to nemlich ten samej bugr. Jen s daleko lepší produkcí a zvukem. 
Na albu jsou čtyři skladby a otevírá jej nekompromisní nářez Io, po kterém následuje o něco delší (a členitější) Fenomeno. Ta, i něcojakobalada Non Io obsahuje aj několik akustických vsuvek, odboček a stopové množství flétny, ale jinak je to klasickej randál v sestavě kytara, basa a bicí s unikátním mixem navrch. Basák Stefano Urso povýšil svůj nástroj z rytmického na sólový a hraje prakticky to samé, co kytara, jen o něco níž. Díky rozšířenému stereu a striktně odděleným nástrojům – kytara vlevo, brutálně zkreslená a vyhulená basa vpravo – to jejich zápolení krásně vynikne a je nesmírně zábavné ho sledovat. Často se mi stává, že při poslechu desky ten jejich strhující souboj poslouchám pozorněji, než hudbu samotnou… Album pak končí sedm minut dlouhou a do dvou kapitol rozdělenou – ovšem neméně ostrou – titulkou Io Come Io.
Díky předlouhým instrumentálním eskapádám tady zpěvu moc není a k horkou jehlou spíchnutým vokálním linkám bych měl výhrady. Na druhou stranu – zkuste vměstnat filozofické texty do melodických písniček. Navíc tam, kde chybí melodie nechybí temperament a to já rád.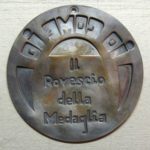 Původní asfalt vyšel hned v několika provedeních, přičemž součástí jednoho z nich byla i kovová medaile. CD reedice z roku 2008 (v plastu) má černý obal s bílým – částečně zrcadlově obráceným – nápisem dole a čtyřstránkový booklet nenabídne víc, než tracklist a několik – ke všemu notně zmenšených – fotografií v červenočerných barvách. Ovšem hraje parádně a jsem rád, že ji mám.
S hodnocením je to těžké. Šokující debut jsem oznámkoval lepší trojkou, vrcholné dílo Contaminazione je za jasnejch pět, tož tady musím na (slabší) čtyřku.
SKLADBY:
1. Io – 6:36
2. Fenomeno a) Proiezione, b) Rappresentazione – 9:04
3. Non Io – 6:12
4. Io Come Io a) Divenire, b) Logica- 7:03
SESTAVA:
Pino Ballarini – zpěv, flétna
Enzo Vita – kytara
Stefano Urso – basová kytara
Gino Campoli – bicí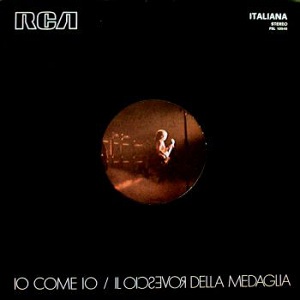 Io Come Io
Il Rovescio Della Medaglia
progressive rock, hard rock
RCA Italiana
1972
LP
4
CD - RCA Italiana, Sony BMG Music Entertainment, 2008