CD BMG Japan /2005/ BVCM-37584
Skupina I Dik Dik (pojmenovaná podle antilopy obývající buše ve Východní a Jihozápadní Africe) pochází z Milána a vznikla v roce 1965. Ještě téhož roku natočila svůj první singl, který brzy následovalo několik dalších a v roce 1967 aj první dlouhohrající deska. Ze začátku byla kapela ovlivněná především hudbou a vizáží The Beatles, nějakou dobu spolupracovala s popovou star Lucianem Battistim, no a potom přišel Woodstock v šedesátém osmém. Z kraje sedmé dekády však musela čelit – stejně jako ostatní skupiny té doby – progressive rockové tsunami, která se tou dobou hnala apeninským poloostrovem. I Dik Dik se v rychlosti přizpůsobili novým trendům a v roce 1972 natočili progressive popové album Suite per una donna assolutamente relativa. Pojďme si ho v krátkosti představit:
Jedenáct skladeb, necelých 41 minut symfonické a melodramatické hudby, kterou bych popsal jako "křížence" popu s art rockem. Placka je koncepční (jak se na tuto éru sluší a patří), skladby na sebe plynule navazujou a některá témata a melodie se v průběhu přehrávání opakují. Metaforické texty Herberta Paganiho skládají poklonu té něžnější části lidského pokolení, s čímž zrovna nekoresponduje trochu "praštěnej" obal desky, který navrhl Caesar Monti. Poněkud obměněný motiv z obálky je však ukryt i uvnitř skládací mini vinyl repliky a teprve tady pochopíme autorův záměr a smysl pro humor.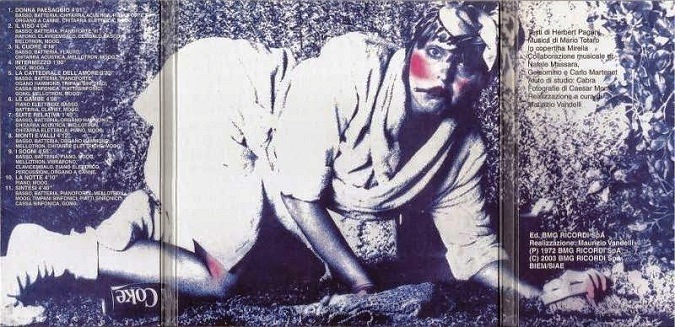 Sound je pěkně "zahuštěnej", vyloženě klávesovej a nahrávka zní velmi symfonicky. Za tehdy docela úspěšnou kapelou stála silná firma a především autor veškeré hudby a klávesista Mario Totaro si tak mohl dovolit to nejmodernější vybavení. Mnozí jeho souputníci si tehdy museli vystačit s jedněmi rozvrzanými varhanami, ale tady už je slyšet – kromě obligátního piana a Hammond organu – Moog (hodně Moogu), Mellotron, clavinet, nebo cembalo. Doprovodná kytara je především akustická, bicí relativně jednoduché, vokály jemné – pochopitelně v italštině – a rozhodně neruší. Ve většině případů to jsou písničky ve volnějším tempu se stopáží okolo čtyř minut a celá kolekce je docela vyrovnaná. Hledat tady nějaký vrchol, ale i vyloženej propadák je počertech těžké. Vypíchnul bych tedy hlavně patetický monument La cattedrale dell'amore, chytlavý kvapík Le gambe, nebo pěkně melodickou Monti e valli.
Ve sbírce mám velmi pěkné vydání od BMG Japan z edice "Strange Days Presents: BMG Italian Rock Paper Sleeve Collection III" v provedení triple gatefold, ovšem ne ve formátu, na který jsem zvyklej. Většinou jsou všechny ty tři díly skládačky stejně veliké a do jednoho z "křidélek" bývá zasunutej nosič s bookletem. V tomhle případě jsou ty části po stranách v poloviční velikosti a disk se tak vkládá do prostředního dílu ze shora. Trochu nezvyk. Texty a nástrojové obsazení v jednotlivých skladbách jsou vytištěné přímo na obalu a booklet je v japonštině. Zajímavostí jsou chybějící jména a není tedy docela jasné, kdo se podílel na nahrávání. Všeobecně se však předpokládá, že celá tehdejší aktuální sestava…
Album to není špatné a mám ho rád, ale opravdovým milníkům žánru se nevyrovná. To je bez debat. On je to totiž i přes svůj symfonickej zvuk pořád ještě hodně přístupnej a líbivej pop a osobně mi tady schází více energie a vzrušení. Za tři.
SKLADBY:
01. Donna paesaggio  (4:03)
02. Il viso  (4:06)
03. Il cuore  (4:18)
04. Intermezzo  (1:01)
05. La cattedrale dell'amore  (3:33)
06. Le gambe  (4:08)
07. Suite relativa  (1:39)
08. Monti e valli  (4:16)
09. I sogni  (4:56)
10. La notte  (4:10)
11. Sintesi  (4:43)
SESTAVA:
Erminio "Pepe" Salvaderi (chitarra, voce)
Pietruccio Montalbetti (chitarra, basso, voce)
Giancarlo "Lallo" Sbriziolo (chitarra, voce)
Mario Totaro (tastiere)
Sergio Panno (batteria)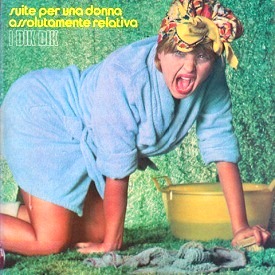 Suite Per Una Donna Assolutamente Relativa
I Dik Dik
art rock, pop rock
Ricordi
1972
LP
11
CD - BMG Japan /2005/ BVCM-37584