To, že mám rád koncertné albumy, azda nemusím siahodlho popisovať. Rovnako inklinácia ku zlatej ére rockovej muziky je u mňa rozvinutá do posledného štádia závislosti. Predstava, že by hardrocková formácia nedokázala vymlátiť dušu z nadšeného masochistického publika, bola "v tých rokoch sedemdesiatych" doslova absurdná. Kapela Humble Pie bola (a vždy bude) v tomto dokonalá. Performance Rockin' The Fillmore z roku 1971 krásne ukazuje, prečo.
Skladieb tu nie je veľa, sedem, ale zapratali rovno dvojalbum. Nečudo, veď štvorica hráčov Shirley, Ridley, Frampton a Marriott mala z muziky nepochybne radosť a natiahnuť nejaký "džem" bezmála na polhodinu pre ňu nebol problém. Nič na tom neuberá ani to, že až na jednu, či dve (ak sme tolerantní) z nich, ide o prevzatý materiál. V podstate sa na štúdiových albumoch s prezentovanými vecami nestretnete, čo bola kedysi tiež vcelku rozšírená črta "živákov" a osobne ju mám rád. Nakoľko od nasledujúceho albumu došlo k zmene zostavy (Clempson nahradil Framptona), vydanie reprezentatívneho koncertného monumentu si kapela lepšie načasovať nemohla.
Dielo začína zostra, Four Day Creep, I'm Ready i Stone Cold Fever nekompromisne burácajú, na nejaké uhladené procedúry zabudnite. Čo ma však totálne odrovnáva, je už spomínaný "polhodinový" kúsok I Walk On Gilded Splinters. Možno poznáte originál od Dr. Johna, to vám však veľmi nepomôže. Pripravte sa na výrazne bluesovú náladu a nekonečné muzicírovanie, pričom Marriott vytiahne i harmoniku. A tá tvrdosť! Diamanty pri nej vyzerajú ako pieskovce po niekoľkých geologických obdobiach erózie. Muddy Waters sa určite ani vo sne nenazdal, že z jeho Rollin' Stone bude štvrťhodinová prehliadka nasekaného gitarového rocku. Marriott má hlasisko, z ktorého by nejeden otorinolaryngológ vytrieskal celoživotné poplatky od zdravotnej poisťovne, tu ho šponuje ako tlupa súrodencov nervy svojich rodičov. K infarktu sa, našťastie, nedopracuje. Možno preto, že mu zdatne sekunduje celé publikum. Odľahčene pôsobí spevná skladba Hallelujah (I Love Her So), ale to bude preto, že sa chystá finále.
Absolútna hardrocková smršť, to je deväťminútová pecka I Don't Need No Doctor. Osobne si kapelu spájam práve s týmto "songom" a neverím, že by priaznivcovi rockovej muziky nespôsobovala táto ukážka razantnej "vypaľovačky" príjemné zimomriavky. Uprostred sa nachádza klasická "hecovačka" publika, práca s dynamikou šla kapele na jednotku. Keby som toto mohol zažiť na vlastné oči, tak by som nechcel, aby to niekedy skončilo. A predsa sa tak napokon stane. Z tohto by som mal doživotne úsmev na tvári kedykoľvek, kedy by som si na to spomenul! Aj z albumu to má grády!
Emócie, nekompromisné rockové hranie, surovosť bez umelých efektov, Performance Rockin' The Fillmore patrí k špičke koncertných albumov a nestratí sa ani medzi takými konkurentmi, ako napríklad Made In Japan (Od koho? Nežartujte!) alebo Live (Colosseum). Milujem ho.
P.S. Dnes už je na trhu aj štvordiskový "komplet", ale čaro pôvodného albumu, trúfam si povedať, neprekonal.
Skladby:
Four Day Creep 3:48
I'm Ready 8:30
Stone Cold Fever 6:20
I Walk On Gilded Splinters 24:30
Rollin' Stone 16:10
Hallelujah (I Love Her So) 5:10
I Don't Need No Doctor 9:20
Zostava:
Steve Marriott: gitara, spev, harmonika
Peter Frampton: gitara, spev
Greg Ridley: basa, spev
Jerry Shirley: bicie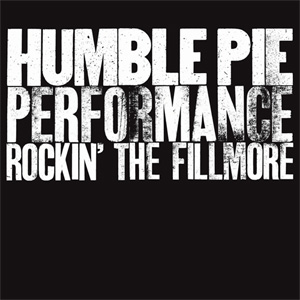 Performance Rockin' The Fillmore
Humble Pie
hard rock, blues rock
A&M
1971
LP, CD
7