Rock On! Lepší slogan na počúvanie rockovej muziky nevymyslíte. Ako sa s týmto zvolaním popasovala kapela Humble Pie?
Solídne. Beriem to tak, že sa muzikanti dostali do rutinnej prevádzky (vykryštalizovala sa ich vlastná tvár, nie, že by sa prispôsobili sériovej výrobe) a našli si polohu, ktorá ich spevnému hardrocku sedí bezchybne.
Je tu všetko. Hitový potenciál chytľavého strihu sa vtelil do skladby Shine On, kde sa prvý raz ozvú aj ženské vokalistky, čo je finta, ktorú skupina v budúcnosti ešte využije. Ďalej sú tu klasické hutné pomalšie kúsky (Sour Grain, Big George, Strange Days), bluesové polohy (79th And Sunset, Rollin' Stone), totálne hardrockové pecky (Stone Cold Fever), vypäté okamihy (A Song For Jenny), skrátka, je čo počúvať.
Kráľom spomedzi protagonistov je rozhodne Marriot, jeho škrekľavý spev ma totálne odrovnáva a vo svojej dobe rozhodne patril k absolútnym rockovým hviezdam, rovným hoci Paulovi Rodgersovi, Ianovi Gillanovi a tak ďalej. Ten zoznam bol počiatkom 70. rokov nabitý, len čo je pravda.
Rock On je výborný album, v postate definuje klasickú podobu muziky Humble Pie. Tak si ho užite, minimálne tak, ako si ho vychutnávam ja.
Skladby:
Shine On 3:00
Sour Grain 2:40
79th And Sunset 3:01
Stone Cold Fever 4:09
Rollin' Stone 6:00
A Song For Jenny 2:35
The Light 3:15
Big George 4:08
Strage Days 6:36
Red Neck Jump 3:06
Zostava:
Steve Marriot: spev, gitara, klávesy, harmonika
Peter Frampton: gitara, klávesy, vokály
Greg Ridley: basa, gitara, vokály
Jerry Shirley: bicie, piano (3)
a
Alexis Korner: vokály
Bobby Keyes: saxofón
B.J. Cole: pedálová steel gitara
Soul Sisters:
P.P.Arnold: vokály
Claudia Lennear: vokály
Doris Troy: vokály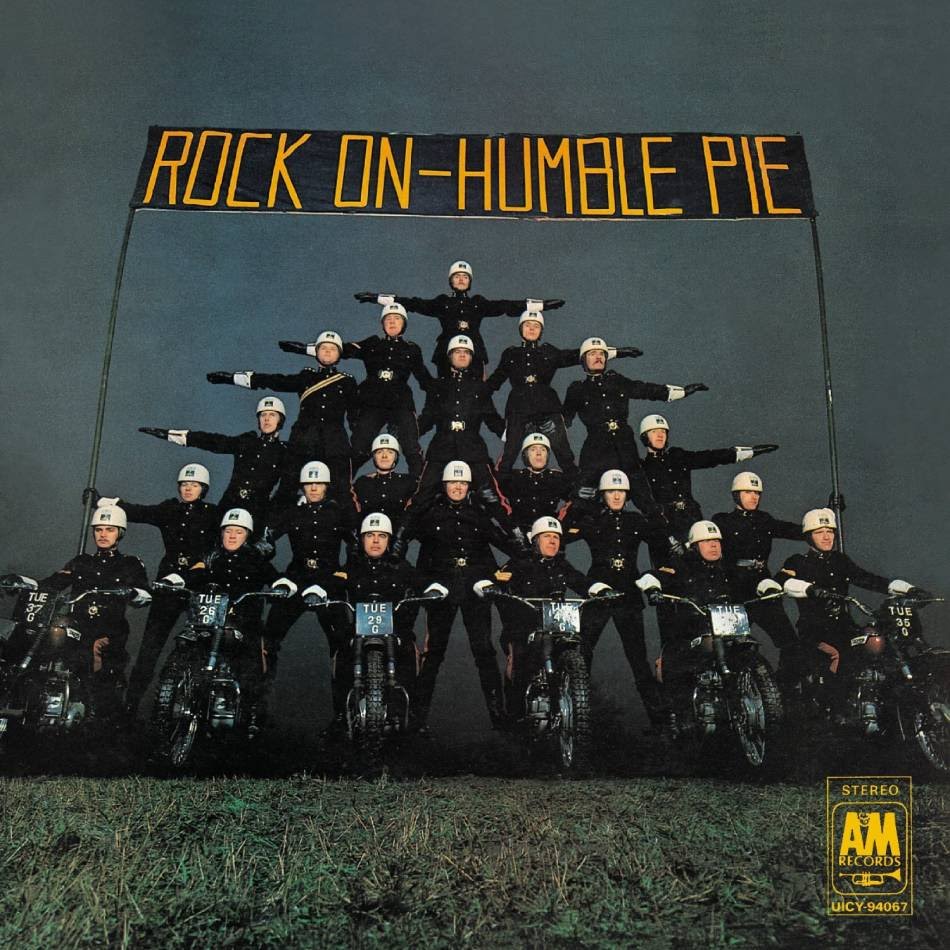 Rock On
Humble Pie
hard rock, blues rock
A&M
1971
LP, CD
10