V čase, keď som sa snažil doplniť zbierku o prvé dva albumy kapely Humble Pie, bol mi podstrčený dvojdiskový komplet Natural Born Bugie holandskej proveniencie a Britského exportu. Obsahuje oba žiadané kúsky, As Safe As Yesterday Is a Town And Country z roku 1969, pričom ho dopĺňajú tri bonusy.
Forma nie je nič moc. Hrubý dvojdiskový obal opatrený minimom informácií (ani len názvy albumov tam nenájdete, nieto zostavy), žiaden iný booklet, skrátka, počúvajte muziku a nezdržujte sa obalom. Akoby ste si kúpili vrecko čipsov s úmyslom vyžrať a obal zahodiť.
Prvý disk obsahuje debutový album, kým sa naň dostane, ozve sa prvý úspešný singel kapely Natural Born Bugie/Wrist Job. Prvá skladba je milá, druhá parádne hutná, darmo, béčka singlov boli takmer vždy zárukou kvality, keďže ich nikto netlačil do komerčného éteru. Samotný album As Safe As Yesterday Is sa počúva dobre. Sem-tam sa dokonca zjaví aj nejaké výrazná skladba, ako napríklad úvodný hardrockový spomalenec Desperation.
Desať skladieb je však prevažne o bluesových náznakoch, občas sa drží akustických nástrojov, nevyhnete sa ani štipke country… Z môjho pohľadu si pozornosť zaslúži gitarová kĺzačka Stick Shift, ktorá však rýchlo skončí, práve, keď by sa mohla rozkokošiť. Pustite si ju opakovane a prídete na to, čo to je prerušovaná súlož. Humble Pie sa nikam neponáhľa, dajakú formulu by ste v jej vozovom parku orientovanom na vyradených veteránov hľadali ťažko. Krásny príklad toho, ako jej svedčia pomalé rytmy, dáva titulná skladba As Safe As Yesterday Is. Taká skladba Bang? by sa zasa nestratila ani na dobových albumoch Rolling Stones. Priaznivci debutu Led Zeppelin si isto vychutnajú indickú  sitárovo-flautovú meditáciu I'll Go Alone, ktorá sa napokon pretaví do parádneho rockového tvaru. Ostro znie aj kúsok A Nifty Little Number Like You. Celkovo je debut Humble Pie fajn, dobre sa počúva a nenudí. Akurát bonusový záver Greg's Song je skôr demo verzia, ku ktorej niekto zabudol napísať text, ešte sa tam aj kopne rytmika.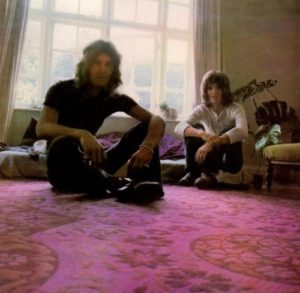 To druhý disk s Town And Country mi sedí menej. Jedenásť skladieb sa ešte výraznejšie orientuje na akustické piesne bez nejakých snáh o čosi nevšedné. Keď je pustený, tak mi neprekáža, ale nepamätám si za tie roky jedinú situáciu, že by som si ho zatúžil vypočuť, lebo som naň dostal chuť. Skôr sa vezie popri debute. Isto, v časoch, kedy sa masovo presadzovali čoraz búrlivejšie kapely, bola odvaha hrať akustickú pohodovú muziku obdivuhodná, napriek tomu mi to takto "po rokoch" až tak veľa nedáva. Je možné, že vám album bude pripadať inak, neostáva vám iné, než ho vyskúšať na vlastnej koži. Keby som mal odporučiť nejaké skladby, volil by som úvodnú akustickú baladu Take Me Back, elektrifikovanú koncertnú klasiku The Sad Bag Of Shaky Jake a predovšetkým hardrockovo vyhrotenú baladu Silver Tongue. Ide o jasný vrchol albumu.
Natural Born Bugie – vo svojej dobe to bola lacná možnosť na získanie prehľadu o počiatkoch kariéry Humble Pie. Dnes by som už túto voľbu neodporúčal. Čisto z hudobného hľadiska považujem oba albumy za nesmelé pokusy, ktoré mi neprekážajú a bez nich by asi nebolo budúcich vrcholov. Už teraz však nemožno prepočuť, že kapela mala k dispozícii vynikajúcich vokalistov a Marriottov chripľavý prejav je na zjedenie.
Skladby:
CD1 As Safe As Yesterday Is (1969):
Natural Born Bugie (a-side) 4:12
Wrist Job (b-side) 4:14
Desperation 6:28
Stick Shift 2:22
Buttermilk Boy 4:22
Growing Closer 3:13
As Safe As Yesterday Is 6:05
Bang? 3:24
Alabama 69 4:37
I'll Go Alone 6:17
A Nifty Little Number Like You 6:11
What You Will 4:20
Greg's Song (unreleased) 4:29
CD 2 Town And Country (1969):
Take Me Back 4:52
The Sad Bag Of Shaky Jake 2:59
The Light Of Love 3:00
Cold Lady 3:22
Down Home Again 2:56
Ollie Ollie 0:50
Every Mother's Son 5:43
Heartbeat 2:33
Only You Can See 3:38
Silver Tongue 3:20
Home And Away 5:55
Zostava:
Steve Marriott: spev, gitara, harmonika, klávesy, perkusie
Peter Frampton: spev, gitara, klávesy, perkusie, basa
Greg Ridley: basa, vokály, perkusie
Jerry Shirley: bicie, perkusie, klávesy
a
Lyn Dobson: flauta (CD1: 6, 9), sitar (CD1: 9)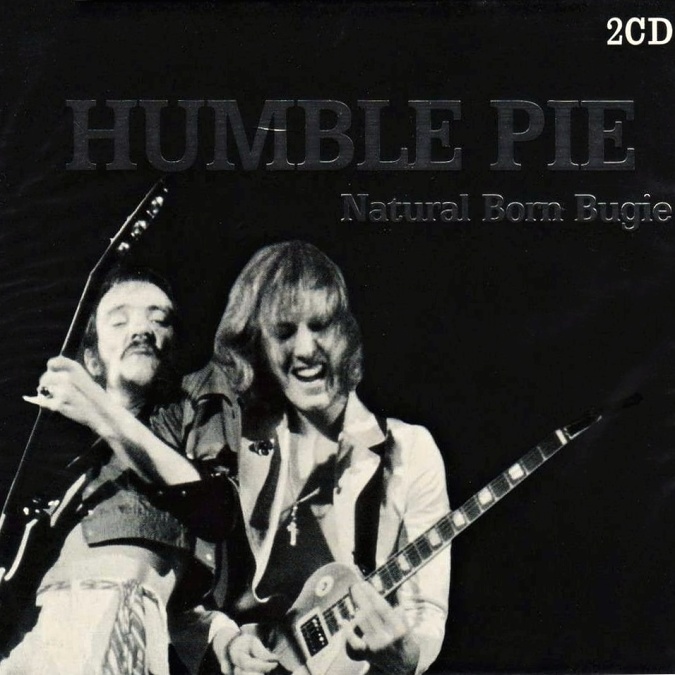 Natural Born Bugie
Humble Pie
blues rock
Weton-Wesgram
2003
CD
24