Humble Pie koncom šesťdesiateho deviateho roku naživo, to musel byť zážitok. Obzvlášť, keď sa súčasťou setu stala akustická verzia skladby For Your Love. Ako to znelo, sme sa mohli konečne dozvedieť v roku 2001, kedy vyšiel archívny koncertný album Live At The Whisky A-Go-Go '69.
Priznávam sa bez mučenia. Pre Humble Pie mám slabosť. Môj prvý kontakt sa odohral prostredníctvom VHS-ky, z Beat Clubu sa na mňa vyškierala práve skladba For Your Love. Táto:
Viete si predstaviť to rozčarovanie, keď som postupne zisťoval, že sa nenachádza na žiadnom radovom albume? Dnes máte všetky informácie postrkané do každej diery média zvaného internet, ale v dobách, kedy som sa o túto muziku začal zaujímať, bola z internetu textová opacha na čiernej obrazovke a ľudia boli vo vytržení, že sa cez Gopher dostali k niekoľkým novinám a na stránky amerického prezidenta. Nečudujte sa mi, že som po vydaní tohto albumu takmer vyskočil z kože, prerazil zvýšený strop v starom dome a takmer ma od šťastia šľak trafil, čo by Vás práve teraz ušetrilo od čítania týchto viet. Smola, tu som, nuž sa pripravte na ódu na Whisky… A-Go-Go.
Päť skladieb, päťdesiat minút záznamu, asi je každému jasné, že sa tu bude improvizovať "do aleluja". Kapela na počiatku svojej existencie začínala koncerty, ako som už spomenul, akustickým setom pozostávajúcim zo štyroch skladieb. Žiaľ, nedochovali sa. V čase prezentovaného amerického turné z toho ostala už len dlhočizná fenomenálna prerábka "yardbirdsovského" hitu For Your Love. Vďaka aj za to. Na pomalom "perkusijnom" podklade sa postupne rozohrajú tri akustické gitary a do toho Steve Marriott napne svoje rozškriekané hlasivky spôsobom, ktorý ma zakaždým úplne odrovná. Zdatne mu sekunduje aj druhý hlas, a preto vlastne ani netreba dajaké sóla, aby sa človek odviazal. Gitaristi sa občas pridajú k bubeníkovi a klepkaním na korpus gitár podčiarkujú absolútne jedinečný prístup k tejto skladbe. A tie emócie! Azda ste si pozreli to vložené video a viac slov mi netreba.
A ide sa ďalej, bluesrocková nádielka Shakin' All Over bola v tých časoch evidentne populárna, aj bežný poslucháč si určite spomenie na The Who. Marriot a spol. pridali harmoniku a ťažkopádnejší rytmus, takže je to naozaj hutná záležitosť. S nekonečným sólovaním, hurá! Je zaujímavé, že štúdiové albumy z roku 1969 boli oproti pódiovej erupcii pomerne krotké, akoby sa kapela cítila lepšie medzi ľuďmi, než zatvorená v polstrovanej cele. Prvá skladba (z dvoch), ktorú môžete poznať z ďalšieho fenomenálneho živáku Performance Rockin'The Fillmore, je do tretice cover verzia, ide o spevný rokec Hallelujah I Love Her So. Znie parádne. Jediná autorská skladbička, ktorá zaznie, je The Sad Bag Of Shakey Jake. Ide o milú vec, odporúčam. Finále má mystickú dĺžku 21 minút a 21 sekúnd. Znalci určite tušia, že sa k nám blíži nekonečné jam session na motívy I Walk On Gilded Splinters. Je to číra esencia rockového koncertného improvizovania, dlhometrážneho sólovania, hecovania publika, skrátka, je to to, čo na riadnom rockovom koncerte nemôže chýbať! Že sa dnes táto "duša živého hrania" z rockovej hudby vytratila, má za následok, že ma novodobá vyfabrikovaná muzika necháva chladným.
Vydavateľstvo Sanctuary je známe slušným prevedením svojich titulov, nuž ani tu nechýba nakysnutý booklet v tvare rozkladacieho plagátu. Jednu stranu zaberá podrobná genéza z amerického turné doplnená množstvom skvelých fotiek a na druhej strane je spomínaný reklamný plagát. Na to, že ide o archívny záznam vyhrabaný ktovie odkiaľ, má album parádny zvuk. Koncertné orgie šli Humble Pie na jednotku už v počiatkoch kariéry. Takto si predstavujem dokonalú raritnú vec. Ponúknuť niečo, čo inde nie je, dať tomu poriadnu formu a neťahať peniaze len z nejakej "ikstej" kompilácie s jednou skladbou navyše. Paráda! Ak ste o kapele ešte nepočuli, s týmto koncertom rozhodne nešliapnete vedľa, do lajna a ani do priepasti.
Skladby:
For Your Love 9:17
Shakin' All Over 11:49
Hallelujah I Love Her So 3:42
The Sad Bag Of Shakey Jake 3:40
I Walk On Gilded Splinters 21:21
Zostava:
Steve Marriott: spev, gitara
Peter Frampton: gitara, spev
Greg Ridley: basa
Jerry Shirley: bicie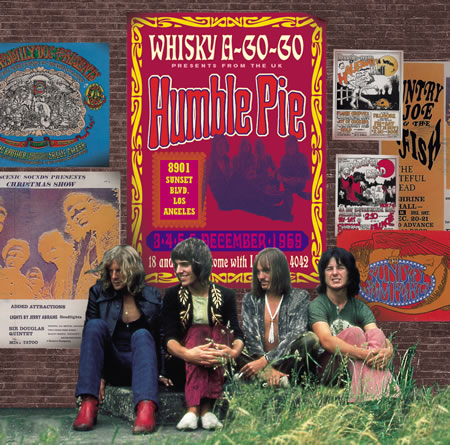 Live At The Whisky A-Go-Go '69
Humble Pie
blues rock
Sanctuary
2001
CD
5